The Simpsons are to American culture what high school girls were to Matthew McConaughey in Dazed & Confused: We get older but they stay the same age. Since the show has been on the air for over 20 years, that creates an awful lot of problems where continuity is concerned. If Homer and Marge were 18 in 1974, as "The Way We Was" states, then they'd be fifty-four now instead of remaining forever in their thirties.
The Simpsons has what is known as a "floating timeline," which essentially means the characters are as old as the writers want them to be. This can be incredibly frustrating. I haven't seen the episode myself, but I know a great furor swept the land when the greatest television show of all time recently ran an episode suggesting that Homer and Marge were a childless couple in the early 90s.
I suspect that part of the hostility directed towards flashback episodes that exist in some strange television time warp stems from lingering affection for "The Way We Was," an origin story for Homer and Marge's unlikely but ultimately epic romance that's so perfect and disarmingly sweet that future flashback episodes can't help but suffer by comparison.
"The Way We Was" opens with one of the show's many light-hearted intimations of child abuse when Bart protests that sitting inches from the TV won't hurt him only to have his father shake his fist in anger and ominously threaten, "Oh yes it will."
G/O Media may get a commission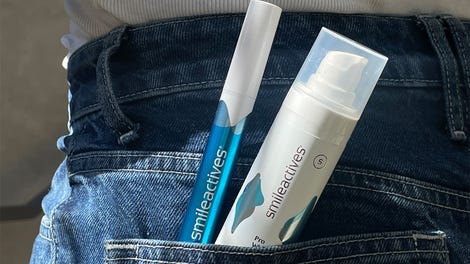 58% off
Whitening Powerhouse Pen & Gel Duo
We then segue into a parody of Siskel & Ebert, as what Homer refers irreverently to as "the bald guy and the fat tub of lard" argue over the merits of the latest McBain bloodbath. It's a throwaway gag that laid many of the foundations for The Critic. All the elements are there: a smart, funny and loving parody of a contemporary movies and movie stars, geeky television critics, and, later in the episode, a guest appearance by Jon Lovitz as nauseatingly self-satisfied uber-geek Arnie Ziff. Ziff even lets loose with a throat-clearing "Achem", an unpleasant noise that would become synonymous with Lovitz's portrayal of film critic Jay Sherman. It's not at all coincidental that "The Way We Was" was co-written by Mike Reiss and Al Jean, who would go on to create The Critic and borrows the name of an iconic film about mismatched lovers.
Then disaster strikes, and the Simpsons are forced to do the unthinkable: talk to each other. Lisa asks to hear the tale of how her parents decided to get married, but Homer and Marge instead decide to share a story not rooted in an unplanned pregnancy.
"The Way We Was" is extraordinarily sweet. I imagine that's why it was able to get away with some rather risqué gags for an early 90s family cartoon. It's revealed that Bart was conceived out of wedlock and that Homer and Barney were the pot-smoking Cheech and Chong of their high school. There's even a brief close-up of Marge's ass moving hypnotically in slow motion.
We then flashback to the giddy, groovy days of 1974, where Homer is a slacker smoking in the boys room with his best pal Barney Gumble and Marge is a beautiful, smart over-achiever gifted in the French arts and debate. The two have made it to senior year without ever meeting until Marge gets thrown into detention for burning her bra in a misguided gesture of protest.
Incidentally, the whole notion that feminists burned their brassieres en masse to protest the "shackles" men placed upon their bosoms has been debunked time and time again, yet persists in our culture because it conforms with the reductive right-wing caricature of feminists as shrill zealots waging meaningless crusades against words and bras instead of rational proponents of equality and Civil Rights.
All right, I will now hop off my soapbox and discuss the rest of the show. Homer falls hopelessly in love with Marge at first sight. Birds suddenly appear every time she is near, and just like Artie Ziff, he longs to be close to her.
In need of guidance, Homer seeks out the assistance of a guidance counselor, who encourages him to find common interests with Marge and "spend, spend, spend," and his own father, who delivers a depressingly hilarious reverse pep talk about how Homer should always aim low for "dented can, the dead-end job, the less attractive girl."
Ah, but for once in his life, Homer is intent on aiming high so he fakes needing French tutoring to get closer to Marge, who becomes apoplectic when she discovers his ruse and decides to go to the prom with obnoxious Poindexter Artie Ziff instead of Homer.
"The Way We Was" is a nakedly nostalgic tale of star-crossed romance largely devoid of big laughs but full of smart observations about human nature and wonderfully revealing character moments, like Abe's angry tirade about the futility of trying and Marge's mother's advice that, when it comes to getting a red rosy glow on the cheeks, "Ladies pinch; whores use rouge."
In another beautifully low-key line, Bart observes wryly of the night's nightmare descent into family story hour, "I'm living it, but I'm not loving it." I, on the other hand, love "The Way We Was" as both a sneaky semi-back-door pilot for The Critic and as a brilliant origin story for one of pop culture's most enduring and beloved couples.