After taking readers on a delightful, emotional journey into her past with 2014's Over Easy, cartoonist Mimi Pond is opening the doors of the Imperial Cafe once again in her latest graphic memoir from Drawn & Quarterly, The Customer Is Always Wrong. Chronicling Pond's experience as an aspiring cartoonist making money by serving tables in late '70s Oakland, the new book delves even deeper into the personal victories and defeats of Madge and the eclectic staff and patrons of the cafe. The characters and their workplace are lovingly depicted by Pond's animated artwork, giving readers a strong sense of the artist's emotional connection to this turbulent, frustrating, but ultimately rewarding period of her life.
This exclusive excerpt from The Customer Is Always Wrong recounts a particularly trying event for Madge: getting an abortion. The thought bubbles of Madge repeating please as she waits for her pregnancy results captures her overwhelming panic, and when everyone at the cafe finds out about her situation, she gets a mix of reactions that range from embarrassing to comforting. That's part of the dynamic of the Imperial Cafe: the people inside can drive Madge crazy, but they're also a valuable support system when she needs them. This idea is reinforced by the cafe manager being the person that picks Madge up after the procedure, and he's much more to her than just a boss.
Pond made headlines last week when she talked about the sexism she experienced while working on The Simpsons. She wrote the series' first episode but was shut out of the writers' room afterward, and her willingness to speak frankly about the struggles of her past is a big part of what makes her memoirs so compelling. She's aware of her personal flaws and makes sure they come through in her work, but Pond looks back at her past self with appreciation rather than condemnation. She wasn't perfect, but neither was anyone around her, and that's something that becomes clearer in hindsight. This hefty 445-page hardcover is available right now, and readers looking for complex, character-driven storytelling will find a lot to love in The Customer Is Always Wrong.
G/O Media may get a commission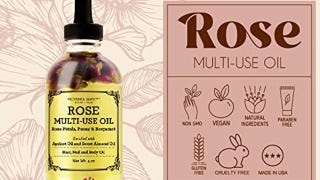 Provence Beauty Rose Multi-Use Oil