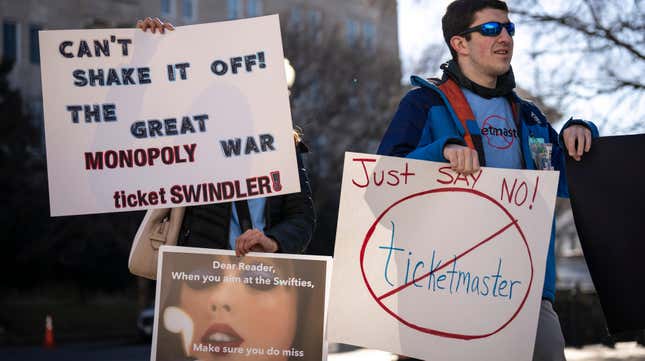 Forget anti-heroes: Ticketmaster is the biggest villain Taylor Swift fans have faced since a certain someone stole her mic back in 2009. The ticketing fiasco ahead of Swift's Eras Tour made international headlines and prompted a Justice Department investigation and a congressional hearing. Perhaps most significantly, the situation prompted Swifties to mobilize, culminating in a court hearing today in Los Angeles where more than 340 fans are bringing a lawsuit against Ticketmaster and its parent company, Live Nation. So what exactly does the Swiftie suit entail?
Randall Park on workplace comedies, Jimmy Woo, and MCU vs. DCEU
The A.V. Club spoke with two Swifties involved with the case who, like many of their fellow plaintiffs, signed on to the case after seeing a TikTok from lawyer Jennifer A. Kinder. Kinder is a self-proclaimed Swiftie, and saw in real time while trying to get tickets how "fans' experiences with Ticketmaster indicated a potential pattern of fraudulent behavior and antitrust violations by the company," reads a statement from her firm.
"The danger of Live Nation's power in the entertainment industry extends far beyond making tickets inaccessible through exorbitant fees and website failures," the statement goes on to say. "Live Nation's monopoly impacts the safety of fans, the ability of smaller businesses to compete, wastes taxpayers' money and exerts inordinate control over artists' careers." Live Nation did not respond to The A.V. Club's request for comment on this story.
Why sign on to the Swiftie suit?
Plaintiff Joe Akmakjian tells The A.V. Club he spent nine hours waiting for tickets during the initial Eras Tour pre-sale, during which time he was kicked out of the queue due to a system failure. He then had to wait another five hours, days later, to finally purchase the last seats available. Likewise, fellow plaintiff Jenn Landry managed to get tickets for herself and her sister through her husband's account after experiencing the site shutdown, but was heartbroken to hear stories from disappointed Swifties online. And there are lots more horror stories amongst the plaintiffs: a fan who attempted to purchase multiple times but never received tickets, yet was still charged $10,000; a mother who purchased tickets for her wheelchair-bound son, but was subsequently told there were no more accessible seats; fans whose payments were increased after purchasing because of Ticketmaster's dynamic pricing, or who were given different seats than the ones they paid for.
"These weren't the terms they agreed on for purchase, and I think as American consumer, we have a right to consume responsibly, and it's oppressive when you have a company or a merchant basically forcing you to agree to terms because they've created this frenzy," Akmakjian says. For his part, Akmakjian, who uses a wheelchair, paid $50 in fees for each of his $200 tickets in accessible seating, "which is just kind of crazy, to have 25% in fees for service, and you don't really know what these fees go towards."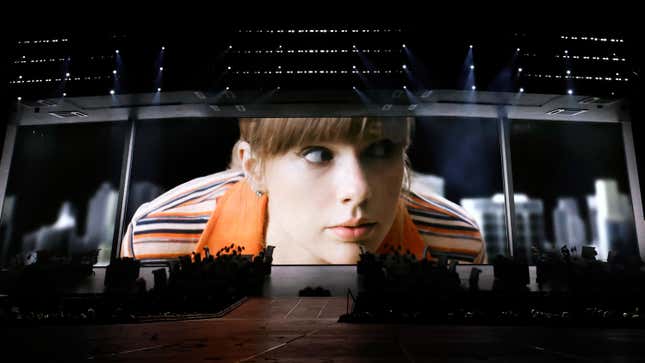 What's going to happen at Monday's hearing?
According to Landry and Akmakjian, Ticketmaster pushed for the lawsuit to be heard in federal rather than state court. Federal court is "a little more of an old boys' club," where judges are appointed rather than elected, and tend to be more conservative, says Akmakjian. At Monday's hearing, Ticketmaster is expected to push for arbitration, which is a stipulation in the terms of agreement users sign when purchasing tickets with the company. "If that happens, Jennifer's reassured us that she'll just re-file in the state, she'll just keep re-filing until … our voices are heard," says Landry.
The goal of the hearing from the plaintiffs' perspective is to return to state court and to go to trial, or, more accurately, trials. This case is not a class action lawsuit, meaning that each Swiftie could get their day in court—all 340-plus of them. They say the wheels of justice grind slowly, but it would certainly take Ticketmaster a long time to answer for every Swiftie's experience. "For me, I don't care how long this takes, it can take forever if it has to," Akmakjian says. "I just want to make sure that people are not getting away with harming the American consumer just because they want to and they can."
What do Swifties want out of their lawsuit?
So what are the Swifties hoping to gain over the course of potentially hundreds of trials? "We've always said, none of us did this to get money. Money isn't our motivation," Akmakjian says. "Obviously that is a part of this, but what we really want is answers. So it's more about figuring out why this happened, what can we do to prevent it in the future, and did this company know that they were intentionally harming the American consumer, and did they care."
Landry, an IT professional, questions the bandwidth Ticketmaster was using during the presale when the site shut down, and if the company was negligent on that end. "A lot of people seem to think that Swifties are these tween young girls, whatever, right? And it's just not the case," Landry says. "We're not whining for extra tickets, we're not whining because we have buyer's remorse or anything like that."
As for long-term goals, "My ideal world would be that Ticketmaster dismantles itself from LiveNation," Landry says. "They go ahead and part ways, so that way there can be more competition for ticketing systems. That is my ultimate goal." As she notes, this issue extends beyond Taylor Swift. "[The] fact that they're still continuing to do it to other artists is mindboggling to me, because it's so brazen. You made the Swifties upset, but at the same time you're making The Cure fans upset, Neil Young, now you've got Drake."
But the issue extends beyond Live Nation, too, and both fans see the potential for this case to set a greater precedent. "If you don't get to see a concert, you're not gonna be in trouble, but what happens when a healthcare company gets to become a monopoly? What happens when transportation companies are monopolies? And if an entertainment industry is able to become one, what's stopping other industries that are vital to the way that we live?" says Akmakjian. If the Swifties get their way, they may just save the world.