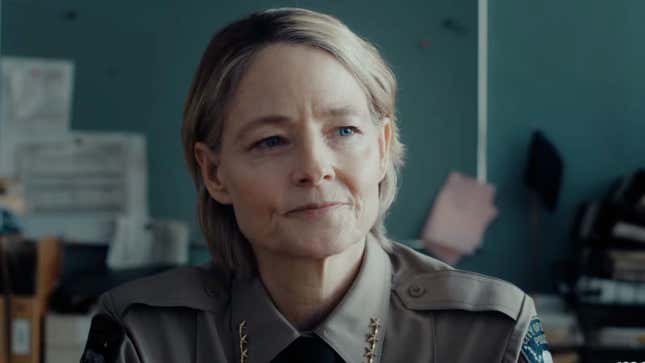 HBO—whose streaming service is soon dropping the "HBO" and sticking to Max for some reason—is gearing up for another season of its fan-favorite crime anthology. True Detective returns for a fourth round with a star-studded lineup and a different but probably super gritty case, in typical TD style.

Created by Nic Pizzolatto, True Detective debuted almost a decade ago in 2014 with Matthew McConaughey and Woody Harrelson playing Louisiana homicide detectives. It was met with rave reviews, but season two? Not so much. The Penguin's Colin Farrell, Vince Vaughn, and Rachel McAdams led the sophomore run of this anthology series. The third season was led by Mahershala Ali and premiered in 2019. Now almost four years later, the show returns under the leadership of showrunner, writer, and executive producer, Issa López.
Fellow Silence Of The Lamb fans, maybe this season was tailor-made for us. True Detective season four, titled Night Country, features Jodie Foster playing a cop chasing a dangerous killer. Foster plays Detective Liz Danvers, who is stationed in Ennis, Alaska when eight men who operate the Tsalal Arctic Research Station vanish without a trace as a long winter night begins. Danvers teams up with a fellow officer, Evangeline Navarro (Kali Reis), to confront the darkness of their town and the one they carry in themselves to find the culprit.
As seen in the trailer, Detective Danners isn't exactly a beloved figure in Ennis because she's aloof and strict. Her own partner coldly tells her, "No one can stand you." Much like the previous seasons, True Detective is as much about the officers' complex relationship as it is about the mystery: What scared the eight missing men enough that they'd abandon their shoes and run into the frigid weather? The footage also makes it clear that we're not getting too many brightly lit scenes in True Detective.
[A quick PSA: If you're looking for another solid thriller set in Alaska that's captivating and timely, we recommend checking out ABC's Alaska Daily.]
True Detective: Night Country co-stars Fiona Shaw, Finn Bennett, Isabella Star Lablanc, Aka Niviâna, Anna Lambe, Joel D. Montgrand, Christopher Eccleston, and John Hawkes. HBO hasn't released a premiere date yet.