The current election, if nothing else, has at least provided numerous moments of tense, bizarre television, much more electric in its own way than the usual dull political coverage. One such moment occurred yesterday when Michael Cohen, a lawyer for real estate mogul and GOP presidential candidate Donald Trump, appeared on CNN's The Situation Room to discuss the allegation that Trump had overhauled his campaign staff in response to flagging poll numbers. Cohen was in a combative, impatient mood when speaking to anchor Brianna Keilar, and when she mentioned that "you guys [in the Trump campaign] are down," Cohen responded with a classic schoolyard comeback: "Says who?" He repeated the phrase several times, in fact, missing Keilar's response: "Polls. Most of them. All of them." Even after the confusion was supposedly sorted out, Cohen repeated the magic words one more time, prompting a similar response from Keilar. It was the kind of perfect, looping comedic dialogue that the writers of Saturday Night Live must aspire to create, only it was a real conversation.
Seemingly too good to be true, the moment did not go unnoticed on Twitter. Users of the social media platform responded quickly and decisively to the the lawyer's combativeness. One, for instance, turned the dialogue between Cohen and Keilar into a knock-knock joke.
Another used it as an opportunity to use Twitter's own, built-in polling feature.
Naturally, because this is social media, the conversation eventually turned to Beyoncé.
G/O Media may get a commission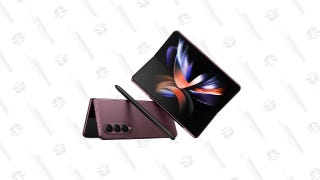 Save Up to $300
Galaxy Z Fold4
And the fun didn't end there for Cohen. Twitter users started responding to the lawyer's tweets, turning his own words back on him.
@MichaelCohen212 says who?

— Parker Molloy (@ParkerMolloy) August 18, 2016
Cohen had better hope something really great or something really terrible happens to him at some point in his life. Otherwise, it may be his fate to be remembered as the "Says who?" guy for all eternity.
[via USA Today]