Hey, listen, long-term relationships are hard. Eventually, the novelty of rubbing your bits against another person's bits wears off, and you've got to look for ways to spice up the relationship. Like, for example, pretending that some "morally abject person" has leaked a sex tape featuring you and your bandmate/partner of 10 years, begging people not to download it before offering the tape up for download yourself for $5 a pop, and then revealing that the whole thing was a hoax designed to promote a music video.
That's what Yacht members Claire L. Evans and Jona Bechtolt did yesterday/this afternoon. The while thing started with a Facebook post where Becholt writes:
The financial pressures that we've been under, which de facto extend into our extracurricular lives, created a circumstance in which we felt like we needed a bit of an escape from the day-to-day. So we turned on a camera, became naked, and had sex. We assumed that we were the only people who would be privy to that video. I guess we were naive … Just because we are public figures does not mean we asked for this. Like anyone, we still deserve to have a choice about what we share with the world. Today we no longer have that choice. But our hope is that you fundamentally understand that choice and you choose not to view a private act that was inadvertently made public. We hope you understand that this is not a delicious scandal. This is an exploitation.
Then the duo apparently decided to seize the means of exploitation by "posting" the "video" themselves. On a special NSFW site, the group purported to offer a download of the tape in exchange for a suggested $5 donation, saying, "controlling how this video is seen, and who profits from it, is the only form of agency we have left over this exploitative situation." Sure, okay. Weird, but okay. It's your sex tape.
But as multiple outlets reported, trying to download the "sex tape" got curious surfers little more than an error message—unless you were one of Yacht's famous friends, who posted about the video at various points throughout the day yesterday:
G/O Media may get a commission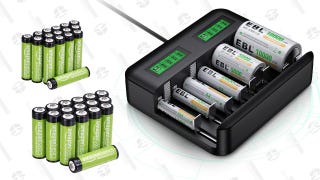 That's because the whole thing was a fake, and a pretty expensive one at that. (You'll find out why if you fast-forward to the end.) Evans had even personally emailed Gawker Media more than a month ago asking if they wanted to be the ones to "leak" it, an offer the outlet refused. Vice called it yesterday, Jezebel is super pissed, and Pitchfork, Vulture, and Fader have printed retractions. The A.V. Club thought there was something off about the whole thing and decided to wait and see what happened, and we're kind of glad we did.
In the "sex tape"—which is technically SFW, although the bedroom setting and night-vision camera make it look like porn at first glance—Evans and Bechtolt giggle and goof around in bed, leading to a sci-fi twist. Further complicating the situation, it's being hosted on PornHub, which we are frankly shocked was not blocked on our work computers.
Just a suggestion, Yacht, but maybe next time try that thing where you wear a wig to a bar and pretend not to know each other, like Adam and Hannah did on Girls, instead? No one but you is out $5 that way, and you're enriching the local wig economy. It's a win-win. This—which, as Jezebel's Anna Merlan points out, exploits the goodwill of fans and makes light of how shitty so-called "revenge porn" truly is—is the opposite of that. When even famous sex-tape maker Kim Kardashian thinks you're being tacky, then you can safely say your stunt has backfired. Our thoughts and prayers go out to Yacht's publicist during this difficult time.
UPDATE: Yacht's PR people have indeed spoken out about the situation on Twitter, namely to say they had nothing to do with it. The band, for its part, has also released a statement saying no one's card will actually be charged, they're sorry for the "revenge porn" parallels, and that they are big into Nathan For You, which frankly was obvious from the start of this mess.
❤️ We've written a statement here: https://t.co/9Q6J1Ves3D pic.twitter.com/t2CNtC0qB9

— ˠ ᴬ ꜂ ᴴ ⊤ (@YACHT) May 10, 2016