Even when Fleetwood Mac was one of the most popular bands in the world, its sound wasn't always easy to pigeonhole. Hailed (and in some cases dismissed) as the epitome of laid-back SoCal soft rock in the mid-'70s, the Fleetwood Mac of Rumours and Tusk relied on three songwriters with differing visions. While Christine McVie delivered bright, AM-ready pop, Stevie Nicks served as McVie's mystical, FM-after-midnight counterpart, and Lindsey Buckingham ranged toward the arty, trying to see if Brian Wilson, Donald Fagen, and David Byrne could co-exist within a song. And even before Buckingham and Nicks joined the band, Fleetwood Mac had Peter Green penning some of the fiercest blues-rock in a competitive English scene, and Danny Kirwan and Bob Welch (among others) filling in the gaps with solidly middle-of-the-road hippie soul.
So it's not all that surprising that the Fleetwood Mac tribute album Just Tell Me That You Want Me fails to do justice to the diversity of the band's output. Of the disc's 17 tracks, 10 are Nicks songs, leaving only three by Green, two by Buckingham, and one each from McVie and Welch. The lineup of musicians on Just Tell Me That You Want Me is askew as well, with alt-rock superstars like The New Pornographers, MGMT, Best Coast, and Bonnie "Prince" Billy sharing space with veterans like Marianne Faithfull and ZZ Top's Billy Gibbons, and relative newcomers like Trixie Whitley (daughter of the late blues legend Chris Whitley). Nearly everyone on the record is worthy of inclusion, but their respective styles don't exactly cohere. And no matter how eclectic Fleetwood Mac's contributors could be, the band's albums always sounded like the work of a single unit.
Granted, disjointedness is hardly unusual for tribute albums like these; what matters most is the quality of the covers. But even on that score, Just Tell Me That You Want Me falls a little short. If this record were a contest, the should-be-better-known band Gardens & Villa would win outright for a buzzy, synth-driven version of "Gypsy" that captures the wistful regret of the original without sounding like a slavish copy. The New Pornographers would be a close second for their exultant take on "Think About Me," which could easily pass for one of their own songs. And Matt Sweeney and Bonnie "Prince" Billy deliver a gorgeously stripped-down "Storms" that's more about mood than about making sure the notes all fall into the right place, or that the arrangements are sufficiently clever.
That ends up being the major problem with much of the rest of Just Tell Me That You Want Me: The tinkering these acts do with Fleetwood Mac's songs is mostly on the surface, making them sound either more electronic and alien or more old-fashioned and rootsy, without really illuminating them in any significant way. With Nicks' songs especially, there's a fragility to the melodies and the lyrics that can be crushed if a band comes at them too hard or too mechanically. (Best Coast's "Rhiannon," Lykke Li's "Silver Springs," and Karen Elson's "Gold Dust Woman" all fall prey to a kind of dogged monotone, which drains the songs of much of their nuance.) Most of the contributions to Just Tell Me That You Want Me sound just fine, and a few of them—like Lee Ranaldo and J. Mascis' dreamy collaboration on the classic instrumental "Albatross"—are downright sublime. But Fleetwood Mac was a band with many facets, and too many of the people paying tribute here stopped at only one.
G/O Media may get a commission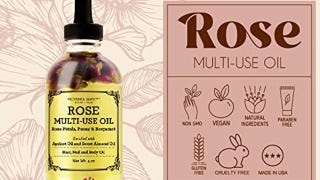 Provence Beauty Rose Multi-Use Oil