In the four days I spent at this year's Tribeca Film Festival, I watched a crew of light-up human billboards chase pedestrians outside a Manhattan movie theater; was blinded by the sun bouncing off the bleached white countertops and shiny coffee machinery of the 6th floor Nespresso Lounge; sweated through the lining of my coat and drank gallons of complimentary Bai Antioxidant Water; saw the longest sponsor ad reel in film festivaldom enough times that I could probably draw the commercials from memory. I sampled a VR series that combined the cheese of a forgotten '80s horror flick with the image quality of an FMV title and the thrill of craning your neck; played art games where the environmental effects were, as always, more interesting than the story; found the future lacking. Somewhere in between, there were movies.
Here, I should disclose that I was flown out to New York at the festival's expense—which is to say that I was flown out to Newark and then took an hour-long ride into Manhattan on a bus that smelled like Lysol. (Only $17 and, in much smaller print, a $1 administration fee.) I was put up at a nice hotel, where I ended up watching about half of the first Resident Evil movie on cable. I was given the fanciest level of press pass Tribeca has to offer and took shameless advantage of the press lounge, which during my stay consisted of two medium-sized café tables and a few iMacs because most of the space has been annexed by a make-up station sponsored by MAC Cosmetics. Regrettably, I did not eat the free Nutella crêpes.
The present incarnation of Tribeca is a strange one. The festival, which has been held in Lower Manhattan since 2002, has never been a buzz generator on the order of Sundance or SXSW or a prestige platform like the uptown New York Film Festival, though A-list connections (Robert De Niro is a co-founder, doncha know) have given it cachet. But in the early 2010s, it started to cater to the jargon and interests of the tech sector, beginning with its first major game premiere (L.A. Noire) and the introduction of the Tribeca Disruptive Innovation Awards, where every honoree is given a hammer. Nowadays, it hosts a a League Of Legends tournament and panels with subjects like "Can Blockchain Breed Blockbusters?" IBM promos about how cloud computing will save the rhinos loop before the screenings. Every film festival is to some extent an adspace and a simulated experience, but at Tribeca, these qualities sometimes appear front and center.
Whatever constitutes real art in a place like this is usually at least chewing on the hand that feeds. Case in point: John Maringouin's bizarre comic odyssey Ghostbox Cowboy (Grade: B), produced on what appears to be a budget of loose change, packed with strange characters and subplots about ad-supported dentures and mass-manufactured cyanide pills. (Sample line of dialogue: "We've got multiple influencers and agitators and a violator.") A cowboy-hat-wearing Texan (David Zellner, better known as the director of Kumiko, The Treasure Hunter) moves to China to market a spirit-detecting gizmo called the Ghoster (or Ghostr, as it's later rebranded) with a sales pitch plagiarized from a sermon. There, he falls under the influence of a hedonistic bunco artist (the indie stalwart Robert Longstreet, in one of his wackiest performances) who specializes in getting Chinese billionaires to invest in fictitious products. But instead our man winds up working as a rent-a-foreigner at corporate events and weddings, donning a white suit, blonde wig, and false teeth that make him look like Klaus Kinski in Fitzcarraldo.
G/O Media may get a commission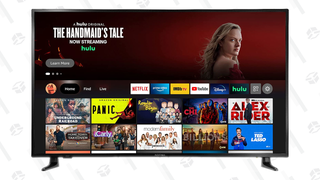 38% Off
Insignia 50" 4K UHD Smart TV
Ghostbox Cowboy has to be the single cheapest-looking thing at this lavishly sponsored festival, and is at times wonderfully weird and digressive. Among its many detours: the search for the ringleader of a redneck expat mob, who lives in an empty high rise in the ghost city of Ordos in Inner Mongolia; voice-over narration by a misanthropic American tech whiz who goes by "Specialist" (often shortened to "Spesh") and is one of many cast members playing fictionalized versions of themselves; an epilogue titled "The New Condominiums" that's set to the prelude from Richard Wagner's Das Rheingold, also featured at the beginning and end of The New World; cycles of delusion, depression, reverie, and self-destruction. Maringouin's background is in documentary and his subject matter is a mix of Putney Swope-esque surreal exaggeration and possibly authentic irreality captured with a squirrelly, often out-of-focus handheld camera—workers giving military salutes to factory workers, pitch meetings in Reno casinos, and the like.
It's unclassifiable. Or, to quote the film: "It has no demographic, because the great unifier of the world is death." Whatever. I prefer it to the two actual documentaries on the same themes—useless products, the buglike lifecycle of hype and tech—that I ended up catching at Tribeca. Sarah Kerruish and Matt Maude's General Magic (Grade: C) argues the pro position: a hagiographic account of the rise and fall of the forgotten early '90s Silicon Valley outfit of the same name, which began with a concept drawing of something that resembled a modern smartphone and faded with the commercial failure of the Sony Magic Link, a transistor-radio-sized PDA with an OS that was like an uglier Microsoft Bob. If one is not already paranoid about the relationship of politics, money, and the tech sector or about the industry's general lack of perspective on itself, then this sort of uncritical puff piece should do the trick. It trumpets relationships to think tanks and Henry Kissinger as though they were a good thing, concludes with a long epilogue about all the charities the interviewees are now involved in, and can't bring itself to say out loud that the product in question completely sucked.
It's never a good sign when a documentary appears to exist to make its subjects feel good about themselves, and downright ominous when the subjects in question are former Apple execs and developers. Meanwhile, The Bleeding Edge (Grade: B-), the latest exposé doc from director Kirby Dick (This Film Is Not Yet Rated, The Hunting Ground), covers the con position: an overstretched look at the poorly regulated medical devices industry, covering everything from defective birth-control implants to poisonous hip replacements to the overuse of the Da Vinci surgical robot. The two films share tastes in creepy B-roll (antiseptic wide-angle shots of hospital equipment in The Bleeding Edge, bird's eye aerials in General Magic) and cheesy corporate promotional video clips, though Edge's interviewees couldn't be more different: ordinary Janes and Joes whose lives were horrifically changed by some multi-national's need to put out a new gadget every year. Mostly, they're Janes; one sub-subject here is the industry of women's health. But both films touch on one or more of the festival's unofficial themes: sponsorship, the Silicon-Valley-ization of entertainment, the old question of what technology is supposed to do for us.
---
Besides Ghostbox Cowboy, this year's Tribeca premiered another comedy about a delusional American doofus making trouble abroad in a cowboy hat and a wig: Robert Budreau's Stockholm (Grade: C), very loosely based on the 1973 Kreditbanken hostage situation that gave "Stockholm syndrome" its name. Ethan Hawke, who previously starred in Budreau's largely fictional Chet Baker drama Born To Be Blue, plays a Bob-Dylan-loving Swedish-American speed freak who storms into a Stockholm bank in rock-star disguise, takes a couple of hostages (including a teller played by Noomi Rapace), and demands cash, a fast getaway car, and the release of a prison buddy (Mark Strong) in exchange. Hawke is no stranger to elevating subpar material with a committed performance, but his fidgety crook-with-a-heart-of-gold act is undercut by Budreau's uncreative use of the limited setting (almost the whole thing takes place inside the bank) and unskillful handling of the broad tone. It's middling festival filler, and there's a lot of that at Tribeca—at any large festival, to be honest.
But that still puts Stockholm a cut above something like Ioana Uricaru's Lemonade (Grade: D), a laughable slice of sub-Lars-Von Trier-miserablism, in which the heroine, a Romanian nurse who has married an impotent American landscaper, is forced to give a hand job to an angrily grunting immigration official in order to get her Green Card. In the same category, one might also put James Gardner's repetitive British coming-of-age whatever Jellyfish (Grade: C-), in which the heroine, a teenager who has to support her two young siblings because of her mother's mental illness, makes ends meet by jerking off wincing old men by the dumpsters behind a local video arcade. There seems to be some link between manual stimulation and cheap emotional manipulation. The two films are debut features—both with unexplained and presumably metaphorical one-word titles, both involving male creeps blackmailed with the help of "feminine wiles," both with tacky notions about parent-child relationships and what it means to be poor. They trade in flavors of counterfeit realism, which always feels phonier than the out-in-out surreal.
Lemonade's has obvious notes of the Romanian New Wave (it's even produced by Cristian Mungiu, best known for 4 Months, 3 Weeks, And 2 Days), though it's really just a low-rent soap opera with long takes, complete with awful acting and a Chekhov's gun put to underwhelming use. Jellyfish takes the kitchen-sink approach, piling on external inequities and indignities on its protagonist. A sympathetic drama teacher has inspired her to become a stand-up comedian. One problem the film never addresses: Her jokes aren't funny. Pattern recognition is an inevitable part of festival-going, either because different movies are trying to chase the same cultural moment or because they're working with tried-and-true arthouse themes like performance or death. Some of the same themes—taking care of a loved one, the parent-child thing—resurfaced in the only movie at Tribeca to really give me a case of mixed feelings. This was Diane (Grade: B-/ C+), the fiction directing debut of Kent Jones, the longtime film critic and current director of the New York Film Festival—an occasionally perceptive and endearingly un-commercial drama undercut by some serious narrative awkwardness.
Mary Kay Place plays the title character, a retiree who is close to resigning herself to the fact that her heroin-addict son (Jake Lacy) will never turn his life around, but still keeps showing up at his apartment to do his laundry and badger him into giving rehab another try. But then he unexpectedly cleans up, becomes a born-again Christian, and even gets married—a turn of events that doesn't bring mother and son any closer together, and instead just flips their dynamic, as he begins nagging her to join his church. It's an intriguing premise that enters the film too late, creating an internal imbalance. Diane's relationship with her son is easily the weakest aspect of the first half of Diane, much of which consists of an affectionate depiction of the social lives of the small-town elderly, afternoons spent chitchatting in Old Country Buffet about who's gotten sick and who's died; the post-conversion half, which is set over many years, transforms their relationship into something much more compelling but shifts focus to Diane's interior life, sometimes inelegantly. But then, that's a common drawback of stories that try to be serious about life's dissatisfactions: They end up dissatisfying.

---
The title State Like Sleep (Grade: C-) is basically a "Kick Me" sign for Meredith Danluck's pretentious debut feature, which was the second or third worst film I saw at Tribeca. (It might be slightly better than Jellyfish or slightly worse.) An American photographer (Katherine Waterston) travels to Brussels a year after the suicide of her husband, a drug-addicted Belgian actor who was set to star in a big-deal Hollywood action movie called Steel Chase. What follows is a convoluted Eyes Wide Shut Lite, a dip into an erotic underworld inspired by an obsession with one's partner's secret life. Waterston's character has repetitive encounters with the proprietor (Luke Evans) of Europe's most ambiguous brothel and a visiting American businessman (Michael Shannon) who might as well be wearing a cowboy hat, but isn't. She is mistaken for a sex worker by a man who grinds to an unconvincing orgasm against a bathtub while shampooing her hair. There are flashbacks that look like outtakes from Song To Song (more Malickisms!) with Waterston in a Rooney Mara-esque wig and a subplot about the character's mother (Mary Kay Place again) going into a medically induced coma. The whole thing aspires to art, but can really only be appreciated as trash.
In my experience, the contradiction of Tribeca is this: The festival so over-designed and over-marketed that the actual content can seem like an afterthought, which actually has some good effects along with the obviously bad ones. There's a lot of filler (your Stockholms, your State Like Sleeps), but weird stuff gets through, too. One beneficiary of this contradictory platform is the indie writer-director Nathan Silver (Thirst Street), who has had several films premiere at the festival. His latest, The Great Pretender (Grade: B+), was my favorite of the movies I saw: an artificial farce about voyeurism, exhibitionism, and projection, abstractly shot in zooming close-ups and through layers of diffusion by Sean Price Williams, a talented cinematographer who isn't afraid to get weird. Clocking in at just over 71 minutes, it jumps around in time, progressing through points-of-view, each of which seems to be more vapid than the last: a writer (Maëlle Poesy-Guichard) who is staging an autobiographical play based on her relationship with her ex (Linas Phillips); the horny actor (Keith Poulson) cast as the ex, who neglects to tell the women he sleeps with that he has gonorrhea, but keeps reassuring us in voice-over that he's "a nice guy;" the dimwitted rich-kid French actress (Esther Garrel) cast in the playwright's part, who is delusionally enamored with her co-star.
Probably because there's nowhere to go from there but the ground, the fourth chapter (which deals with the ex) switches to a third-person narrator. The punchlines are dark and the tone is caustic, but its central concern is a classic one: what we see in other people and how we would like to see ourselves. Superficiality isn't just the subject here, but also the aesthetic, as Williams covers the faces of Silver's cast in a thick, colorful haze. (In some scenes, it's debatable whether there are even any sets.) In other words, it's the kind of legitimately offbeat artwork that fits Tribeca precisely because it shouldn't.