I feel like I've been leaning a bit too hard on overanalyzing this show. Not that it doesn't merit that kind of analysis so much as, at it's core, Wander Over Yonder is a wacky cartoon. It's easy get caught up in the "mythology," so to speak–the Dominator arc, the intriguing history of Wander, the interplay between Hater and the various villains–but in the end, the show is about making its young audience laugh while looking really, really, really good doing it. So even though these episodes don't really do much to advance the arc nor any real understanding of its characters, they are still really fun episodes, which is why from hear on out I'm going to be a tiny bit more lenient on my grading.
Actually, let me take that back just a little: "The Cool Guy" may lean a bit heavily on a "nerd versus cool guy" cliches, and fumble through a predictable plot (in which Hater tries so hard to be cool alongside Emperor Awesome until he realizes his true "friendship" is with Peepers), but there are enough nuances here that explore Hater in-depth. Past episodes have indicated Hater is truly the most powerful, most evil being in the universe, held back by only one thing: himself. He may be evil, but he's also insecure, arrogant, slightly moronic, and, interestingly enough, a fun-loving guy. He wants to take over the universe but he also wants to just hang out, you know? (Just on his terms.) Other cartoons have played similar ideas like this mainly for laughs, and Wander is no different, but the show adds a layer of internal struggle to Hater's whole deal, allowing it to be hilarious as well as poignant.

Hater and Peeper are having a blast together, planning a planetary takeover as if they're playing with action figures, up until Emperor Awesome crashes into the ship. Awesome isn't so much a character as he's just a bunch of tics for other characters to react to, and sure enough, once Awesome attempts to skirt out of a Hater beatdown with "I thought you were cool," Hater reacts. This time, by questioning his "coolness." Peepers (and the audience) sees it coming, and the title pops in right at exactly the right moment. What follows is a couple of great, if cliched, scenes: Hater overdoing his attempts at being cool; Awesome simultaneously accepting and dismissing (and manipulating) Hater's submissiveness; Peepers desperate attempts to get Hater back before his inevitable "I DON'T NEED HIM" moment. It's all done well, even though it's all been done before.
G/O Media may get a commission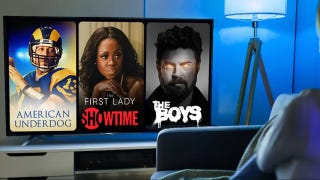 UNDER $1
99¢ Prime Video Channels
What's interesting is Hater's arc through all this. Hater doesn't have a single "I miss my friend" or a "this isn't the real me" moment. Awesome brings him exactly what he wants. Note the scene after the dangerous motorcycle stunt. Hater raises his arms in absolute pride at the people cheering his name. His connection with Awesome may be constructed on a false sense of coolness, but his enjoyment of the results of that fake-coolness is real. What Hater fails to realize isn't that his "true" friend is in Peepers; he fails to realize could technically get all those accolades by conquest via the nature of being himself. (In fact, my knock against the episode comes with Peepers' "what nerds accomplish over cool guys" speech, a dated idea since we know how awful so-called nerds can be–and to the episode's credit, they do call Peepers out when one of the alien creatures shout out that his nerd accomplishments consist of being evil.) Hater's switch emerges when he watches Awesome dismiss Peepers and his invasion, the aspects representative of Hater's true evil self. He demolishes Awesome with ease and rejoins Peepers in doll (sorry, strategic figurine) battle. Hater and Peepers are less friends as they have a clear understanding of each other (Hater, in the end, will always be Peepers' superior, hence his offensiveness at watching Awesome belittle his second-in-command).

"The Catastrophe" returns to Wander and Sylvia–primarily Sylvia, focusing on her with a surer foot than they did in "The Wanders." The episode is a little silly, but Wander thrives just fine on silly, especially with the fantastic animation and uses of the frame on display (which I'm going to get into in a moment). Wander and Sylvia are preparing to see an intergalactic jellyfish migration when Wander runs off once again, rummaging through various merchandise of the event (Sylvia implicitly accepting Wander running off is a nice, thematic follow-up to "The Wanders"). But things get weird when Wander catches a device that shows nothing but adorable cat videos, becoming completely hypnotized by the abject cuteness of it. Sylvia, who "doesn't do cute" and is therefore immune to the videos' allure, has to protect Wander from, well, wandering into danger, which is done in a "Mindy and Buttons" type routine of insanity. Regular viewers of Wander Over Yonder would have immediately recognized the cat as the assassin Little Bits from "The Stray," so the shift from mostly comic scenes to an actual conflict between Sylvia and Little Bits was inevitable.

But before I get into that, I want to talk about this episode's animation, which might be the best, most diverse use of it so far. I absolutely loved the montage of Wander's freakouts over the various souvenirs, and once again, the episode makes use of some fantastic facial expressions. Switching designs and tones from one scene to the next is so, so effortless. A quick visual parody of Frogger is followed up with a quick, tense chase through a cold, grey factory, then followed by a really cool-looking (if brief) rush to the migration, with Sylvia leaping and diving over the various aliens with ease (a bit of that energy from the excellent "The Time Bomb" is on display here). Then there's the use of various perspectives, how characters are placed within the frame in relationship to each other. It looks great, particularly late in the episode as Sylvia argues with Little Bits while the sneaky kitty walks towards the camera. For a brief moment, I understood Wander's obsession over the feline's appeal; even Sylvia couldn't help accidentally speaking with her adorable impediment.
And while "The Catastrophe" mostly has fun with the obsession over "cute cat" versus "epic fail" videos, it's more interesting to see this as a follow up to "The Stray," which also contained a climax involving Sylvia and Little Bits vying for the attention of an audience–Wander himself. While Sylvia has always been driven to a certain "rough-and-tough" lifestyle, made explicitly clear in "The Rider," part of her has always admired, and aspired to match, Wander's positive, friendly, non-violent nature. In that way, Little Bits is the complete opposite of Sylvia, and in some ways her ultimate nightmare. Both episodes end with Sylvia gearing up to sock Little Bits, but while "The Stray" had Sylvia punch Wander out of harm's way (a moment that felt a bit too aggressive?), here, Sylvia restrains herself and opts for a more pacifist solution. Her pleas may have been over taken by her comic antics, but in either case, it works, thus saving the planet without resorting to physical conflicts.
The final sequence, though, is everything that makes Wonder Over Yonder special. If there was ever moment that succinctly showcased the relationship between Wander and Sylvia, it would that one. After the crazy antics of the previous scenes, the episode slows down to a wondrous view of the migrating jellyfish, rich with blues, black, and purples, themed to a soft, low-key melody. Wander takes an "imaginary memory selfie," allowing the two to exchange a warm glance that represents a bond that no villain, cute or not, could ever break.

STRAY OBSERVATIONS:
Wander's appearance at the end of "The Cool Guy" got me thinking: Wander insistence that Hater is deeply insecure might be built on a layer of irony. Hater's flaws isn't masking a gooey-good center so much as it's holding back his true, most vicious nature. The idea that Wander might be completely, utterly wrong about what Hater is like deep down inside is fascinating, and I'm curious if the show will explore that.

I'm not sure what it is that prevents Sylvia from just socking Little Bits. I mean, I get it in some ways (Sylvia working on being a less-aggressive version of herself) but Sylvia beats down the Watchdogs and other baddies without a problem. This was particularly odd in "The Stray," and while it sort of clearer in "The Catastrophe," in that decking the feline on camera would probably have dire consequences for the citizens of the planet, it's not like she couldn't have done it prior to Little Bits jumping on camera. I love Sylvia, I just wish we could see and understand the logic of her character a bit more.