Like all the coolest bass players, Jenny Lee Lindberg came to the instrument late. Inspired by dance, her first love, she began playing at 19 and quickly helped the L.A. foursome Warpaint develop its sound: sensual, somnambulant post-punk, like Bananarama gone zombie. On her solo debut, Lindberg sheds her surname and much of the hypnotic beauty that characterizes her main band, emerging with a set of bleaker, tauter, more tangled-up tunes.
As long as she keeps things moving, Lindberg cruises through this early-'80s underworld without losing her way. The album is bookended by the drum-less bummers "Blind" and "Real Life," both of which of drag past the four-minute mark. In between, it's gothic grooves and menacing hooks galore—some aided by Warpaint drummer Stella Mozgawa and Broken Bells guitarist Dan Elkan.
On "Boom Boom," Lindberg makes like Siouxsie doing Stevie, singing "society is anxiety is a misery" over nervy hi-hats, beating-heart kick drums, and "Edge Of Seventeen" bass. Lead single "Never" is like a senior thesis for the Peter Hook School Of Melodic Riffing, while the shadowy, partially spoken-word "White Devil" conjures Joy Division at its most skeletal.
"I don't want this riot," Lindberg sings in her icy monotone on the evil dub standout "Riot." "I don't want this war." Elsewhere, she goes looking for trouble—"Bully" fits highly credible mean-girl threats ("I'm gonna get her / I'm gonna turn her inside out") to a thick Bauhaus rumble. On the pointy pseudo-disco "Offerings," she tells a lover overburdened by emotional baggage, "I gave you offerings all day / If you change your mind…"
G/O Media may get a commission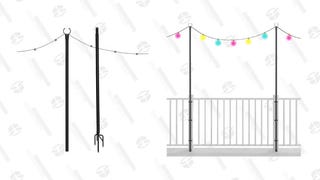 Up To 49% Off
Holiday Styling String Light Poles
That's what passes for sweetness in this world of Right On! It's a haunted house whose furnishings, though familiar, come artfully arranged.