A.V. Club head writer and hip-hop specialist Nathan Rabin recently decided to spend a year or two immersing himself in the canon of country music, a genre he knew little about, but was keen to explore. The result: "Nashville Or Bust," a series of essays about seminal country artists. After 52 entries, Rabin plans to travel south and explore some of country music's most hallowed landmarks and institutions.
About a year ago, I saw the film White Lightnin' at Sundance. I could have seen Bronson with Noel Murray, but I was seeing Black Dynamite later that night, and the symmetry of seeing two black-and-white nouveau-exploitation movies in short order appealed to me. It was a mistake. An artsy, über-violent quasi-biopic of mountain dancing legend Jesco White written by Vice's Eddy Moretti and Shane Smith, White Lightnin' offers a brutally intense, uncompromising wallow in the depths of human misery. And yet I've forgotten almost everything about the film except a haunting scene where a character played by Carrie Fisher sings "It Wasn't God Who Made Honky Tonk Angels."
The scene owes much of its devastating emotional resonance to the iconic baggage Fisher brings to it. Like her character, Fisher bears the psychic scars of too many late nights, too much booze, and too many pills. She's a survivor, but just barely. But the song haunted me as well. When I heard Kitty Wells' definitive original version, I was equally struck by her voice. With a vibrato that grows harsh and brittle in its upper registers, it blurs the line between pretty and ugly. But like many of her country peers, Wells makes up in personality what her voice lacks in polish. She has the voice of someone who's suffered, and it projects the singular combination of strength and vulnerability that's made her a living legend; at 90, she's the oldest living member of the Country Music Hall Of Fame.
I was equally fascinated by Wells' persona. In this series, I've documented the turbulent life and times of plenty of hard-drinking, hard-living good ol' boys. But what about their long-suffering wives? What about the women waiting at home with a month-old child while their good-for-nothing husbands are out running wild? Who was going to address the concerns of these forgotten women? Who was going to express their angst?
G/O Media may get a commission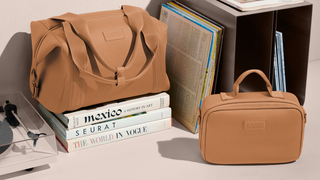 15% off
Dagne Dover Travel Kits
Wells made a career out of speaking for the mistreated housewife. She provided a woman's response to the testosterone-poisoned, overwhelmingly male ethos of country music. So it seems fitting that her signature song and first hit would be a direct answer to a song by a male country singer, Hank Thompson's 1952 smash "The Wild Side Of Life." In the hip-hop vernacular, it's a song about the perils of trying to turn a ho into a housewife, a damning condemnation of a party girl who turns her back on the only man who ever loved her so she can return to a seedy honky-tonk realm where "the wine and liquor flow" and she spends every night waiting "to be anybody's baby."
"I didn't know God made honky-tonk angels," Thompson notes bitterly in the song's chorus. Those lines accidentally gave Wells a career. Wells directly references Thompson's song in "It Wasn't God Who Made Honky Tonk Angels," with lines like, "As I sit here tonight, the jukebox playin' the tune about the wild side of life…" and "It wasn't God who made honky-tonk angels / as you said in the words of your song." Then she reminds listeners that when it comes to broken homes and infidelity, men are far from innocent.
"From the start most every heart that's ever broken was because there always was a man to blame," Wells sings. In doing so, she places the responsibility for ruined women and busted marriages from good girls led astray on "married men [who] think they're still single."
Wells scored the ultimate victory over Thompson; "It Wasn't God Who Made Honky Tonk Angels" became the rare answer song that outsold its inspiration, eventually racking up an astonishing 800,000 sales. It became the first song by a female singer to top the country charts, even though it was banned by many radio stations for its mildly rebellious lyrical content. Not one to mess with a winning formula, Wells followed it up with another answer song to a hit by a male country singer.
Webb Pierce's "Back Street Affair" chronicles an illicit romance between a married man and his mistress, a naïve young woman scandalized by the forbidden union. On Wells' response, "I'm Paying For That Back Street Affair," she sings from the perspective of the mistress and once again puts the blame on the cheating husband instead of the good girl led astray.
Wells couldn't go on releasing answer songs without being labeled a novelty artist, but those two songs established the template for her subsequent work. She delved into infidelity over and over, but seldom from the perspective of a cheating wife or mistress. Rather, she sang extensively from the point of view of a traumatized wife trying to hold onto her unfaithful husband.
Though Wells was rightly hailed as a pioneer who inspired multiple generations of female country singers, a deep, almost self-parodying strain of masochism courses through her songs. For a particularly over-the-top example, listen to "I Gave My Wedding Dress Away," a maudlin melodrama about a woman who stands passively by when her spoiled younger sister steals her fiancé and decides to marry him. Normally, you'd have to plunge into the films of Lars von Trier to find selflessness taken to such grotesque extremes. Wells speculates dreamily that if she were to somehow win back her ex, it would be divine, but she couldn't "bear to break her heart the way that she broke mine." Like many of Wells' wronged-woman tearjerkers, it's pure kitsch, right down to a spoken-word interlude delivered with painful earnestness.
As Wells grew older, the possibilities of her songs about Christ-like suffering at the hands of philandering men expanded greatly. The tellingly named "A Woman Half My Age" finds Wells wrestling with her husband's decision to abandon her and chase after some bright young thing. As in many of her masochistic melodramas, Wells begs her husband to return, no questions asked, so they can "tear out this tarnished page."  Wells accepts that men will cheat and lie; in the world of country songs, that's just what they do. She just hopes that after they're done carousing, they'll come back home to the stalwart women who never stopped loving them.
Where marriage is a ticket to heartbreak and betrayal in Wells' world, divorce is no less the enemy, as evidenced by songs with titles like "Will Your Lawyer Talk To God" (needless to say, Wells doesn't seem to think the Big Man In The Sky will co-sign the dissolution of a holy union) and "I Hope My Divorce Is Never Granted." Both carry on the Wells tradition of hilariously on-the-nose song titles, like "Don't Hang Around (He's Married To Me)." I suspect there's a shoebox somewhere full of half-written Wells songs with titles like "Go Ahead And Sleep With My Husband (While I Weep Quietly In The Corner)" and "Don't Mind Me (I'll Just Crucify Myself While You Seduce The Only Man I've Ever Loved.)"
Wells presents herself as a strong woman who, in song after song, defines herself by her romantic relationships with faithless men. In that respect, she was very much a product of her times. Country audiences would only tolerate so much independence and freethinking in the '50s and '60s. Incidentally, it's worth noting that Wells herself has been married to fellow singer Johnny Wright for an astonishing 72 years, a possible record for celebrity marriage.
Wells made the occasional effort to change with the times. On her last album, 1974's Forever Young, she covered Bob Dylan on the title track and was backed by members of The Allman Brothers. But commercially, her best days were behind her. It's a trailblazer's fate to watch the people you inspired usurp you, commercially and artistically. Wells was the first woman to score a No. 1 hit on the Billboard country charts, the first woman to release an LP (Kitty Wells' Country Hit Parade), the first woman to host her own syndicated show (The Kitty Wells/Johnny Wright Family Show) and the second woman to be inducted into the Country Hall Of Fame, following Tammy Wynette.
Wells proved that a female solo artist could be a viable commercial proposition, even if it meant conforming to socially ordained roles like the faithful wife and fierce defender of family values. Wells took country music from honky-tonks and hobo jungles to suburban homes. Now 90, she's been able to watch multiple generations of female country artists build on her pioneering work, often by taking it places she never could have imagined when she started out.
Up next on Nashville Or Bust: 
Kris Kristofferson 
Buck Owens 
Waylon Jennings 
Loretta Lynn