In our monthly book club, we discuss whatever we happen to be reading and ask everyone in the comments to do the same. What Are You Reading This Month?
Sharon Stone made a fraction of what Michael Douglas did for "Basic Instinct"
Marah Eakin
I'll pretty much passively read any YA book that comes through our office, but Kill The Boy Band is one I actually excitedly sought out after reading a good review in Entertainment Weekly, and then noticing its place on The New York Times bestsellers chart. A young adult book that's actually fairly racy, Kill The Boy Band by Goldy Moldavsky tells the story of four girls who, bonded by online fandom of a One Direction-like band called The Ruperts, ultimately kidnap one of its members, only to have the resulting chaos call into question why they were ever fans of the group in the first place. A smartly written look at what it means to be both a teenage girl and a fevered fan of something for basically no reason at all, Kill The Boy Band struck a chord with me because it was just so damn spot on. I was one of those girls and I still am sometimes even now, minus the whole kidnapping thing. Moreover, Moldavsky manages to capture what it feels like to a semi-aimless teenage girl without waxing too rhapsodic about boys and periods, a task that most YA authors haven't come close to mastering. Seriously—I loved this book. I whipped through it in two hours on a plane, and have spent the weeks since recommending it to every woman I know. Guys would like it to, I suppose, but for women who remember what it felt like to have everything ride on a Jordan Catalano line of dialogue or a twist of Justin Timberlake's hair, this book is a must-read.
Gwen Ihnat
G/O Media may get a commission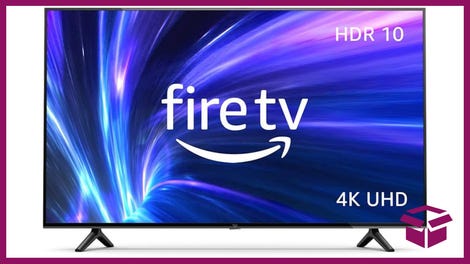 42% Off
Amazon Fire TV 50" 4K Smart TV
I finished Bob Mehr's Trouble Boys in 48 hours last weekend, and I'm still trying to recover. It's an exhaustive, unflinching biography of my favorite band, The Replacements, that he has meticulously researched for a decade. The result is a guts-wide-open look at the band, complete with extensive interviews with surviving 'Mats Paul Westerberg, Tommy Stinson, and Slim Dunlap. Mehr goes all the way back to their childhoods and their families, and delves almost as deeply into the people who surrounded them, like their former manager Peter Jesperson, Twin/Tone founder Paul Stark, and their Warner Bros. A&R rep Michael Hill. I've followed the band for years, and seen them live plenty, so I was familiar with their drunken antics, but I had no idea how permanent they were, how unrelenting, and how ultimately dark. I also was one of those fans who pondered endlessly why The Replacements never made it when so many lesser bands did. Until Trouble Boys, I was ignorant of the mountain of instances in which they were so terrified of success, they destroyed nearly every chance they had (dissing radio people who actually liked them, screwing up on television, blowing their opening spot on a Tom Petty tour).
Paul Westerberg especially doesn't come off that well, yet he'd probably be the first to say that he'd earned every negative word, as someone who used to shoot straws in the face of the idolizing kids who'd ask him for autographs. The Replacements resonated so much because they personalized the confusing pain of adolescence and growing up, and Westerberg, who is a goddamn poet, was able to translate that feeling through The Replacements' tremendous outpouring of resonating rock music. But he was doing so on top of his own demons, as well as those of his bandmates: especially Bob Stinson, who had such a fucked-up childhood, he really never had a chance. With Trouble Boys, Bob Mehr has forever changed my perception of my favorite band: I may never forgive him, but I sure won't forget this book.
Becca James
Graphic biographies hit my sweet spot this month. The first, Red Rosa, follows the life of Rosa Luxemburg, a Marxist theorist, philosopher, economist, and revolutionary socialist. Written and illustrated by Kate Evans, Red Rosa uses realistic drawings rendered in grayscale to portray the realities of Luxemburg's life, both personal and public, from an early love affair she partook in on her own terms to her many accomplishments as a German revolutionary. As much a history lesson of the political left as it is a harrowing tale of a woman asserting herself in a male-dominated field, Red Rosa is for anyone wishing to engross themselves in a well-researched example of political cartooning done right, with both intellect and insight presented throughout. It's also an especially great read for those currently following our own nations' politics, offering some welcome background on the history of the term socialist.
The second graphic biography I read follows another inspiring woman—Agatha Christie. Agatha: The Real Life Of Agatha Christie focuses on the time the renowned crime novelist went missing for 10 days by giving her entire life a once-over in an attempt to explain why she might have ran away from the world for that brief period of time. In this full-color book, Anne Martinetti, Guillaume Lebeau, and Alexandre Franc share and dissect the inspirations behind Christie's work, which when combined with her thoroughly modern hobbies—flying, traveling, and surfing—paint a portrait of a strong and independent novelist, wife, nurse, tourist, mother, archaeologist, and playwright.
Lastly, I read a sort mini biography of another sort. Peter Nickeas, an overnight reporter covering "violence and mayhem" for The Chicago Tribune's breaking news desk, wrote an essay about working overnights. In it he shares what it's like to be yet another victim of Chicago crime. Though he doesn't label himself that way, stories of restless sleep, haunted by the crime scenes he reports, is a reminder that all deaths have a ripple effect, changing the lives of anyone even slightly involved. The toll taken by a job that surrounds the end of human life is most evident in Nickeas' assertion, "I want to live, again. I miss living," and keeps many wondering, when and how, if ever, Chicago will be able to solve its crime epidemic and be able to truly live again.