Jonathan Glatzer's directorial debut What Goes Up is a quirky-small-town dramedy that just barely avoids the "overly cutesy" and "self-indulgently melancholy" traps that snare so many indies. The movie teeters on the brink of disaster, and sometimes it flat-out stumbles, but while it's often as amateurish as it is assured, Glatzer and writer Robert Lawson want to convey so much that the sheer breadth of the movie means they hit a few of their targets.
Steve Coogan plays a New York reporter who's been emotionally ground down by his series of stories about a tragic, courageous inner-city mother. So Coogan's editor assigns him a puff piece, covering a New Hampshire town's reaction to one of their own getting picked to ride in the Space Shuttle. While in town, Coogan plans to reconnect with an old college friend, but on the day he arrives, the old friend is found dead in an alley. And there's more woe ahead. The local astronaut Coogan is there to cover is Christa McAuliffe, who's days away from dying in the Challenger explosion. And the woman Coogan has been writing Pulitzer-worthy stories about? She killed herself after the first story was published, and all his subsequent pieces have been made up.
That's a lot of background for What Goes Up to wheel into place, especially since its actual plot isn't overly concerned with the phony articles, the dead friend, or the doomed teacher. It's mainly about a group of misfit teenagers (played by such familiar faces as Hilary Duff, Olivia Thirlby, and Josh Peck) who had a close relationship with Coogan's old buddy, and are now looking to Coogan to fill that same guru/confidante/crush role.
What Goes Up's high-school milieu is a mishmash of familiar tropes and one-note characters, and a subplot involving a space-themed high-school musical (conceived and directed by a broadly mousy Molly Shannon) is an ill-conceived time-waster at best, and borderline offensive at worst. Yet throughout, Glatzer and Lawson show a deep understanding of how common ideals can hold even a community of outsiders together. And What Goes Up has a one-of-a-kind character in Coogan, a cynic with a savior complex, who lies partly out of convenience, and partly because he knows—as Glatzer and Lawson know—that even a messy story can still inspire.
G/O Media may get a commission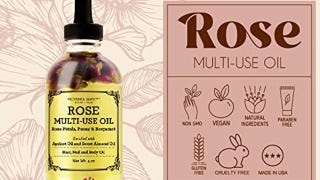 Provence Beauty Rose Multi-Use Oil