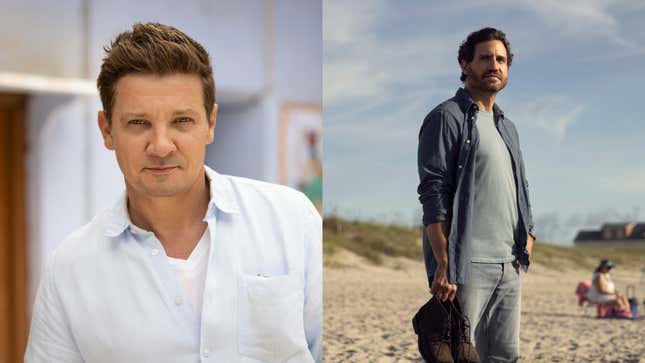 Welcome to What's On, our weekly picks of must-watch shows. Here's what you need to watch from Sunday, April 9, to Thursday, April 13. All times are Eastern. [Note: The weekend edition of What's On drops on Fridays.]

---
The biggies
Rennervations (Disney+, Wednesday, 3:01 a.m.)
Jeremy Renner is on a mission in Rennervations, a four-part docuseries where he follows a lifelong passion for construction and vehicles. He travels the world to transform municipal vehicles like buses and delivery trucks into creations that serve communities in new ways. Renner will be joined by actors like fellow MCU star Anthony Mackie, as well as Vanessa Hudgens and Anil Kapoor.
---
Florida Man (Netflix, Thursday, 3:01 a.m.)

No, Florida Man is sadly not about the famous meme. The action drama stars Edgar Ramírez as recovering gambling addict and former cop, who returns to his titular home state with the goal to locate the girlfriend of his mob boss. In the process, he faces complex situations, including navigating relationships with his father and his ex-wife. The ensemble includes Anthony LaPaglia, Abbey Lee, Lex Scott Davis, Clark Gregg, and Paul Schneider.
---
Hidden gems
Am I Being Unreasonable? (Hulu, Tuesday, 12:01 a.m.)
Hulu has acquired the streaming rights to the six-episode British comedy thriller Am I Being Unreasonable? Co-created by Daisy May Cooper and Selin Hizli, the show centers on Nic, who is stuck in a depressing marriage and whose only joy in life is her son. Things take a drastic turn when Jen, her kindred soul, arrives in town and a dark secret starts to bubble up between them.
---
An Interview With Brian Cox (Britbox, Tuesday, 3:01 a.m.)
In Britbox's exclusive hourlong interview with Succession's Brian Cox, who loves running his mouth as often as possible, the award-winning actor chats in-depth about his life and career, from his early years in Scotland and Shakespearean beginnings to his contemporary roles.
---
American Manhunt: The Boston Marathon Bombing (Netflix, Wednesday, 3:01 a.m.)
Directed by Floyd Russ, American Manhunt is a three-part docuseries exploring the untold stories behind the Boston Marathon bombing 10 years ago that killed three people and injured hundreds. The show delves into the terrifying days following the attack and recounts the manhunt from thousands of hours of closed-circuit video, police radio, and cell phone footage, as well as testimony from police officers, FBI agents, and ordinary citizens.
---
More good stuff
Catching Lightning (Showtime, Sunday, 9 p.m.)
Catching Lightning is a four-part sports docuseries by Emmy winner Pat Kondelis. It charts the bizarre story of the 2006 Great Britain Securitas Depot robbery, in which nearly £53 million was stolen, and the role infamous mixed martial arts fighter 'Lightning' Lee Murray played in the heist. The show will feature an interview with Murray, including shocking revelations and never-before-heard aspects of the case.
---
GLAAD Media Awards (Hulu, Wednesday, 12:01 a.m.)
The 34th GLAAD Awards will continue to honor media for their inclusive representations of the LGBTQ community and the issues that affect their lives. While the ceremony took place last week, it will be available to stream on Hulu. Some top winners include Prime Video's excellent A League Of Their Own, FX's What We Do In The Shadows, and FOX's 9-1-1: Lone Star.
---
Obsession (Netflix, Thursday, 3:01 a.m.)

The erotic thriller Obsession is based on Josephine Hart's novella, Damage. It follows the scandalous affair between Anna (Charlie Murphy) and her fiancée's father, William (Richard Armitage). Soon, William is drawn into an obsessive spiral leading to the question of how long the pair can keep their secret hidden. The cast includes Rish Shah and Indira Varma.
---
Can't miss recaps
Saturday Night Live (NBC, Saturday, 11:30 p.m.)
Succession (HBO, Sunday, 9 p.m.)
Perry Mason (HBO, Monday, 9 p.m.)
The Real Housewives Of New Jersey (Bravo, Tuesday, 8 p.m.)
Ted Lasso (Apple TV+, Wednesday, 3:01 a.m.)
The Mandalorian (Disney+, Wednesday, 3:01 a.m.)
Top Chef (Bravo, Thursday, 9 p.m.)
Yellowjackets (Showtime, Friday, 3:01 a.m.)
RuPaul's Drag Race (VH1, Friday, 8 p.m.)
---
Arriving now
Raven's Home (Disney, Sunday, 8 p.m., season six premiere)
Single Drunk Female (Freeform, Wednesday, 10 p.m., season two premiere)
Titans (HBO Max, Thursday, 3:01 a.m., season four spring premiere)
---
Ending soon
School Spirits (Paramount+, Thursday, 3:01 a.m., season one finale)