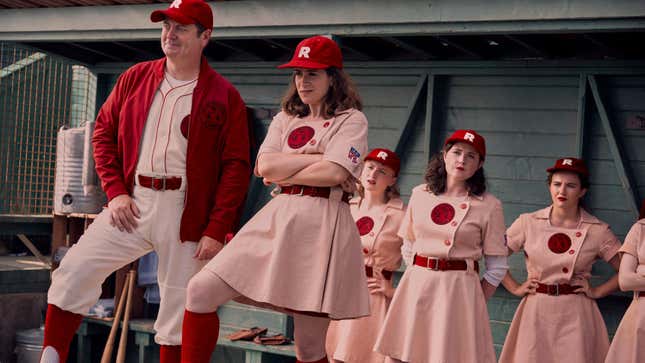 Expectant fans have waited months for any news on the continuance of Amazon's series adaptation of A League Of Their Own. After the first season aired in the fall of last year, there's been little news on if the show would receive a second season renewal—until now. After months of negotiations, Amazon has offered showrunners Will Graham and Abbi Jacobson a four-episode second, and final, season.
According to The Hollywood Reporter, the delay in the renewal announcement was the result of Amazon's renegotiations with Sony Pictures Television over the show's licensing fee, as well as working out new deals with the actors due to the truncated season, which will be half the size of the first.
The first season of the show, based on the original 1992 Geena Davis film, delved deeper into issues surrounding gender, sexuality, and race. Broad City's Jacobson stars in A League Of Their Own alongside D'Arcy Carden, Chante Adams, Melanie Field, Nick Offerman, and Kate Berlant. Prior to her death in 2018, Jacobson says film director Penny Marshall gave her blessing for the updated series.
Graham, who's also working on fellow Amazon series Daisy Jones & The Six, shares a pointed statement about the truncated season offer.
"The one thing I'll say at this moment: #ALeagueOfTheirOwn is not a small or niche show," Graham writes on Twitter. "The audience is domestic, but our understanding is that it's very big. It has outperformed many other shows that have been renewed. Journalists, please stop reinforcing the narrative that POC/Queer shows are inherently niche or small if you don't have data. That narrative is racist and homophobic and all the other stuff. Please cover these things with some thought and care."