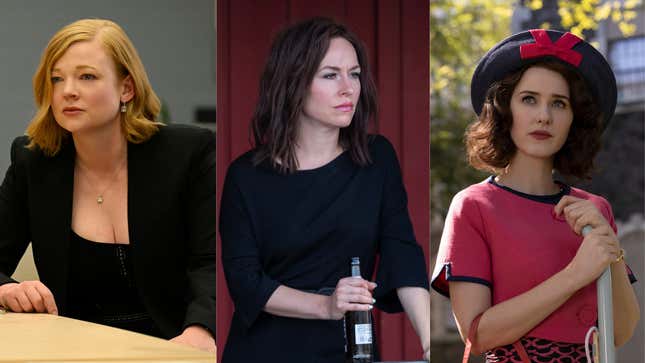 Welcome to the weekend edition of What's On. Here are the big things happening on TV from Friday, May 26, to Sunday, May 28. All times are Eastern. [Note: The weekly What's On will publish on Sundays.]

---
1. Succession bids a 90-minute goodbye
HBO, Sunday, 9 p.m.: Have you pre-grieved the end of Succession yet? Jesse Armstrong's drama comes to an end after four excellent seasons with a lengthy 90-minute episode. This follows after Logan Roy's devastating funeral as we see how his children continue to mess everything up for a final time. The A.V. Club's finale recap will publish Monday morning.

---
2. Barry, one of TV's bleakest comedies, also ends
HBO, Sunday, 10:30 p.m.: HBO won't let anyone process Succession's sendoff before diving into Barry's series finale, huh? Alec Berg and Bill Hader's dark comedy wraps up the wretched journey of hitman-turned-actor Barry Berkman. What will happen now that his family has been kidnapped and he has to reunite with Noho Hank after almost a decade? And will Gene Cousineou be blamed for Barry's crimes? We're about to find out. Look out for The A.V. Club's on Monday morning.
---
3. Not to be left behind, The Marvelous Mrs. Maisel airs its series finale as well
Prime Video, Friday, 12:01 a.m.: The TV powers-that-be decided that a long weekend is when all award-winning shows should end. Midge Maisel (Rachel Brosnahan) will hang up her hat (we know she has several) after five seasons. Amy Sherman-Palladino's The Marvelous Mrs. Maisel has reached its conclusion, so that's our last shot at watching Midge and Susie Myerson (Alex Borstein) reunite and make up in the future. 
---
4. Yellowjackets closes a gory season two
Showtime app, Friday, 3:01 a.m.: Yellowjackets is also closing its second season. But fear not, Showtime has already renewed its gory drama for a third round. The final episode will hopefully answer some lingering questions, including what the hell adult Lottie's (Simone Kessell) cult is all about, if adult Shauna (Melanie Lynskey) will be arrested for murder, and if the teens in the wilderness engage in more cannibalism. (The answer, most probably, is a big, delicious yes.) The A.V. Club's recap publishes Friday.
---
5. HBO drops a doc on Being Mary Tyler Moore
HBO, Friday, 8 p.m.: Directed by Soul Of A Nation's James Adolphus, Being Mary Tyler Moore is a documentary charting the personal and professional trajectory of Emmy-winning icon Moore. Besides discussing her work, the film looks at how she inspired a generation of women, featuring interviews with Julia Louis-Dreyfuss, Lena Dunham, Bernadette Peters, and other notable artists from the industry.
---
6. Run The World returns for round two
Starz, Friday, 9:30 p.m.: Leigh Davenport's Run The World is back. In the vein of Insecure, the comedy follows a group of four Black women in Harlem as they navigate their romances, friendships, and careers. Amber Stevens West, Andrea Bordeaux, Bresha Webb, and Corbin Reed co-star.