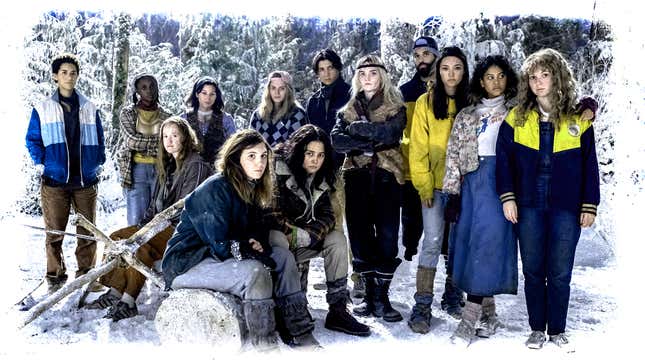 Halfway through its sophomore run, Yellowjackets is still dancing around some crucial mysteries: What happens to Shauna's baby? What's a sleepwalking Tai's connection to the symbols? What mystical powers does Lottie possess? Where has Javi been the entire time? Showtime's disquieting drama weaves a suspenseful web in the past as the teens remain stranded in the frozen wilderness. While the show isn't rushing to reveal all the answers yet, it's not a mystery that the younger cast dazzles with their characters' formidable arcs. They're a big reason Yellowjackets has found wins in the woods-set storylines compared to the present timeline.

"Andor" star Adria Arjona on Bix Caleen's Journey
Don't get us wrong; their adult counterparts are still formidable. Tawny Cypress is an easy standout in season two as Taissa's nightmares worsen. Melanie Lynskey and Christina Ricci continue to have fun exploring Shauna and Misty's wild sides, respectively. Newcomers like Simone Kessell and Lauren Ambrose fit into the ensemble like a glove. However, five episodes into season two, the adult Yellowjackets are primarily on disparate journeys, which robs us of their charming group chemistry from season one as they reconnected and covered up a murder, among other illegal activities. Their separate storylines this time around have slowed the pace of an otherwise engrossing TV show.
Conversely, the dynamics for the 1996 group are far more fraught, engaging, and barbaric as Yellowjackets delivers on its grand promise of cannibalism. While the brutal end of Jackie and episode two is a highlight, the show thrives when it dwells on the complications of female teendom. Their coming-of-age is rife with emotions, anxiety, and loneliness (relatable), but it's heightened by actual isolation, uncontrollable hunger, and a desperate need to survive. The stakes are inherently high, even though we know who makes it out alive (for the most part). Those stakes dwindle in the present. Shauna and her family are hilariously focused on evading homicide charges, Nat (Juliette Lewis) reconnects with cult leader Lottie, Misty befriends fellow citizen detective Walter (Elijah Wood), and most interestingly, Tai catches up with Van. But the adult storylines are still too disjointed.
Meanwhile, the soccer team was trapped in the Canadian forest for 19 months, so there's still much to learn before they're rescued. The burning questions aren't ending: Who's the Antler Queen or the Man with No Eyes? Will they eat someone else, perhaps the recently deceased Crystal (Nuha Jes Izman)? Are Coach Ben's (Steven Kreuger) dreams/visions a hint he's going to die? Even beyond these tantalizing queries, Yellowjackets finds a true emotional crux in the past. There's inevitable trauma bonding, but there's also division as Team Shauna vs. Team Lottie is born, resources are depleted, and numbness sets in after they, you know, devour their dead friend. Yellowjackets deliciously examines each main character's still-forming psyche at their most vulnerable.
It helps that the show's talented young cast carries these intense stories flawlessly. Samantha Hanratty has Misty's maniacal smile and disruptive sentiments down to a tee, and an evocative Sophie Thatcher is the best version of Natalie. Like with Cypress, season two lets Scream's Jasmin Savoy Brown shoulder the spookiest arc with Tai's dreadful alter ego. Shauna goes into labor at the end of episode five, which means MVP Sophie Nélisse's performance is only about to get stronger in the upcoming hour as Yellowjackets might finally reveal what happens to her offspring. Supporting actors like Courtney Eaton, Liv Hewson, and Alexa Barajas also help elevate this timeline.
With five episodes remaining, there's time for Yellowjackets to thread its narratives together in the present day. No one still knows about Tai's dangerous situation (besides Van, of course) or that Shauna is the subject of a police investigation. Misty knows where Nat is, but her friend promptly tells her to leave Lottie's property and her alone. The show may or may not find a confluence for these stories, but their former versions are about to meet a darker fate. Despite increasing tension, everyone will be forced to team up for Shauna's sake; there's a newborn to deliver in the worst possible circumstances. Clearly, Yellowjackets has set up its past timeline to become more disturbing and, therefore, more electrifying.