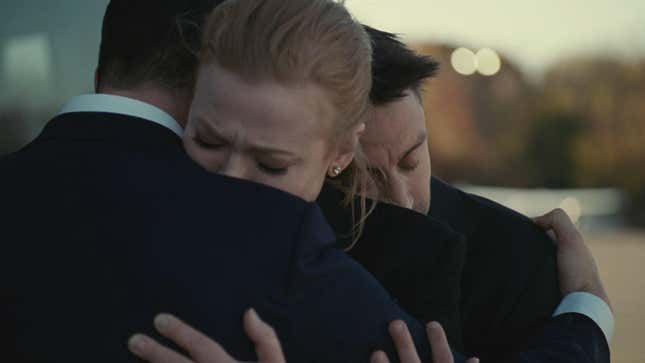 "Can you breathe without a heart?" It's a ridiculous question that Roman Roy (Kieran Culkin) is allowed to sincerely ask because he learned his dad might be dead. Nothing makes sense for him anymore in Succession's pivotal season four outing, "Connor's Wedding." As aptly described in William Hughes' fantastic recap: The world has ended. Episode three is all about the unexpected grieving process. It sweeps the rug out from under the Roys and the audience because it is, in fact, not about the eldest sibling's nuptials (although that does happen). Instead, the HBO drama finally pulls off what it's been leading up to since it began—remember the premiere featured Logan Roy having a stroke in a helicopter? Well, Succession finally killed him off—RIP to the OG. In the process, "Connor's Wedding" becomes an instant classic.
It's unsurprising that (proud method acting hater) Brian Cox's fictional figurehead is out of the picture. Logan had to exit so one of his kids—which one, we still don't know—could take over. Logan's demise is neither a bombshell nor remotely heartbreaking; the man was in his '80s and, as Rome puts it, a monster. The execution of his death, however, will go down in TV history. Succession delivers a flawless hour with exemplary performances, brutal writing, Mark Mylod's pointed direction, and Nicholas Britell's crushing music. These combined elements hit hard because Logan's four children crumble in precise and gutting ways. "Connor's Wedding" is a sudden shock to the system because of their real-time handling of the vacancy Logan leaves in his wake.
Plenty of TV shows, like Six Feet Under, Sorry For Your Loss, and Dead To Me, focus rather remarkably on the long-term trauma of death. Similarly, notable episodes from The Sopranos, Buffy The Vampire Slayer, Grey's Anatomy, This Is Us, and Jane The Virgin (to name a few) agonize over the aftermath of a loss that slowly stretches out across a season or the entire show. "Connor's Wedding" feels potent because it makes a winning choice to spend most of the episode from Roman, Kendall's (Jeremy Strong), and Shiv's (Sarah Snook) perspectives in what feels like slow motion. And the maneuver is a raging triumph.
We don't need to see Logan dramatically clutching his chest, his seemingly lengthy final exchange with Kerry (Zoe Winters), or how everyone dealt with it on the plane before Tom (Matthew Macfadyen) calls the siblings. The action happens off-screen. We get to chew on the immediate and confusing grief that follows because, much like his children, we don't see the details of how Logan met his bitter end. Believe it or not, Succession proved that doesn't matter. The urgent tragedy lies in the wreckage he leaves behind. And his kids display it.
The physical and emotional distance from their father as he's getting chest compressions 30,000 feet in the air is discerned right away. Roman is in utter denial; a helpless Kendall goes into action mode; Shiv retcons to her younger self. Everyone forgets about Connor (Alan Ruck)—whose wedding they're at, mind you—until he arrives to complain about cake. Connor's reaction is essentially a "fuck you" because he proceeds to get married without an audience on the day his father dies. Their varied yet equally heartbreaking responses key into who they are as people and their distinctive relationships with Logan. Succession retains consistent character traits in the face of a catastrophe. That's why it works.
Roman breaks down first. You can't blame him because his last words to Logan might be "Are you a cunt?" via a scathing voicemail. He spends the entirety of "Connor's Wedding" in denial, yelling at Shiv to stop saying he's dead until it's confirmed, wondering if Logan can breathe if his heart fails. His withdrawal is a deep cut. Roman suffered his father's physical abuse the most, but he's the least ready to accept Logan's fate until witnessing him in a body bag. They're all unprepared to exist without yearning for his approval, even amid an all-out war.
Look at Shiv's immediate reaction: "I can't have that yet," she says with tears streaming down her face, shaking as she begs him on the phone not to go yet. She succumbs to arrested development in that minute, returning to calling Logan "daddy" affectionately. Time hasn't stopped for her; it's gone backward. She'd rather her mum die than him because at least she knows how to disassociate from Caroline (Harriet Walter). That's why she suggests keeping the plane in the air "for an extra beat." She'd rather he float above than deal with it on the ground. She does literally walk away when the plane lands, too.
When reality hits Kendall on that cursed boat, Logan's number-one boy doesn't know what he can do. So he calls Jess (Juliana Canfield) and Frank (Peter Friedman), hoping to get the best doctors. Frank gently telling Kendall that the pilot can't talk because he's flying is one of the saddest dialogues of the episode, followed by Ken's weak command to ensure he turns around and lands the plane safely. Feeling helpless is an undeniable aspect of grief—you're only left with your feelings, and the person you most want to express them to is gone. What's left is a gaping hole. Succession aced this beautiful, scary depiction.
Connor is further proof. "He never even liked me. I never got the chance to make him proud of me," he heartbreakingly says after the news is (finally) broken to him. It's a stunningly self-aware response and not as surprising after last week's "I don't need love; it's my superpower" speech. Once again, Succession ensures his reaction is in line with who Connor is as a person—he's taken aback by Logan's demise, sure, but he's more worried that if he doesn't marry Willa (Justine Lupe) despite this, she'll walk away. And so he gets a weirdly happy ending on the day his dad meets his maker.
The remaining episodes of the fourth and final season will undoubtedly follow up on how the Roy kids handle their grief. With the immediacy out of the way, they will jump back into the business of it all. They already do in "Connor's Wedding" as they draft a statement to compete with Karl (David Rasche), Karolina (Dagmara Dominczyk), Frank, and Tom. Oh, Tom, who barely got time to process being the polite go-to guy between his dead "protector" and his ex-wife. All he could muster was a teary "I'm not okay" to Greg (Nicholas Braun). Was it a breakdown or a selfish thought? Maybe both. (Also, Colin's [Scott Nicholson] few seconds looking bereft at the airport was quite the gut punch, right?)
Succession will never be the same again. "Connor's Wedding" will go down as one most talked about episodes of Jesse Armstrong's drama, and rightfully so. In the most Succession of ways (biting humor and one-liners like "He's heavily fuckin' delayed"), the show dealt with the pulverizing torment of losing a parent, especially one with whom you share a troubled history—so much so that Kendall's difficult goodbye included "I can't forgive you, but I love you." It's the kind of raw truth Logan would've appreciated.
The installment accurately captures the gutting onslaught of grief, a smorgasbord of chaos, disbelief, and distress. One day you're telling off your dad in a karaoke bar; the (literal) next, you're calling it a family function because you'll never hear him say, "I love you, but you're not serious people" again. You'll also never win that final kiss from daddy. And damned if that all won't make us weep, even if we hated Logan's guts.