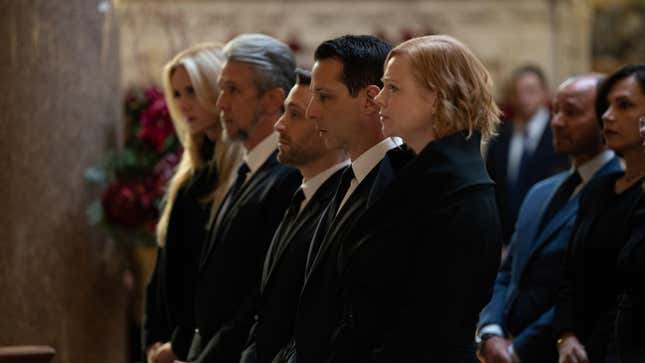 We concern ourselves, tonight, with the triangulation of Logan Roy's soul.

Succession doesn't use flashbacks. It's something I only really noticed on my second run through the series: For all that these characters are defined by the wounds of the past, we in the audience never get to visit it. The show's cameras—directed tonight by series MVP Mark Mylod—are, instead, permanently fixed in the never-resting now. If it's not here, it doesn't exist.
Which means that if we want to get a glimpse of Logan Roy at his own funeral, we have to do so by inference. The old man might be in the box, but his spirit can only be found on a map whose perimeters are sketched out by the things people say about him tonight—most notably in three beautiful, blistering speeches that try to answer the question: Exactly what kind of monster was Logan Roy?
In the words of brother Ewan—James Cromwell showing up, as he so often has on this show, to bring a little fire and brimstone down on the heads of the sinners—Logan was a tragic monster, a haunted child who responded to demands for silence by becoming the loudest bully in the room; feelings of powerlessness by becoming high priest of a cult of power. There's a wonderful tenderness with which Ewan condemns his brother, simply outlining the ways he not only committed evil, but encouraged a love of evil acts in others. He tells no untruths—and, in fact, all three funeral speeches tonight are scrupulously honest, which is part of what makes them such a fascinating exercise in writing from series creator Jesse Armstrong. "He was mean," Ewan concludes. "And he made but a mean estimation of the world. And he fed a certain kind of meagerness in men." People weep, shake their heads—and, in Greg's case, give some mealy-mouth congratulations. Nobody denies that it was true.
Next up is Kendall, who subs in after Roman—having convinced himself that the funeral would be his moment to dazzle the world with the brilliance of Logan Roy's youngest son—collapses at the pulpit like so many delusions of "pre-grieving." In Kendall's telling, Logan was a vital monster, a massive, ugly, powerful heart pumping lifeblood through the American corpus. And if Kendall's efforts to give "the other side" of Logan end up describing the capitalist hellscape his father helped create as a kind of paradise, that's sort of the point: If Kendall is ever going to love himself, as a creation of Logan Roy, he's going to have to embrace everything that Logan created in his image. "And now people might want to tend and prune the memory of him, to denigrate that force," he concludes. "That magnificent, awful force of him. But my god, I hope it's in me." And then he damns him, in a way that Kendall, and Logan, would both view as praise: "He was comfortable with this world. He knew it, and he liked it."
Finally, Shiv gets up, tearfully describing the very human monster at the center of her, and so many others', lives: The boogeyman whose children lived in fear of him—but who nevertheless always played outside his office in the hopes of catching a glimpse. Sarah Snook plays the speech perfectly, no bombast, no persuasion for anyone except herself; unlike Ewan and Kendall, Shiv seeks to claim no territory here, save what exists in her own heart. (Later, she will approach Logan's oldest friends, demanding they tell her whether it's safe to carry forward some part of his memory with pride or warmth.) Logan's love was one of his most potent, cruelest weapons, but it was also shocking, genuine, beautiful; how many times did we watch Brian Cox suddenly turn it on, and see people who knew better, time and time again, melt beneath the warmth of that sun? "Goodbye," she finishes, after taking a moment—reflected in the faces of Gerri, Karolina, those who'd know—to let Logan's treatment of women face a moment of proper scrutiny. "Goodbye, my dear, dear world of a father."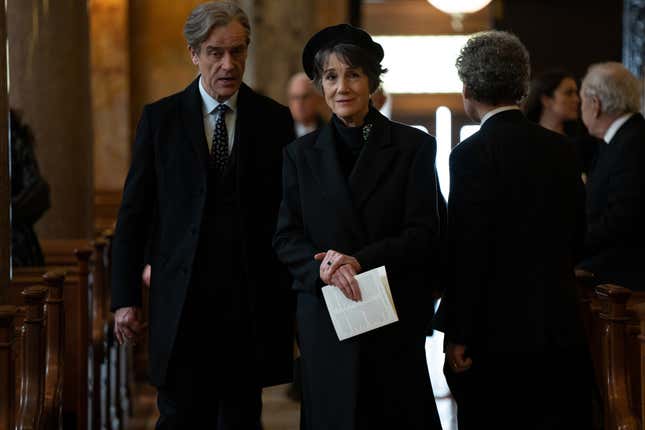 But even away from the spotlight of the speeches, tonight's funeral outlines the man Logan Roy was, by the ways people unconsciously commemorate him: Shit-talking, glad-handing, and the endless pursuit of the deal. "Church And State" is a bit of a monster itself in that regard, simultaneously serving as both "The Funeral Episode" and "The One Before The Big Finale," duties which sometimes sit ill-at-ease with each other. Armstrong's script has to simultaneously examine the Roys as they are, in this pivotal moment, and set them up for the knock-down, drag-out fight over the Matsson sale next week, two narrative masters operating at sometimes frustrating odds with each other.
It doesn't entirely work, honestly: The funeral speeches make for such a gripping emotional climax—with the scene between the four kids at the actual burial as a funny, strangely sweet dénouement—that the realization that there's still another 15 minutes of politicking left to go afterward makes the episode feel strangely lopsided. My suspicion is that Armstrong is trying to make a case here that there's no moment so holy that real life won't intrude on it; the actual effect, though, is a sudden dip in energy that only picks back up with the episode's ugly climax, when Roman tries to scream the world into submission and ends up pummeled to the ground, instead.
And yet, the moment-to-moment of "Church And State" is so strong that its more structural defects are easy to ignore. This is an episode filled with funny, profoundly human moments. Like Connor revealing that their dad's gaudy tomb represents no loftier ambitions than Logan's unstoppable desire to screw another guy over at market. Or poor, awful Peter Munion trying to soft-launch himself as "Daddy" to the deeply unamused Roy kids. Or, god help me, Caroline Collingwood and Marcia Roy evoking genuine tears from me with acts of kindness(?) and empathy(?!).
When Caroline first approaches Logan's final mistress Kerri (who brought a lawyer to the funeral, in case the widowed Marcia tried to bar her from even attending), my stomach sank; what game was this inveterate drama hound going to pull? But this is Caroline's brutal love of honesty at its best: Collecting her "own" Kerri, Sally-Anne, on the way to the front row, she asserts to Marcia that every woman who managed the trick of loving Logan Roy deserves their chance to say goodbye to him. When Marcia not only relents, but acknowledges Kerri's genuine heartbreak with a moment of comfort, it doesn't change anything between them—part of the point of this episode is that none of this changes anything, because the world keeps spinning—but it is a moving point of human connection, a moment of solidarity between the survivors of Logan Roy.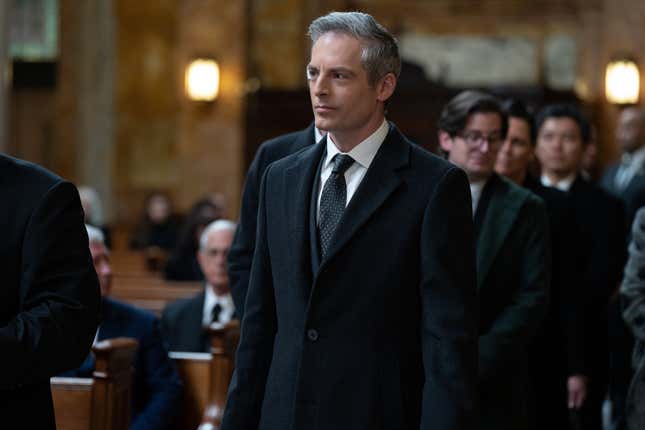 Meanwhile, the man's other survivors are forced to contend with a new source of gravity in the room: Jeryd Mencken, who is now, depending on what news you watch, the President-Elect of the United States. Not to belabor this point, but the Mencken material in "Church And State"—good as it is—feels strangely separated from the funeral plotline, centered as it is mostly on the reception afterwards, which is almost entirely focused on setting up the stakes for next week's finale. (Among other things, Mencken's enthusiastic response to Kendall's eulogy doesn't feel totally natural with the coolness with which he treats him at the reception; given that Armstrong has talked about tinkering with the structure of this season while deciding whether it'd be the show's last—and the fact that this episode is an extra ten minutes long—it almost feels like these two moments could have come from two different episodes.)
Justin Kirk still moves smooth as semi-fascist silk, though, as Mencken settles comfortably into his new position of power—including openly denigrating his "friend" Roman for his display of open emotion during the funeral. As the parasites flock to him (and the show implicitly suggests that there's not that much difference between Kendall and Greg and Connor in this moment, all begging Mencken for scraps on the strength of what they did for him yesterday), the potential new president sets up the terms for next week by giving tacit permission for Matsson to go forward with the Waystar acquisition—as long as an American CEO, i.e., Shiv, stays in charge. And that, apparently, is where we'll start next week: The final grudge match between Shiv and Kendall for the title of Daddy's Best Baby, Roy V. Roy.
But we don't end tonight with either of our major combatants. No, we end as we (basically) began, with Roman The Showman. Kieran Culkin is heartbreaking throughout this episode—whether falsely pumping himself up for his "big speech" at the beginning, or collapsing into tiny-voiced sobs when forced to confront the fact that his dad is really in that box halfway through. Or when he can't even bring himself to enter the tomb, admitting he couldn't even really breathe when Logan was around. Or at the reception, when he's too broken to push back on Kendall's put-little-brother-back-in-his-box assertions that he "fucked" the funeral speech. (An ugly assessment borne out by the mocking of that moment we glimpse around the room.) And, oh, he's especially heartbreaking in the end, tonight, as he screams at protestors who he'll never really grasp that he unleashed on the streets of New York, all but begging them to kill him. Roman begins tonight convinced that he's the second coming of Logan Roy. He ends it lost in a world where the only person who really mattered to him, apparently, has ceased to exist. Time only moves forward, after all, and no matter how hard we look for him, Logan Roy is well and truly gone.
Next week, we find out exactly who he'll take with him as he goes.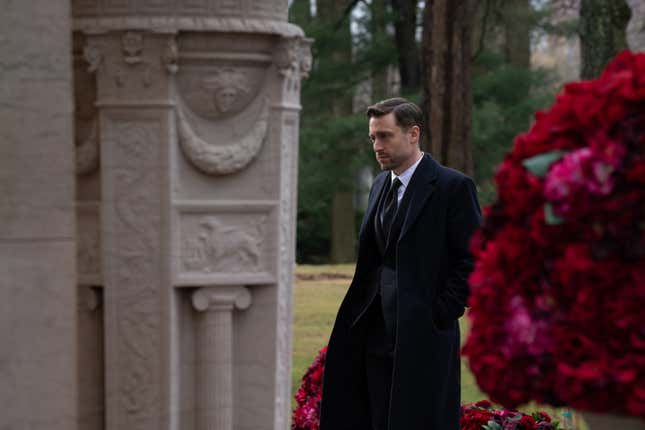 Stray observations
So many wonderfully scuzzy little notes in the practice version of Roman's speech we get; especially the "we" when he mentions satellites, gently skipping over what actually happened when Rome tried to launch one.
Kendall gets his first tantrum of the day in early today, threatening to lay down in front of Rava's car to keep her from taking the kids out of the city to avoid unrest caused by Mencken's "win"; New York bracing for the blowback of what the Kids did last week is an undercurrent throughout tonight's episode.
Tom pops in and out of the episode, consumed by ATN's handling of the Mencken material. He still gets a chance to say some very Tom stuff, though! "I'm tarred with the Mencken brush, so I may as well get my goodies. There's no point in joining the party unless you get your little dacha."
Roman is in fine form after Shiv reveals she's pregnant: "Is it mine?… I figured you'd just been eating your feelings. If I see you breast feeding, I am going to have to jerk off."
Jess Watch: A big one, as Kendall stumbles into finding out she's resigning. Fascinating, ugly scene; we know Ken's gonna pop, regardless, but the one moment of pure honesty in Juliana Canfield's eyes, the contempt she never shows breaking through, when he asks "Is this about Mencken?" hits so hard.
Tragically, we never get to hear Connor's Willa-penned, "formally inventive" speech for his dad, beyond Shiv noting that, "I think that this eulogy is going to leave us open to legal action."
Frank's total indifference to Roman's overtures is so good. "Sure. Life is short. We should all love one another." Peter Friedman: Low-key MVP throughout this one.
It takes Matsson zero time to try to use Shiv's pregnancy against her, but she ably deflects, declaring herself a "hard bitch" who's "not widely liked."
"I loved him, I suppose. And I suppose some of you did, too, in whatever way he would let us, and we could manage."
God, Caroline's little face when Kendall gives their dad complete credit for making the Kids.
"He was hard on women…he couldn't fit a whole woman in his head."
There are a ton of good lines at the burial: "Cat-food Ozymandias," "I'm intrigued to see how he gets out of this one." Maybe the Roys at their funniest and best.
I suspect that might be a series wrap on Hiam Abbass. "He broke my heart. He broke your hearts, too." What a wonderful, tricky character Marcia has been over these four seasons.
Energized by his speech—and news of Shiv maneuvering for CEO—Kendall recruits his own little dream team, bringing on both Hugo and Logan's old body man Colin. (There's no way Andrew Dodds doesn't come up somehow next week, right? It's too potent a bomb in Shiv's arsenal not to go off.)
"Whole new Tom. You would never have dared not to come to his funeral when he was alive."
"The people at the hotel know me…and I hate it." How do these awful people keep breaking my heart.
Meanwhile: If Matsson double-crosses Shiv and names Greg as his puppet CEO, somebody owes me $5.