By now, we've all seen the clip (captured above) of former Vice President and Secretary of Defense Dick Cheney signing a waterboard kit. It was the first clip Showtime released of Who Is America?, and for good reason. Cheney so casually and happily writing his name on an instrument of torture more or less affirms his reputation as a soul devoid of empathy. No matter your views on "enhanced interrogation," can't we all agree that it's objectively insidious for someone to take pride in the authorization of systematic torture? In this interview with Israeli anti-terror expert Eran Morad, Cheney proves he's still living in the same bubble as he was during the Bush administration, with the guy placidly reminding Morad that it's not "torture," it's "interrogation." He doesn't bristle at being called "the king of terrorist killers," nor does he bat an eye when Morad congratulates him on the "700,000 potential terrorists" he had a hand in killing. "It was never personal," Cheney replies. Jesus.

Still, though, the most chilling part of the interview is Cheney's response to Morad's own story of waterboarding. When Morad says he waterboarded his own wife to find out whether she was being faithful, Cheney chuckles, a polite and ambiguous laugh. This isn't to say that he was taking pleasure in Morad's absurd story, but it does resonate as instinctual, which is the exact kind of response that Sacha Baron Cohen wants from his marks. What does that chuckle mean? Is it born of awkwardness? Surprise? Amusement? No matter the context, it's weird. As such, it echoes long after the episode has ended. It echoes louder than Baron Cohen's jokes about Demi Lovato and "Dick pics" (though I certainly laughed at the latter). It's Who Is America? at its most thought-provoking; we're most naked in those tiny moments.
Or maybe we're most naked when we're running backwards, ass out, screaming about how your butt will turn ISIS gay. Because that's exactly what Baron Cohen got Jason Spencer, an extraordinarily stupid Georgia state representative, to do in the episode's opening segment. Spencer is classic MAGA, a sloppy, unkempt racist who's tried to ban Muslims from wearing burkas and once said a black Democratic lawmaker would "go missing" if she touched Georgia's Confederate monuments. Here, Spencer is more than receptive to Morad's anti-terrorism tips, which include taking upskirt photos of burka-clad women, screaming the "n-word" (which he does readily), and, as previously noted, running ass first at gun-toting radicals.
G/O Media may get a commission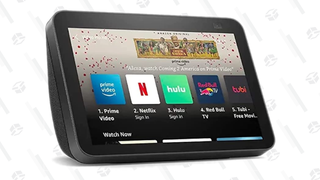 He bellows "USA!" as he does it. He served four terms in office. It's fucking depressing.
But it's also exhilarating. There's plenty of critics decrying Who Is America?, saying that it's simply reiterating what we already know: "MAGA culture is racist, and Baron Cohen is wasting his time exposing a movement that has no shame." There's some truth to that, as a number of his marks would proudly stand by their racist ideologies in a public forum, but it's the means by which he's excavating those beliefs that matters here. Baron Cohen knows that he can't simply draw out these beliefs—that would be too easy—so he's doing it in a way that highlights their innate absurdity. Both here and with last week's Kinderguardians stunt, he's couching the ideology in foolish, profane bits that emphasize just how dangerous and illogical it all is. You could argue that he's giving a platform to these dummies, but who wants to ideologically align with a lawmaker whose pants are around his ankles?
(Spencer, like many of the show's marks, has tried to come out ahead of the controversy, saying that he thought he was filming a real training video for "elected officials who may be targeted by terrorists." That's clearly true, as is the fact that Spencer believes he can scare away a terrorist by running at them with his pale, hairy ass jiggling in the wind. The good news? He lost his recent primary.)

All that said, not all of it is so elaborate. "Self-hating white male" Dr. Nira Cain-N'Degeocello returns, telling the small town of Kingman, Arizona that they'll soon be home to a $385 million mosque funded by the Saudi government and (hilariously) the Clinton Foundation. Baron Cohen lands a number of delightfully clueless one-liners during the meeting—"Can I get a woop-woop?"—but the sketch more or less exists to whip a group of racist locals into a foul-mouthed frenzy. "I'm racist against Muslims!" one attendee says. "This town is lucky to have black people in it!" yells another, bringing up the concept of other races entirely on his own. One of his pals terrifyingly adds that "we tolerate them."
What's notable is just how easy it all is. As Cain-N'Degeocello, Baron Cohen barely has to say a word; the hate pours forth with only the slightest provocation. Of course, the group was likely curated to ensure that. A Mohave Valley Daily News article clarifies that the attendees were sourced through Facebook, Craigslist, and other local ads, likely with an eye towards who would be most triggered by the mention of Muslims.
As such, it feels cruel to reduce an entire city to a handful of bigots. But, as Baron Cohen no doubt discovered beforehand, Mohave County is a "Republican stronghold" that sports a "Hillary for Prison" billboard. Besides, Baron Cohen isn't about nuance. He's about flipping the lid off of steaming pots and stripping bare coded language and behaviors with as many pokes as is needed.
That lack of nuance, however, inevitably unsheathes a double-edged sword. As I previously mentioned, it's a delight to see our nation's stupidest, most hateful people humiliated. But Baron Cohen is also deliberately tailoring his series to singularly highlight the dumbest and most destructive among us, and there's a danger in goading viewers into thinking that everyone on the other side of the aisle is one specific way. But what's clear is that, like the rest of America, Baron Cohen has no interest in centrism, not in this political climate.
In this way, he's not unlike the MAGA crowd. He's also, though, not unlike the mobilizing left, which is veering further and further away from center as it seeks the proper escape from the black hole of the Trump era. We lament the divided nature of our country, but, really, what "middle ground" are we hoping to find? It's a myth, and Who Is America? is, in its own way, a response to that. Baron Cohen has no desire to find commonalities or understandings between differing ideologies. His show is definitively, unapologetically an attack on modern conservative values. It wants to personally and professionally humiliate its members. It wants to dive into Cheney's creepy, ambiguous laugh and discover what's living at the heart of it. The masks are off now, after all, so now's the time to look.
Love it or hate it, that's America right now.
Stray observations
I mentioned Nathan For You last week, but failed to notice that Nathan Fielder was one of Who Is America's consulting producers! He also co-wrote and co-directed tonight's episode, which is very exciting news. Which segment do you think he had a hand in? Cain-N'Degeocello's mosque meet-up certainly felt Fielder-esque.
We met a new character tonight! In lieu of Rick Sherman, the artistic ex-con, Baron Cohen introduced Gio Monaldo, a "billionaire playboy and fashion photographer." Here, he duped former Bachelor contestant Corinne Olympios into claiming she helped save Ebola victims in West Africa. She also says she stopped a 6,000-person "massacre" because a "warlord" recognized her from TV. "It really helped with the whole massacre situation," she hilariously says of her chat with the warlord. It was a fun, Brüno-esque segment, and a welcome break from the show's political bent, that revels in Baron Cohen's love for exposing the shallow, do-anything nature of celebrity culture. Olympios spoke about her experience on the series to EW, and, while you can feel for her disorientation during filming, her recounting is riddled with plot holes, especially after watching the episode.

We also saw Billy Wayne Ruddick again, here interviewing Nightline journalist Ted Koppel about fake news. It's funny enough, and I love Baron Cohen's performance as Ruddick, but the character remains fairly one note, if only because he's been interviewing left-wing personalities who Baron Cohen uses not as a source of satire, but as a means to satirize the character itself. Considering we know Ruddick is involved in the forthcoming Sarah Palin stunt, the character's best is most likely yet to come.
"Remember, when you launch a grenade, you launch a dream." Olympios would've fit right in as a Kinderguardians spokesperson.