Photo: WWE
The past 365 days have seen NXT, once the gleaming hot upstart of the professional wrestling world, lose some of its luster. Many of its top stars graduated to Raw and Smackdown, and reloading NXT's depleted roster has felt frustratingly slow. Beyond Shinsuke Nakamura and Bobby Roode, who have the benefit of sing-along entrance music, many of its hopeful talents haven't hit the critical mass that have helped launch Finn Balor, Sami Zayn, Kevin Owens, and Bayley onto the main roster.
With NXT Takeover: Orlando, a brand in transition continues searching for its next superstars, and from it emerged glimmers of shine. Aleister Black's unique set of mannerisms and offense makes for a fascinating character. Ember Moon proved she could hang atop the women's division. Nikki Cross and Ruby Riot are captivating to watch, both with a high ceiling. And Roode—who's already popular with the fans—continues deepening his conniving, old-school heel persona into an anchor of the next-generation NXT roster.
A multi-person tag match between Sanity and Roderick Strong/Tye Dillinger/Ruby Riot/Kassius Ohno (replacing No Way Jose) began this Takeover, and it accomplished its intended goal: an organized clusterfudge of maximum action and minimal psychology. How do you even recap a match that's all spots with little room to breathe? With scattered thoughts:
* Roderick Strong is so technically crisp, so sharp, so fun to watch. But man, is his piano entrance music terrible.
* 2016 was not the strongest year for the women's division (as evidenced by NXT going outside their roster to find a challenger—Mickie James—to face Asuka). But alongside Ember Moon, Nikki Cross and Ruby Riot (the former Heidi Lovelace) present themselves as intriguing characters in the women's division. They weren't given much time here, though. Riot took an absolutely reckless bump—a flat-back drop kick from the apron to the outside. Riot got herself a "Ruby! Ruby!" chant, so that's a good start.
* Wrestling Observer's Bryan Alvarez with exactly what I was thinking:
G/O Media may get a commission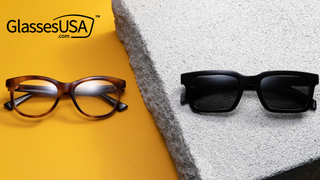 60% off frames
GlassesUSA.com Back to School Sales
* Would-be Game of Thrones extra Killian Dain won it for Team Sanity with a One-Winged Angel, which with his execution, is more front-facing Attitude Adjustment than Kenny Omega.
Next came a match I thought could be the weekend's sleeper: Andrade "Cien" Almas vs. Aleister Black (most recently known as Tommy End). Black, whose vampire-rise-from-the-coffin ring entrance was awesome, has a distinctive look: a gothic metal CM Punk with elite kickboxing chops. Almas, meanwhile, abandoned his luchador style as La Sombra for a more-neutered American approach to wrestling, although his turn into a swaggering heel has made his character more interesting in recent months. The pairing of Black and Almas created an intriguing dynamic, and at least during the first half of the match, the two showed solid chemistry. Towards the finish, missed spots hampered the flow, and the crowd began losing interest and chanted "Nakamura" to keep themselves entertained. Black won with a spinning back kick to Almas' chin for the win.
The tag team championship that came next was earmarked by most as potential match-of-the-weekend, with #DIY and The Revival in an elimination bout against champions The Authors of Pain. A fine match, to be sure, and there were some innovative, holy shit-inducing moments—the quadruple power bomb of Rezar through the table, the superslex crash to the outside. But this lacked the smoothness and flow of previous NXT tag title matches—perhaps we're used to too high a standard, and this wasn't quite top-tier. Plus, having #DIY eliminated in the first fall (which elicited "bullshit" from the crowd) took the steam out of the will-they-won't-they drama; we're left with two heel teams fighting over a title where the crowd has little rooting interest. AOP hit the Super Collider against both Dash and Dawson and retained the title. (Now please bring The Revival up to Smackdown.)

In a down year for NXT, its MVP arguably has been Asuka. She's the one booked closest to Brock Lesnar, an unbeatable monster striker who suffers no fools. She's dispatched all comers with ruthless efficiency, and not one challenger felt like a serious contender.

With Ember Moon, her story is she's the owner of a fatal finishing maneuver—the Eclipse top-rope stunner—a move so dangerous that those on the receiving end have advocated for its ban. The narrative of this women's championship match was if Moon could somehow hit Asuka with the Eclipse, just once, Asuka's undefeated streak would come to an end.

That didn't happen, but these two had a fantastic match, the best NXT women's bout in a calendar year. Moon looked every bit Asuka's equal, hitting stiff kicks, rolling forearms, exploder suplexes, and escaping from the seemingly inescapable Asuka lock. Here we witnessed Asuka's turn from subtle to full-fledged heel, who when faced with the Eclipse, knocked the ref into the ropes to crotch Moon. Asuka—gasp! The cheat!—hits a kick to the head and retained, and I for one am excited for the rematch.

Nakamura's NXT run began at its absolute peak—his incredible match against Sami Zayn one year ago—and ever since his buzz has slowly faded from unadulterated mania to respectably over main eventer. Part of the problem, I suspect, was that Nakamura in the U.S. has performed at 70 percent of his New Japan potential. He's been able to get away by doing less, and as much charisma as he still exudes, it feels as if his aura has been burnished a shade dull.

With Nakamura vs. Roode II, we saw an intensity from the King of Strong Style two notches above the norm. Coupled with a match structure that felt like a '90s-style main event, the two presented an effective story, manifesting in an emotionally charged, technically sound match. It reprised themes from their first meeting at San Antonio in January: Nakamura on the verge of hitting the Kinshasa, but Roode chop blocked Nakamura's (worked) injured knee and continued working it into oblivion through Figure Four leglocks and slams into the ring post. I loved the finishing sequence of this match—Nakamura's attempted Kinshasa countered by Roode's Arn Anderson-level spinebuster drew as much crowd reaction as last year's Kinshasa into Zayn's blue thunder bomb.
The finish saw Nakamura kick out of the Glorious DDT once, but a second one—a tornado implant DDT from the corner turnbuckle—yielded a three-count on Nakamura.
Both men were great in this match, but please, it's past due for Nakamura to graduate to the major leagues. For NXT to regain its shine, let those who need the spotlight show what they're really made of.