Despite the majority of Americans voting against him, and the fact this his very existence is a source of global unease, Donald Trump managed to unite the world in uproarious laughter with a single tweet today.
The transparently staged image features the president-elect gazing thoughtfully into the future, as if feeling the full weight of history upon him as he composed an opening entreaty to the American public that might unify and inspire them. Amidst a typically tacky Mar-A-Lago tableau, he bends the notepad upward as he writes, each word rendered onto parchment via ink such that he might feel the real weight of them and not because he does not know how to operate a computer.
Twitter users immediately dog-piled the president-elect, since he does not write anything unless it is decreed to him by his id in the small hours of the morning. As with previously staged photos, in which he pretended to eat a taco bowl and work at a computer, a close-up yielded interesting results.
G/O Media may get a commission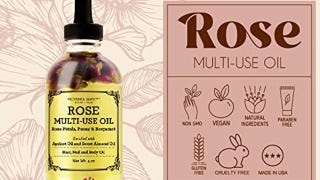 Provence Beauty Rose Multi-Use Oil
Many dreamed of what he was dreaming of in that quiet, pensive moment.
Others envisioned a speech of disarming honesty:
Comedian Kristina Wong composed a full hypothetical speech based on Trump's tweets.
Trump's actual communications director said that the speech will be about "dreaming big" and "looking forward," adding that it will be "strong." Tickets to see the missive delivered in person, meanwhile, are apparently so little desired that the Trump team is offering them via targeted Facebook advertising. He also has the lowest approval rating of any person entering the presidency. The speech will have a lot of work to do, in other words.