Sometimes an act comes along that looks like the future of music. Then the future makes other plans. Below, The Onion A.V. Club recalls several such acts in an attempt to discern how they got where they are, and whether they might be coming back.
Basehead
Debuted: 1992
On the revered debut Play With Toys, Basehead frontman and laconic hip-hop troubadour Michael Ivey combined snotty, sarcastic indie-rock humor and neuroses with hip-hop beats, acoustic guitar, and moody half-rapped, half-drawled lyrics. The result made Ivey a critics' darling and helped expose rap, or at least a shambling, unclassifiable variation thereof, to new audiences, in the process elevating Ivey to the level of a genuine slacker collegiate icon.
Slumping point: In 1993, Not In Kansas Anymore replicated many of the elements from Play With Toys, but with far less critical and commercial success (though it has its defenders). Some time later, Ivey found Jesus. His career never recovered.
Years in the wilderness: After embracing Christianity, Ivey released a pair of largely ignored albums with telltale names: Neither 1996's Faith nor 1998's In The Name Of Jesus found much of a crossover audience.
Inevitable comeback attempt and its results: Like a lot of artists who've outlived their moment in the spotlight, Basehead never stopped releasing albums, though Ivey's early fan base stopped paying attention long ago. His latest, 2002's DC, is billed as featuring the original Basehead band, but as a Christian alternative rapper, Ivey is reduced to working a small niche within a small niche.
G/O Media may get a commission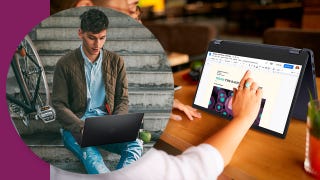 Ends August 15
Best Buy Anniversary Sale 2022
Ends August 15
Best Buy has a number of different promotions happening all for its Anniversary Sales Event. Laptops, tablets, TVs, you names it. Whether you're heading back to school or just trying to fill your home with some new tech, there is something here on sale that you've likely been waiting for.
The Stone Roses
Debuted: 1989
A monumental self-titled debut that sounds as whooshingly brilliant today as it did then, The Stone Roses set the bar for a pack of good bands—Happy Mondays, Charlatans UK, etc.—that never sounded as pompously timeless, yet ultimately stuck around longer. The album spawned a series of jangly, vaguely psychedelic singles ("I Wanna Be Adored," "Elephant Stone") but even its deepest cuts, from the one-minute "Elizabeth My Dear" to the eight-minute "I Am The Resurrection," are extraordinary. It's a stem-to-stern triumph.
Slumping point: Try writing the follow-up to a stem-to-stern triumph. The iron grew cold and was eventually discarded while singer Ian Brown and guitarist-savant John Squire tried to write a batch of new songs. A five-year wait fed huge anticipation, and huge anticipation fueled an even bigger letdown: The Stone Roses' second album, ridiculously titled Second Coming, didn't appear until 1994, and with a few brief exceptions, it just plain sucks. Subtlety and chiming intricacy gave way to wank, and the band broke up not long after Squire's 1996 departure.
Years in the wilderness: Squire formed The Seahorses, which went nowhere. Bassist Mani joined Primal Scream. Drummer Reni started a band called The Rub. Brown launched a solo career that proved without a doubt that he needed Squire, and he refused to play the old band's songs in concert, until…
Inevitable comeback attempt and its results: Brown and Squire haven't played together since the breakup, and it's unlikely they ever will. Brown, however, recently broke his no-Roses policy in a big way: In July of 2004, he played a set featuring almost nothing but Stone Roses songs, even hiring the guitarist and bassist of a Stone Roses tribute band to help out. Keenly aware of which side the bread is buttered on, Brown now incorporates the old songs into his live shows.
New Radicals
Debuted: 1998
At the end of the '90s, the West Coast was infested with studio rats flaunting a gift for outsized pop orchestration. Gregg Alexander crept in stealthily with the virtual one-man band New Radicals and its dazzling Todd Rundgren-esque debut album, Maybe You've Been Brainwashed Too. The record contained the anthemic hit "You Get What You Give"–featured in pretty much every movie trailer over the next two years–but rather than topping himself, Alexander abruptly retired from performing, settling into a career as a producer in the UK.
Slumping point: Alexander got the slump out of the way before forming New Radicals. His justly forgotten 1992 solo album Intoxifornication offered a dopey hard-rock alternative to the burgeoning grunge movement, complete with songs like "Smokin' In Bed" and "I Wanna Seduce You."
Years in the wilderness: Alexander has been cashing paychecks from British pop stars in need of pizzazz, like Boyzone singer Ronan Keating and ex-Spice Girls Geri Halliwell and Melanie C.
Inevitable comeback attempt and its results: There hasn't been a real comeback attempt yet, though Alexander put a bland new song on his website two years ago. Given that he hasn't been doing daring work behind the board, he may be better off laying low and letting the legend grow.
Tracy Chapman
Debuted: 1988
Sprung from the mid-'80s "new folk" boomlet, Chapman's eponymous debut album went multi-platinum, thanks to the Top 10 pop hit "Fast Car." Chapman won three Grammys, including Best New Artist, but her momentum stalled along with her music's long-term prospects by the end of that first Grammy night, when the plaintive, downbeat "Fast Car"–in a general rebuke of heart-rending social studies–lost Song Of The Year and Record Of the Year honors to Bobby McFerrin's "Don't Worry, Be Happy."
Slumping point: Chapman dedicated her 1989 follow-up Crossroads to Nelson Mandela, signaling that politics mattered as much to her as music. Coming so soon after the election of the first George Bush, earnest pleas like "Freedom Now" couldn't manage more than a merely respectable chart showing.
Years in the wilderness: Chapman took three years to write and record her third album, the dreary, poor-selling Matters Of The Heart, during which time Bonnie Raitt and Melissa Etheridge found commercial successes, proving that the public's appetite for rootsy songs is persistent, but fickle.
Inevitable comeback attempt and its results: Chapman spent another three years on album number four, 1995's New Beginning, and landed a fluke hit with the innocuously bluesy "Give Me One Reason." Since then, she's settled into the life of a respected, steady-selling singer-songwriter, popping up every few years with another collection of quasi-political, semi-soulful songs for coffeehouse compilations to license.
Ned's Atomic Dustbin
Debuted: 1991
With its catchy, melodic, vaguely punkish rock built around two bass players, Ned's Atomic Dustbin had enough of an edge to sound subversive, but enough pop hooks to please a wider audience. Its debut, God Fodder, produced a slew of alternative singles that became hits with the 120 Minutes crowd. As the alternative-music scene took shape, Ned's seemed ready to prosper in the post-Nirvana world.
Slumping point: The band faltered after releasing an arguably better, though lower-selling follow-up, Are You Normal?, in 1992. Wary of treading water musically, Ned's heavily incorporated techno into its 1995 album, Brainbloodvolume, which alienated longtime fans and created virtually no new ones. It flopped, and Ned's quickly disbanded.
Years in the wilderness: Several Ned's alumni returned to school and started short-lived bands, but eventually joined the illustrious day-job world.
Inevitable comeback attempt and its results: Ned's Atomic Dustbin reunited (minus a couple original members) for a show in 2000, which spawned a live CD. Reunion gigs around the UK have followed sporadically, but there are no plans to write new material. Last year, the band released Sessions, a collection of inexplicably re-recorded versions of its old songs, plus a few live tracks and an interview.
The Prodigy
Debuted: 1990
The Prodigy's story goes back to the early days of rave culture in England, but the version applicable in the U.S. begins and ends during the late-'90s electronica boom that never happened. The scary, stomping single "Firestarter" introduced unwitting Americans to the bristling energy of rave's dark side, while mohawked frontman Keith Flint gave a face to a scene normally associated with anonymity. The subsequent album The Fat Of The Land topped the U.S. charts upon release in 1997, amid much industry talk about a dance-music takeover.
Slumping point/Years in the wilderness: It turned out that, in the long run, few people in the U.S. cared about electronica as a movement, much less the noisy, nihilistic kind made by The Prodigy. The curious sentiment proffered in the single "Smack My Bitch Up" did not help matters, and subsequent releases failed to attract much attention.
Inevitable comeback attempt and its results: Touted as a back-to-basics return to The Prodigy's inspired early days, last year's Always Outnumbered, Never Outgunned stayed on the cultural radar just long enough for everyone to tally a score of excoriating adjectives. Aging ravers mourned what could have been, and detractors laughed at what never was.
Digable Planets
Debuted: 1993
Although groups like A Tribe Called Quest and De La Soul helped establish the sound, New York's Digable Planets best personified the jazz-infused hip-hop of the early '90s. On its debut, Reachin' (A New Refutation Of Time And Space), jazz samples provided laid-back hooks for intellectual rhymes by Butterfly, Doodlebug, and Ladybug Ms. Mecca. As gangsta rap focused on 40s, hos, and gats, Dig Plan rapped about Snapple, Marx, and abortion rights. The group scored a Top 20 hit with "Rebirth Of Slick" and won a Grammy in 1993.
Slumping point: Jazz's influence became less shticky and significantly smoother on 1994's Blowout Comb, an arguably better record that lacked a strong single and sold poorly. As the group wrestled with creative differences, Mecca's mother and father died in short succession, and Digable Planets split in 1995.
Years in the wilderness: Everyone recorded solo records, but none matched the success of Digable Planets.
Inevitable comeback attempt and its results: Last September, Digable Planets announced its reunion, playing a few shows in Europe and one in Miami last month. A U.S. tour is scheduled for the summer, along with a greatest-hits CD and an album of new material.