Here's what's up in the world of TV for Sunday, March 5. All times are Eastern.
Top picks

Making History (Fox, 8:30 p.m.): As our own Gwen Ihnat observed last week, time travel is seemingly everywhere on TV these days, skipping around in TARDIS and Waverider and Lifeboat and the back room of a diner. Tonight, two more time machines whirr to life, introducing their own flavors of paradox and butterfly effect into an already crowded universe. First up is Making History, starring Adam Pally and Yassir Lester, who use a duffel-bag time machine to start changing events in the past. Katie Heaney will be hitching a ride with them for weekly coverage.
Time After Time (ABC, 9 p.m.): Along with time travel, television of late has an appetite for League Of Extraordinary Gentlemen-style team-ups. First there was the baroque mélange of Penny Dreadful, then some spirit vs. logic crime-solving in Houdini & Doyle, and now there's Time After Time. Adapted from Nicholas Meyer's 1979 film, H.G. Wells (UnREAL's Freddie Stroma) attempts to bring down the famous serial killer Jack The Ripper (Revenge's Josh Bowman), only to teleport both of them to modern-day Manhattan. The source material is solid and the concept is joyfully nutty; however, enthusiasm is tempered by the presence of Kevin Williamson as showrunner, given that his recent offerings of The Following and Stalker suffered from being exploitative, nasty, and genuinely bad television. (Williamson also didn't help his case by being a dick to everyone who pointed that out.) Fingers crossed we'll get the better version of Williamson here.

Feud: Bette And Joan (FX, 10 p.m.): Not a time travel series in the definition of the word, but one designed to transport you back in time all the same. Professional provocateur showrunner Ryan Murphy follows his American Horror Story and American Crime Story success with a new anthology series on famous feuds, with the first installment focusing on the animosity between Bette Davis and Joan Crawford while filming What Ever Happened To Baby Jane? With Susan Sarandon and Jessica Lange in the title roles, and a backdrop of 1960s Hollywood, this could allow Murphy to reach the camp zenith he's been trying to hit for his entire career. Erik Adams agrees in his pre-air review, praising the performances of the leading ladies and the "sheer degree of artifice on display." Gwen Ihnat will be guiding us on the weekly journey, but wouldn't share if she's #TeamBette or #TeamJoan. (She did, however, give us a good place to start with their respective careers.)
Premieres and finales
Once Upon A Time (ABC, 8 p.m.): Now for the always fun game of trying to see if the episodic description of Once Upon A Time makes a lick of sense to anyone who doesn't watch the show. Tonight's midseason premiere: "Gideon makes a confession to Belle and Gold concerning his past whereabouts. Meanwhile, David and Hook try to stop Gideon from confronting Emma; Regina worries that an alternate world presents a better outcome; and Emma learns how to change her fate." Hm. Disappointingly more vague than crazy, but hopefully some of those points mean something to Gwen Ihnat.
G/O Media may get a commission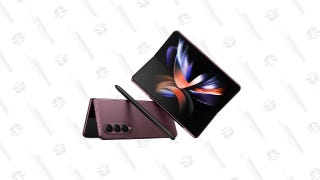 Save Up to $300
Galaxy Z Fold4
Little Big Shots (NBC, 8 p.m.): Things are going pretty good for Steve Harvey in 2017. First, he got to share some presumably mean-spirited laughs with the paranoid idiot squatting in the White House, then his position as most embarrassed award show host was taken by Warren Beatty and the good people of PricewaterhouseCoopers, and now tonight season two of Little Big Shots premieres. Hopefully that'll calm whatever part of him may be bothered by selling his soul.
Mercy Street (PBS, 8 p.m.): Tonight's season-two finale is titled "House Of Bondage." Man, we never knew that Civil War nurses went to such extremes to keep their hospitals open during difficult times.
The 2017 iHeartRadio Music Awards (TBS/TNT/TruTV, 8 p.m.): Hosted by Ryan Seacrest (the most Ryan Seacrest of Ryan Seacrest Types), the fifth annual awards show feature performances by Bruno Mars, Katy Perry, and Ed Sheeran. And with Adele and Beyoncé nominated in separate categories, there's no chance of a Grammys repeat.
Chicago Justice (NBC, 9 p.m.): Dick Wolf's latest Windy City procedural settles into its regular home tonight. Here's hoping that as the series tries to establish its own reputation, it lets Philip Winchester flex those Strike Back muscles and take a more hands-on approach to justice. C'mon NBC, you've already got Sullivan Stapleton on Blindspot! Let's get the team back together.
Victoria (PBS, 9 p.m.): The first series draws to an end tonight with "Young England," as Victoria is caught between her fear of dying in childbirth and her scheming uncle, the King Of Hanover.
The Last Man On Earth (Fox, 9:30 p.m.): Time After Time features Génesis Rodríguez as the modern-day woman who captivates Wells, a role filled in the original film by Mary Steenburgen, which creates a fun connection in tonight's offerings. That's about the only fun present in The Last Man On Earth, which left viewers with two brutal cliffhangers in its winger finale: Gail's implied suicide after being unable to escape her elevator prison, and Melissa committed to a makeshift psych ward as her mental state continued to deteriorate. Vikram Murthi's been on the edge of his seat for almost three months waiting for these stories to resolve, hopefully he'll get his answers tonight. (And scoot back on your seat, Vikram. There's plenty of room.)
The Arrangement (E, 10 p.m.): Michael Vartan and Christine Evangelista star in E!'s latest scripted drama, where a young actress gets drawn into the machinations of the Institute Of The Higher Mind, a group that in no way is inspired by the Church Of Scientology. If you don't believe us, just check out the presence of characters Crom Tuise and Trohn Javoltla!
Shades Of Blue (NBC, 10 p.m.): To the surprise of many, Shades Of Blue made it to a second season, as the morally conflicted police work of Jennifer Lopez and Ray Liotta wound up being pretty popular in the world of time-shifted programming. Let's see if they can keep it up.
Regular coverage
Bob's Burgers (Fox, 7:30 p.m.)
The Simpsons (Fox, 8 p.m.)
The Walking Dead (AMC, 9 p.m.)
Big Little Lies (HBO, 9 p.m.)
Homeland (Showtime, 9 p.m.)
Girls (HBO, 10 p.m.)
Billions (Showtime, 10 p.m.)
Crashing (HBO, 10:30 p.m.)
Streaming pick
Twin Peaks, "Beyond Life And Death" (Netflix): This marks your What's On Tonight correspondent's final installment as a What's On Tonight correspondent. It's been an absolute joy and privilege to spend the last year and a half on this beat, cracking wise about one of television's busiest nights, and playing some small part in the never-ending conversation of your comments. As the last part of our finale, we leave you with one of the strangest finales ever to grace network television, a fair pile of unanswered questions that may never receive closure, and at least one image guaranteed to sear its way into your nightmares. How's Annie? How's Annie? How's Annie?
Thanks for reading, everybody. We'll see you around.