Here's what's up in the world of TV for Sunday, September 23. All times are Eastern.
TOP PICK
The 64th Primetime Emmy Awards (ABC, 7 p.m.): A new television season can't begin until statuettes are awarded for achievements in the previous season.Mad Men, Breaking Bad, Game Of Thrones, and Homeland are favored to win big at the 2012 Emmys—while a crop of old favorites and promising newcomers are set to be crushed under the 22 feet of the academy-beloved Modern Family. At least "Remedial Chaos Theory" has a chance to win Outstanding Writing For A Comedy Series… over the Girls pilot, the one-two punch of Parks And Recreation's "The Debate" and "Win, Lose, Or Draw," or the most elaborate fart joke Louis C.K. has ever told. Can't they all just share the prize?
---
REGULAR COVERAGE
The Thick Of It (Hulu, 5 p.m.): Stewart Pearson continues shoring up his anti-Malcolm bona fides by sending the coalition government on a technology-free retreat. Asking this show's cast to part with its phones is like asking a deep-sea diver to send up his scuba set in the middle of a dive—David Sims can't wait to see how they flail about and fight for the last gasp of 4G.
G/O Media may get a commission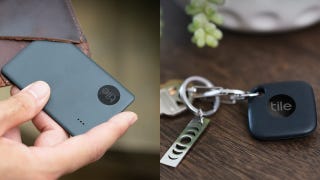 Up to 35% off
Tile Item Trackers
Hell On Wheels (AMC, 9 p.m.): It's the Pain on the Plains as the Swede and Bohannon square off in a match of wits (and maybe fists) that has Alasdair Wilkins wondering if Hell On Wheels would be better if it only involved Anson Mount and Cristopher Heyerdahl butting heads on a weekly basis.
Boardwalk Empire (HBO, 9 p.m.): "A malt liquor shipment takes an unexpected detour," reads the last line of HBO's episode synopsis, leading Noel Murray to devise all manner of fantastical adventures for the wayward booze, like The Red Balloon for gangsters chasing hooch.
Copper (BBC America, 10 p.m.): Let's take a moment to appreciate the title of tonight's episode, "Arsenic And Old Cake," a pun whose namesake play is predated a good 80 or so years by Copper's 19th-century setting. In light of this anachronism, Sonia Saraiya now theorizes that Detective Corcoran's nickname derives from the old ABC drama Life Goes On.
Treme (HBO, 10 p.m.): It's funny: Treme plays out on a longer time lag than The Newsroom, but no one will ever give David Simon shit about that because a.) He's David Simon and b.) he's not pretending like the fictional residents of Treme are finding solutions to mistakes real-life people made five years ago. Keith Phipps climbs aboard the third-season time machine and transports back to 2007.
---
TV CLUB CLASSIC
South Park (Classic) (1 p.m.): Phase 1: Phil Dyess-Nugent wraps up season-two coverage with "Gnomes" and "Prehistoric Ice Man." Phase 2: ?. Phase 3: Profit.
The Simpsons (Classic) (3 p.m.): Nathan Rabin prepares to learn a little bit about animal rights (and a lot about the ingrained early-20th-century prejudices of Springfieldians) on "Whacking Day."
---
WHAT ELSE IS ON?
Broadway Or Bust (PBS, 8 p.m.): Will the kids make it to Broadway? Or will they go bust? These are not rhetorical questions—we're truly concerned about the fragile egos of these bright-eyed youngsters being irrevocably shattered.
Secret Brazil (Nat Geo Wild, 8 p.m.): This nature series promises some of the most adorable footage of bathing otters in the history of adorable footage of bathing otters—but first, Rowan Kaiser must wrangle with jaguars. He promises the otters will show up eventually, though.
$24 In 24 (Food Network, 10 p.m.): Self-proclaimed Sandwich King Jeff Mauro temporarily descends from his crusty throne to eat his way through American cities, spending no more than $1 for each hour he's there. Or spending less than $24 hours for one day's breakfast, lunch, and dinner—however you want to break down the math.
The Hunger: Death Race (Animal Planet, 10 p.m.): Not the "Vampire David Bowie plows down pedestrians in a cross-country automobile race" hybrid promised by the title, but rather a global survey of people going to extreme lengths to put food on the table.
Dante's Peak (TV Guide Channel, 7 p.m.): The undisputed victor in 1997's "war of the volcano movies" bested Volcano on matters of science, gratuitous crane shots, and moments where a grandmother sacrifices her legs to an acidic lake in order to get her loved ones to safety.
Ten Little Indians (TCM, 8 p.m.): The quintessential Agatha Christie mystery received its second cinematic adaptation in 1965, when writer-producer Peter Welbeck moved the action from an island with a decidedly un-P.C. name to a remote mountain setting where 10 suspicious characters are suspiciously picked off one by one.
MLB Baseball: Dodgers at Reds (ESPN, 8 p.m.): Cincinnati has its playoff berth all wrapped up, so wouldn't it be nice if they threw L.A. a few bones in their Wild Card attempt? There's no way that could come back to bite the Reds in October—oh, wait…
---
IN CASE YOU MISSED IT
Gravity Falls (Friday): Alasdair Wilkins slays the Multi-Bear of catching up with the sleeper hit of the summer—just in time for a run of new episodes that begins next week.