Like most music fans, we at The A.V. Club are all saddened by the news of Tom Petty's death yesterday. It's always a good time to visit his extensive catalog, but today it seems exceptionally appropriate, in order to honor the man who ruled rock radio before some of us were even alive, and who wrote the tracks that scored our lives for several decades. So, we ask our staff (and you):

What's your favorite Tom Petty song?
---
Josh Modell
Even after he had already announced the recent 40th anniversary tour, Tom Petty was still talking about a box set and intimate-venue tour behind 1994's incredible Wildflowers. That would've been a dream-come-true tour for me, as that's hands-down my favorite Petty album. I did get a chance to see him play just three months ago, and, as this-job-has-perks luck would have it, from the fourth row. He played five songs from Wildflowers, even introducing a run of three with something like "Do you like the Wildflowers album?" That's the long way around to picking my favorite Tom Petty song of today—that answer could change almost daily. But today it's the title track, "Wildflowers," which reads like something you might actually hear at a funeral: "You belong among the wildflowers / You belong somewhere close to me / Far away from your trouble and worries / You belong somewhere you feel free."
---
Gwen Ihnat
When I was 14 and a puny high school freshman, my best friends and I were devoted to Tom Petty over almost any other songwriter. The boys we liked in school seemed to have little interest in our thoughts and feelings, even as they teased us or tried to ask us to dances, but the vinyl albums we played over and over revealed that Petty knew so much about the young women we were aiming to be. He crafted songs for American girls, refugees, free-fallers—kids who were about to break out into the adult world, giving us a hint of what was about to come. I could write about 20 different songs here, but "Even The Losers" is my particular high school snapshot: "Well it was nearly summer, we sat on your roof / Yeah we smoked cigarettes and we stared at the moon." Petty always offered tenacity in the state of despair; in this song, even as he's getting dumped, he maintains, "I showed you stars you never could see / Babe, it couldn't have been that easy to forget about me." He knew that even the losers get lucky sometimes, and that optimism was enough to get me through high school. I can't think of a songwriter I'm more indebted to.
G/O Media may get a commission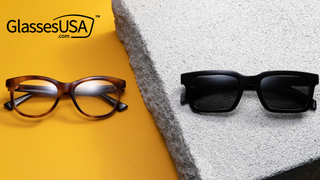 60% off frames
GlassesUSA.com Back to School Sales
---
Erik Adams
The town where I grew up, Brighton, Michigan, is more or less equidistant from the Great Lakes state's two major radio markets, which meant my car stereo could pick up a pair of classic rock stations situated right next to one another on the dial: 94.7 WCSX in Detroit and 94.9 WMMQ in Lansing. Both stations kept Tom Petty in heavy rotation throughout my high school years, regularly exposing me to new depths of his discography—even when I didn't know it was him. I must've heard "Don't Do Me Like That" a dozen times without a DJ identifying the track or the artist behind it; the piano-and-organ accents lead me to assume I'd discovered a J. Geils Band track with all the strut and none of the leering of "Centerfold." (The fact that I'm only just now learning that Petty considered giving the song to Geils proves that his back catalog hasn't lost any sense of surprise over the years.) I'm most partial to The Heartbreakers' tracks that speak for the heartbroken, of which "Don't Do Me Like That" is one of the most effervescent, with that killer "'Cuz somewhere deep down inside" breakdown and the quintessential Tom Petty mumble-drawl refrain. (It'd be perfectly within reason to mark the song down as "Dondoomeelythat" on a mixtape tracklist.) I look forward to hearing that stuttering instrumental intro on every classic rock station in the country for the rest of eternity.
---
Annie Zaleski
I was traveling yesterday when I heard the news about Petty's cardiac arrest. The local-to-me classic rock station went all-Petty in tribute, and I nearly started crying in the car when the feathery opening chords of 1991's "Learning To Fly" began. Co-written by Jeff Lynne, the song is about charting a path forward after a seismic life event—dusting yourself off and recalibrating your equilibrium for this new reality. But more than anything, "Learning To Fly" is a marvel of lyrical simplicity that illustrates the laconic, relatable way Petty always conveyed longing, vulnerability, and optimism. "I'm learning to fly, but I ain't got wings," he sings earnestly, while adding his usual caveat. "Coming down is the hardest thing." The musical vibe of "Learning To Fly" matches its otherworldly, in-the-clouds thematic bent. Call the song phase-shifted jangle pop, with its cascading melancholic riffs and gentle sonic contrasts. Insistent acoustic guitar strums and shuffling drums provide a steady foundation underneath flourishes such as turbulent slide guitar. "Learning To Fly" wasn't the biggest Petty hit—it peaked at a modest No. 28 in the top 40—but its embrace of metamorphosis makes it one of his most enduring, resonant moments.
---
Kevin Pang
For sentimental reasons, I love "California" from the 1996 soundtrack of Edward Burns' She's The One, a film where Petty and The Heartbreakers provided all the music. There's nothing groundbreaking about this pithy track, registering under 2 minutes and 40 seconds, but its AM Gold melody is evocative of driving down the Pacific Coast Highway with the top down and a warm breeze blowing. This is the song I found myself playing hundreds of times when I lived in Southern California in my early 20s. It has everything you want in a work of Petty's: brevity, an easy-going sense, the briefest suggestion of twang, and a harmonica solo.
---
Kyle Ryan
Is it weird that my favorite Tom Petty song has little guitar but boasts a lot of sitar and '80s-sounding electronic drums and keyboards? I can't help it. I love "Don't Come Around Here No More" from 1985's Southern Accents. The song's atmosphere, the heartbroken but defiant lyrics, they all work for me. And it's not that weird—"Don't Come Around Here No More" closes with a propulsive coda that's 100 percent Petty guitar rock. I can't think of it without picturing the Alice In Wonderland-inspired video, which MTV played a ton back in the mid-'80s, scarring a few minds in the process. One of a kind, that Tom Petty.
---
Noel Murray
I grew up with Tom Petty as a staple of top 40 and album-rock radio, and it wasn't until much later in my life that I fully grasped how much his early albums baffled critics, who were unsure whether to file him alongside New Wavers like Elvis Costello or roots-rockers like Bruce Springsteen. That's why one of my favorite Petty songs is one that I didn't hear until relatively recently: "Surrender," a staple of the Heartbreakers' '70s and '80s live sets that didn't get any kind of official release until the 21st century. Petty's friend Phil Seymour—a key collaborator on early albums by Petty's label-mate Dwight Twilley—covered "Surrender" on a solo album in 1982, and his version really suggests an alternate history version of The Heartbreakers. There's a universe where the band never made the jump to classic rock status, and instead ended up being another regional power-pop favorite that couldn't break national, like Shoes or 20/20. In that reality, "Surrender" is a lost late-'70s classic, still chiming through the middle American night from the car stereos of those in the know.
---
Danette Chavez
Tom Petty was an empathetic songwriter, stringing together verses that revealed as much about himself as they did the listener. But one of my longtime favorites features probably his most detached point of view. In "Yer So Bad," Petty sings about a fictional sister and her yuppie ex-husband, and the (mis)fortunes that befall them after their divorce. He reserves only the chorus for his own feelings, which are mostly grateful for a more supportive lover. But what a chorus it is—a beautifully arranged S.O.S. that stands out as one of his and Jeff Lynne's most vibrant. And although the lyrics for this Full Moon Fever track didn't end up scrawled in any of my notebooks growing up, I did watch the video (which featured the late Charlie Rocket) more times than I can remember.

---
Leonardo Adrian Garcia
I don't believe I've ever had a No. 1-with-a-bullet favorite Tom Petty song (though if there was one, Josh scooped it up). His entire oeuvre seems woven into my adolescence in a way that makes it impossible to choose. "You Don't Know How It Feels," "The Waiting," "Walls (No. 3)," "Refugee," "Stop Draggin' My Heart Around"—the songs I gravitate toward shift like the weather, either based on my mood or the state of the world. It's no surprise then, that in the wake of his death, the song that's been echoing in my mind is "I Forgive It All," an introspective acoustic number on what would prove to be Petty's final record, Mudcrutch's 2. The track finds Petty settling up his accounts and setting out on his final adventure, before offering one last bit of advice: "People are what people make 'em / That ain't gonna change." The repeated choruses feel earned, with Petty's voice worn from years of touring and watching friends and loved ones go. Though not intended, it's a swan song if ever there was one, showing that 40 years into his career, Tom Petty was still capable of weaving story into song.