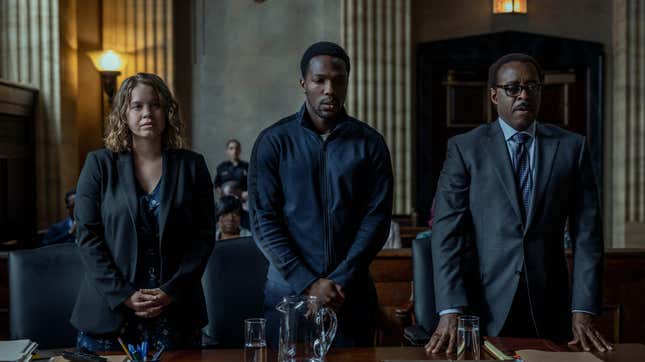 In an increasingly (and depressingly) common practice, AMC announced today that it's rescinding an already-granted second-season order for its Chicago-set legal drama 61st Street. This, despite the fact that the Courtney B. Vance-starring show had already filmed its second season, which will now, presumably, get dumped in the garbage, alongside all the other shows and movies that have gotten this treatment of late.
AV Club Interviews Tom Kenny and Bill Fagerbakke
Admittedly, 61st Street—in which Vance plays a lawyer attempting to keep his young client (Tosin Cole) from getting chewed up and spit out by the Chicago legal system—wasn't exactly burning up the airwaves with its ratings. The show logged about 159,000 viewers for its May 2022 finale, coming in below more successful network shows like Interview With The Vampire and Fear The Walking Dead. Which, we'd argue, would be a good reason not to give a series a big, fancy two-season order in the first place—and especially not to okay filming on that second season before you were sure people were going to bite on the first. (The pandemic played a part here; the series was initially meant to premiere back in 2021, but got delayed.)
The decision to dump 61st Street comes down, of course, to "cost-cutting"; it apparently makes more fiscal sense to just not air the show at all, rather than run it or or sell it to someone else, and just take the whole thing as a loss. Because while HBO has supposedly pledged to cut back on its buzzsaw practices to its creator's work (including decisions to shelve whole finished films), there's definitely a sense that a precedent has been set here where that's an acceptable route to take with the hard work of the hundreds of people who come together to make a season of TV.
61st Street starred Vance and Cole, plus Bentley Green and Holt McCallany. The series was created by Your Honor creator Peter Moffat.
[via EW]