A decade after the late Steve Jobs introduced the world to the original iPhone, Apple's Tim Cook today unveiled the latest updates to a world filled with people too busy staring at their iPhone to listen. The new iPhone 8 has plenty of attractive features that you will nod perfunctorily at as they are rattled off by an Apple Store employee who's just informed you that fixing your perfectly good iPhone will cost nearly as much as getting a new one: a new A11 Bionic 64-bit processor, a slightly better camera, and most importantly, Qi wireless charging. But while this $699 phone is okay for everyday use while camping or working at the cannery or for deterring thieves, for an iPhone that conveys that you enjoy the finer things in life, look no further than the iPhone X—Apple's first incredibly expensive phone.
While the ownership of a "premium tier" smartphone is obviously its own reward, the 10th-anniversary iPhone X also has a few features that lift it above the grotesque, Rabelaisian muck of the iPhone 8 and its predecessors. In addition to the aforementioned wireless charging, which necessitates a glass back, the entire front is glass as well—glass that spreads seamlessly to every edge of its massive, bezel-less screen. Some have already expressed concern that making the entire iPhone out of glass, which has a tendency to break like glass, could lead to twice the risk of cracking. But Cook reassures them that these glass panels are reinforced by internal steel and "the most durable glass ever in a smartphone," and besides, there shouldn't be any cracking at all if properly lifted in and out of its velvet coffer by your valet.
In addition to twice the opportunity for damage to inject minor thrill into your idle ennui, the iPhone X also has some other exciting features, like the previously rumored complete absence of a Home button. Let the plebes stab their chicken grease-coated stubs on a physical button; you will swipe. To return to the home screen, you will swipe up from the bottom. To access the multitasking pane, swipe up from the button and pause. To feel alive, you will swipe, your fingers lightly tracing delicate minuets around and around your enormous glass screen, graceful as a swan who's in no particular rush to back out of an unresponsive app.
But without a Home button—or Touch ID—how will you access it? Simple: The iPhone will just scan your head with an infrared camera to unlock Face ID, which can recognize you by the contours of your head and the permanent expression on your face that says, "I paid $1,000 for this."
G/O Media may get a commission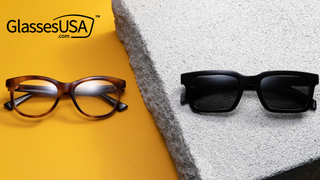 60% off frames
GlassesUSA.com Back to School Sales
While users who are inured to Touch ID might find this new system intimidating, Apple's software chief Craig Federighi showed that there was nothing to fear, demonstrating that it could just as easily not work and instead ask you to type in a password.

Also, the iPhone X introduces animated emoji—or Animoji—that will give your messages the sophisticated, premium touch of little moving cartoons based on your own facial expressions. No more responding to your hedge fund manager's bon mots with a flat, two-dimensional poop!
Apple says the iPhone X represents the blueprint for "the future of the smartphone," which we predict will one day be 100 times as expensive and require no touching at all—simply looking down on you from its enormous glass case, cold and remote, as it scans your apartment and renders judgment in the form of the appropriate laughing animal. Better buy two.