Amid a general discussion of things the participants appreciate, last week's Pop Culture Happy Hour podcast touched on pop culture that came into their lives at precisely the right moment. We've previously talked about art we came to too late in life, but what art did you encounter when you needed it, whether it's an angry song that helped you as a frustrated adolescent, a mopey movie that made you feel understood after a breakup, or a book that suggested a point of view you needed to hear from?
Jason Heller
Until age 27, I had a love/hate relationship with Led Zeppelin: Some songs I loved, others I hated. Overall, though, I was never able to fully commit to even one album by the band. That changed in 1999, though; after a bad break-up, the disintegration of my own band, and a belly-flop into the bottle, Led Zeppelin found me. The band's 1969 debut suddenly made sense; I'd heard it, or at least all the songs on it, a zillion times before, but the album's murky majesty and primal snarl sunk its hooks into my skull. Maybe it was Robert Plant's opening verse from the disc's first song, "Good Times Bad Times," that did it: "In the days of my youth, I was told what it means to be a man / Now I've reached that age, I try to do all those things the best I can / No matter how I try, I find my way into the same old jam." Granted, that's some pretty hackneyed shit. At that point in my life, though, I could painfully relate—and the fact that I'd resisted going whole-hog on Zeppelin for so long meant it hit with the accumulated weight of decades of denial.
Keith Phipps
I didn't care for the movie SLC Punk, but I did like one scene: a flashback toward the end, when one kid shows up at the other kid's house. (Hey, it's been a while, and it isn't that memorable a movie… I think one of them was played as a grown-up by Shaggy from the Scooby Doo movies?) At any rate, he shows up for a scheduled session of playing Dungeons & Dragons while listening to Rush. Then the one kid swaps out Rush for a punk album, explaining "It's new." And then Rush doesn't sound the same anymore. I never had that sort of punk epiphany, but that scene resonated for me. It captured what I felt when I saw 8 1/2 for the first time, or Blue Velvet, or any other movie that became an obsession while making me look at movies differently. But in keeping with the musical theme, here's my "It's new" moment: When I purchased my first Talking Heads cassette—I believe it was the Stop Making Sense soundtrack—in junior high, it was pretty clear that the stack of cassettes that included Bruce Hornsby, Falco, and 5150-era Van Halen might have to go.
Noel Murray
It was the summer of 1990, I was 19 going on 20, and the woman I'd been dating fairly seriously for a year had just left me for another guy. I needed a distraction, and found it in the form of an article by Mikal Gilmore in Rolling Stone's annual "Hot" issue. He wrote about the new wave of comics emerging at the start of the '90s, and mentioned some names I knew from my younger comics-reading days (Alan Moore, Frank Miller, Los Bros Hernandez, Dave Sim), and some I'd never heard of in the years I'd been away from the medium (Chester Brown, Paul Chadwick, Grant Morrison, Neil Gaiman). I found my nearest comic shop and used the last of my selling-back-my-spring-semester-textbooks money to buy a Concrete collection, a few issues of Animal Man, the Blood Of Palomar trade, the first Sandman trade (which was The Doll's House, not Preludes And Nocturnes), and, because of the approving Matt Groening quote on the cover, a collection of Peter Bagge's "Bradleys" comics. I hadn't read comics regularly in three or four years, but in the months to come, I got back in deep, spending whatever I had on old and new undergrounds, and on the edgier DC and Dark Horse fare. I was poor and lonely, and the snarky angst of alternative cartoonists like Bagge and Dan Clowes were like dispatches from my own subconscious, while the imaginative fictions of Gaiman, Morrison, and Chadwick were like comfort food, taking me back to when I was a 10-year-old boy with a stack of comics by the bed. I became an evangelist for the form, sharing my favorites with my roommates and friends, and reading them over and over myself, in the same way that I'd re-watch my favorite television episodes and movies, or listen to my favorite albums on a loop. The funny thing is that one of the reasons that girlfriend broke up with me was because she thought I was irresponsible with my paychecks. And given how much cash I dropped on comics over the next few years (and decades), she probably got out at just the right time.
Nathan Rabin
When I was 15 years old, my social worker enrolled me in a class on Film Noir And Gender Roles at Chicago's Facets Multimedia. So I was in a prime position to have my brain blown to smithereens with pure adolescent joy at the genre-riffing and meta-textual playfulness of Quentin Tarantino's Reservoir Dogs. For a teenage boy in love with film noir, Stanley Kubrick, and the French New Wave, it was like a feature-length orgasm, a tour de force of attitude and fierce intelligence that rewired my DNA and set me on a path to becoming a film critic. I was so deeply infatuated with Reservoir Dogs that when Pulp Fiction came out, it couldn't help but feel like a terrible disappointment. Then again, I was a teenager, and teenagers have all the leeway in the world to be wrong, and exercise that right frequently.
G/O Media may get a commission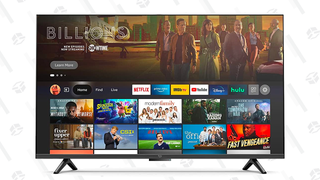 22% off
Amazon Fire TV - 50" Omni Series 4K - Early Access Deal
Claire Zulkey
This one's more about time and place than an actual state of mind, but it seemed entirely appropriate that I got introduced to the Indigo Girls and REM while at summer camp. My friend Nora made the best mix-tapes when I was in my early teens, since she had the optimal resources you could ask for at that age: older siblings. Left to our own devices, we'd just be doing the Kid 'N Play and singing "Do Me," which have their merits of course, but YMCA sleepaway camp in Michigan requires somewhat subtler, if not crunchy fare. Nora's tapes were where I first listened to Peter Gabriel and Carly Simon, but I specifically remember hearing "Shiny Happy People" and "Near Wild Heaven" on the bus ride up to Camp Echo, and playing "Galileo" and "Closer to Fine" on my Walkman on my bunk, thinking "This is the perfect music for this place." It was the kind of music that complemented, not blocked out, the wind in the trees, the waves on the beach, and the screen doors slamming. And of course it was perfect for singing along to with your friends, summertime-only or otherwise.
David Sims
I saw Donnie Darko in 2002 (in Britain, where I grew up, it came out about a year after its brief, limited release in the U.S.), and like many of my friends, was immediately enraptured. A paean to teen alienation and the creeping fear of mortality, it struck a chord with stuff I was grappling with at the time. But I think the film's real appeal to 16-year-old me was that it also struck plenty of chords with stuff I had no handle on at all. Teenagers are often nostalgic for times worse than their own, wishing they could be growing up even more disaffected and iconoclastic. I certainly was. So the movie's caustic/nostalgic references to pop culture, politics, and New Agey fads from the '80s was irresistible. Who doesn't want to grow up in a time where you could go see The Evil Dead with your bunny-rabbit friend and talk about Michael Dukakis at the dinner table to piss off your parents? Aside from some groaningly on-the-nose pseudo-philosophical material, Donnie Darko holds up pretty well when I watch it now. But whenever I do, I mostly wince and think about what a twerp I was for pretending to understand it on a deeper level than I actually did back in 2002.
Will Harris 
I'm not sure how many people can say they first discovered America's favorite gap-toothed talk-show host via print rather than TV, but when I stumbled upon a copy of Late Night With David Letterman: The Book on a family expedition to Waldenbooks, it only took a cursory flip through its pages to know that I'd soon be trying desperately to stay up until 12:30 a.m. on a nightly basis, high school be damned. It's a remarkably rinky-dink operation as officially licensed books go, with some blurry screenshots that were clearly taken by holding a camera in front of a television screen, but it still introduced me to "Dave's Sentiment Shoppe" (which featured a mug emblazoned, "You don't have to be crazy to work here… but a lot of the people have serious emotional disorders that I find really depressing"), "Dave's Toy Shop" (I'd still like to get my hands on a Mahatma Gandhi Passive Resistance Punching Bag), and "The Late Night Book Mobile," which offered such titles as Touch Me On The D-Train by Leo Buscaglia, and Boy Oh Boy, I'm Actually Sleeping With Jessica Lange by Sam Shepard. For my money, though, the greatest moment was "They Took My Show Away," in which Dave helps a young boy through the trauma of Voyagers! being cancelled. Thanks to David Letterman, I'd found someone else in the world with a sarcastic, off-kilter sense of humor, and it made me far less afraid to show my own. The other major discovery came the following year, when my buddy Tom Nuckols invited me to attend a screening of Sid And Nancy at the Naro Expanded Cinema, in Norfolk, Virginia. Yes, in retrospect, I know it's a terribly cartoonish and not entirely historically accurate look at the history of the "love story" of Sid Vicious and Nancy Spungen. Yes, I know it supposedly glorifies the use of heroin. But I entered into the film without knowing the first thing about punk rock, let alone the Sex Pistols. I was a Top 40 boy, pure and simple. You want to talk about a "Hallelujah, I have seen the light" moment? That was mine with music. It was a gateway drug to sounds and styles of song that I hadn't realized existed, and I quickly found others who dug the same kind of stuff, resulting in new friendships which have arguably stood the test of time better than some of the music that brought us together in the first place.
Phil Nugent
College marked the first time I not only let a girl know how I felt about her, but asked her out. When she rejected me, I wasn't prepared to deal with it, so at an embarrassingly advanced age, I was marooned in my dorm room, miserably depressed and convinced that things were never going to get any better for me, and also convinced that if I stepped outside, everyone on the campus would be looking at me and snickering under their breath. In that condition, and unable to relate to anything in the record collection I knew so well, I dipped into my dormmate's tiny cache of cassette tapes and discovered Neil Young's After The Gold Rush. As soon as I put it on and heard Young moaning Don Gibson's country classic "Oh Lonesome Me" from the depths of the suicide ward, I knew this was not just a sad record, but the very voice of my misery, and I've tried to never be without a copy since. I just hate to describe the mood I have to be in before I want to hear it again.
Another one… in 2000, my mother was dying of lung cancer. It was a harrowing experience for everyone around her, and one night I decided to get my mind off things by checking out the new movie by the writer-director of Boogie Nights. I knew nothing about it except the director, the stars, and that it was called Magnolia, all of which led me to half-expect an evening spent watching Philip Seymour Hoffman and Jason Robards dressed in white suits, sitting on the veranda of an antebellum mansion and sipping mint juleps while crickets chirped in the background. If I'd known going in that it featured not one but two parental figures dying of cancer, I probably would have taken my chances with something more uplifting, like Deuce Bigalow, Male Gigolo. But the longer the movie went on, the more I got into it, and all the things in it that turn off a lot of people—the consistent devotion to reaching for the highest imaginable pitch, the naked ambition, the surreal touches—made perfect sense to me. It cleared my head and gave me a lift, which is a funny reaction to a movie with so much throbbing despair. But I felt as if P.T. Anderson had piled on so much excess, in such a spirit of good faith, that he'd somehow gone through the other end of his pretensions and arrived at something cleansing. Since then, I've met other people who've reported that they saw it during a personal crisis and had a similar reaction, and I think something about it really speaks clearly to people in a certain frame of mind. It's not a frame of mind I recommend seeking out, but if you're there, you may be glad this movie exists.
[pagebreak]
Ryan McGee
It's one thing to watch a classic movie at the right time in your own life, long after it was originally made. It's another to watch two films made during your lifetime that feel as if they sprung from your inner, best-expressed self. Richard Linklater's Before Sunrise came out in 1995, the year after I finished college. Like Jesse and Celine, I viewed the world in terms of its possibilities, not its limitations. Sure, my world involved a deluded dream that I would one day be the touring lighting designer for Radiohead, but it's the romanticism of that delusion that linked me with their one night in Vienna. Even as they said goodbye at the film's end, there was no reason to think they wouldn't meet up as planned. Right?
Wrong. Cut to Before Sunset, the sequel filmed nine years later. Now I'm in my 30s. Jesse and Celine reconvene, but not in the way they ended. For a majority of the film's short running time, they talk endlessly about stuff that doesn't matter because they can't bring themselves to talk about the only thing that does. And I sat in the theater, I saw through all the pauses, all the stolen glances, all the silences. When the floodgates finally opened for them, they opened for me as well. And they also opened for the woman sitting beside me, a woman in town for our own second chance at something we thought had long passed. If Before Sunrise is about infinite possibility, Before Sunset is about recognizing how finite our options truly are. That doesn't mean Before Sunset is in any way depressing. Rather, it's a wake-up call to experience life as a series of infinite possibilities means you never have to make a choice. And while making that choice can be difficult, it's also the most meaningful thing you may ever do.
That woman and I will celebrate our four-year wedding anniversary later this summer. And it all started (well, restarted, more precisely) on our second first date to see a sparsely attended movie. The boy who went to see Before Sunrise couldn't have foreseen that. The man who left Before Sunset wouldn't have wanted it any other way.
Michaelangelo Matos
The day after Christmas 1991 was pivotal for me. I'd gotten Michael Jackson's Dangerous (which I'd asked for) but no other music—but I did get a good amount of cash. So I went out December 26 and indulged in my first-ever round of used-LP shopping, grabbing Elvis Costello and Clash titles, plus a box set I'd spied a month before. The History Of The House Sound Of Chicago was a BCM Germany release and contained 12 LPs—or rather, it was supposed to. The version under the counter was only $50 because it was missing disc 11 (and had two copies of disc 9) due to a manufacturing error. I grabbed it, endured my misguided mom's class fear that evening (she apparently thought buying used LPs instead of new ones made us look like we were on welfare), and began diving into all of it. I grew obsessive about Costello and still adore Sandinista! But History wound up claiming more of me than the rest combined, and not just because it was so lengthy.
The vinyl was terrible—paper-thin, containing about 25-30 minutes a side, making for lousy sound. But most of what was on it was music I'd never heard of. I'd paid enough attention to the music press, both in America and the UK, to have a good idea what house music was, and why it mattered, and I knew about the raves happening in England (and starting in the States, unbeknownst to me at that point). I knew rave anthems were different than this stuff—the first two discs were cult disco records like "D" Train's "You're The One for Me" and Telex's "Moskow Diskow," underground DJ hits that didn't register in official disco history (as handed down to a 16-year-old in the Minneapolis suburbs, even a curious and decently clued-in one).
They were raw and exciting, but nothing compared to the utter alienness of the Chicago tracks spread over much of the rest of the set. There's a lot of dross, of course: the most purely irritating record of all time might well be Farley Funkin' Keith's "Funkin' With The Drums (Farley Farley)." But tracks like The It's "Donnie" (way out of tune heartbreak plaint that's both manic and 'luded out), Adonis's "No Way Back" and Hercules' "7 Ways To Jack" (sleaze to make Prince blush) pointed the way to dance music that was strange, singular, and utterly compelling. It derived from disco but had punk's up-yours DIY feel, and it could be as arty as an early Rough Trade single. I wanted, and got, much more.
Todd VanDerWerff
When I was 11, 12, 13, I had all the normal, outsized emotions that came with the onset of puberty. I was noticing girls. I was feeling hormonal. I was wishing my parents would just lay off, man. But I was also living in a tiny town with no access to much music beyond country (and mostly the homogenized, radio-friendly country of the early '90s), a place where rock 'n' roll still carried a whiff of depravity. (Friends passed around a VHS tape containing the music video for Guns N' Roses "November Rain" for years, until the print was blotchy and unwatchable. We didn't get MTV in my town, so a friend's older brother taped it for us at college, and we watched it late at night when our parents were asleep, so they didn't catch us watching something so heretical.) Anyway, I needed some sort of music to pump those outsized emotions into, and Garth Brooks wasn't cutting it anymore. Enter the original cast recordings of the many bombastic British blockbuster musicals produced by Cameron Mackintosh, particularly Miss Saigon and Jesus Christ Superstar. (That last wasn't produced by Mackintosh, but the version I had—an amped up, over-the-top concert version, might as well have been.) Where other friends got their theatrical excitement from hair-metal tapes purchased at swap meets, I was getting over the pain of a girl from a neighboring town pretending she didn't know who I was to the strains of "The Fall Of Saigon" and "Heaven On Their Minds." But the music worked. Somehow, I came to think of my boring little adolescence in the middle of nowhere as the start of some epic journey, and even though I ditched those cast albums for rock and pop (and much better cast albums) as I aged, I maintain a special fondness for the bombast that gave my too-big emotions even bigger spaces to get lost in.
Kenny Herzog
I'm not exactly courting originality here, given my already-professed devotion to Megadeth and constant self-outing as a teenage nerd, but Dave Mustaine and Co.'s 1992 mainstream triumph Countdown To Extinction is, bar none, the record that changed my life. I'd just returned from a uniquely traumatic summer at a sleepaway camp in Pennsylvania. I'd basically spent an entire month clinging to my cassette of Black Sheep's A Wolf In Sheep's Clothing, only to find that "Strobelight Honey" offered little identifiable catharsis for a 13-year-old kid from Long Island dealing with pubescent awkwardness and peer cruelty. The afternoon I returned home, I turned on MTV to see what I'd been missing, and that's when the video for the lead Extinction single "Symphony Of Destruction" appeared with the network's then-patented green "Exclusive" logo to indicate it was fresh out the edit bay. I'd never heard anything like it. The video was a bit over my head then, and now just registers as a hysterical, generic pastiche of anti-fat-cat imagery and serious '90s-ness. But to this day, hearing that snarling Mustaine riff and Dave Ellefson's confrontational, stampeding rhythm floors me completely, like sense memory. It was as if someone re-interpreted Highway To Hell-era AC/DC as street-level thrash, and I can still remember feeling like all my teenage angst suddenly had a voice, sound, and image. I purchased Countdown three times on cassette that year, on account of having worn the actual tape out every time. I was stationed to MTV every Sunday until Megadeth's high-concept clip for "Sweating Bullets" reached No. 1 on their video countdown. And most significantly, I devoted the next 12 months of my life exclusively to consuming all the high-octane, pissed-off, over-the-top metal and hardcore I could. I finally understood what it was like to be truly obsessed with something when everything else just seemed like it was spinning out of control. I still listen to Black Sheep, and Megadeth, and just about any passionate music I can get my hands on, so things have come full circle and back again. But strange as it seems even to me, I'd probably be living a much more cloistered, timid existence right now if it not for an album with ridiculous song titles like "Foreclosure Of A Dream" and "Psychotron."
Erik Adams
Like a lot of people who aren't currently enrolled in high school, I've watched Weezer's decline into smirking self-awareness and demographic-pleasing with a mixture of contempt and confusion. But while I don't enjoy The Red Album or Raditude (Hurley has its moments), I'm beginning to think it isn't because they're bad albums—it's just no longer my time to enjoy Weezer. That time was the spring of 2002, when I picked up the band's now-revered sophomore LP, Pinkerton, on a school trip to Virginia Beach. Emboldened by "El Scorcho" and "The Good Life," I decided to ask my English-class crush to the junior prom upon my return to Michigan. By the time she informed me that she had started dating a mutual friend (but still wanted to be my date to the dance), I was much more into pessimistic numbers like "Why Bother?" Fortunately for me, this revelation was timed with the release of the band's Maladroit, which brought a few more crunchy, catchy three-minute pity parties. And that's something that doesn't come up in a lot of "Yeah, I used to like Weezer" conversations: Part of my distaste for the band's recent output may be misplaced distaste for that 17-year-old moaning along to "Death And Destruction." I'll still throw Pinkerton on every few months (and Maladroit once or twice a year), but I certainly don't relate to "Across The Sea" (great song, horrifying premise) like I used to. And I'm glad. It's an unspoken aspect of Rivers Cuomo's twisted genius: Being a Weezer fan helps you get over being a Weezer fan.
Joel Keller
If it weren't for college, I think I'd probably still be listening to what my friend Dan calls "Top 40 of any era." I listened to mostly pop radio, and felt triumphant when I got up the gumption to buy a Living Colour tape when I was a senior in high school. But as soon as I got to college and entered the doors of the fraternity I would end up pledging, all of that changed. Sure, I heard the usual strains of Pink Floyd and Led Zeppelin play while fractals spun around on our primitive color monitors (hey, it was 1989, for Christ's sake), and that had my attention for a while, but when I heard Doolittle by the Pixies, I found out music could be more than just catchy hooks. Oh, the album had its hooks — you couldn't help but sing to "Gouge Away," "Here Comes Your Man," or even "Debaser"—but the band's ability to carry through those hooks while they're going loud to soft to even louder was what attracted me. Remember, this was two years before Nirvana took what it learned from Black Francis, Kim Deal, and company and made the cultural touchstone album Nevermind. Without the Pixies, Kurt Cobain would have been just another songwriter from Seattle. Everyone in our fraternity, from the alterna-loving radio-station guys to the Billy Joel and Bruce Springsteen listeners, all seemed to agree about one thing in 1989: that Doolittle was one of the best albums they've ever heard. And, if you were in that house that year, you'd know that was a hell of an achievement.
Marcus Gilmer
There are plenty of cool stories about the way a person "discovers" a band: via a random show they stumble across one night, a vinyl they discover in their parents' basement, etc. For me, it was on a beat-up cassette passed to me by the kid whose locker was next to mine in eighth grade. I was familiar with R.E.M. at that point in the early '90s, having taped some of their songs off the radio. But the only other pop music I was into was They Might Be Giants (more for novelty), The Beatles, and Bob Dylan, whose impact was still over my head. It wasn't until this friend passed me a cassette copy of Automatic For The People that he made from his older brother's cassette copy that I finally became aware of the band's greatness. The jangly guitar, the massive hooks, the lyrics that had far deeper meaning than Kris Kross' "Jump"… While Automatic is a pretty depressing record, it led me to the rest of the band's work through cassettes checked out of the public library and purchases made with hard-earned allowance money via my mom's membership in Columbia House's record club. R.E.M.'s cover of Wire's "Strange," seemingly about drug-induced paranoia, could have easily doubled for the feelings associated with adolescence. "These Days," from Life's Rich Pageant, tapped into that same angst. But there was also comfort in the gentle acoustic strum of Out Of Time's "Half A World Away" (still my favorite R.E.M. song) and the massive hook of Reckoning's "Pretty Persuasion." Sure, R.E.M. was one of the biggest bands in the world at that point, but while other friends were into Top 40 hits—and mostly Garth Brooks and Billy Ray Cyrus (this was Alabama, after all)—and even drifting toward grunge bands like Nirvana and Pearl Jam, I simply delved deeper into R.E.M., feeling like I had a (massively popular) band to call my own, even though I was in diapers when it released its first work.
Sam Adams
Sometimes art comes along when you need it most. In the fall of 1994, I spent a semester abroad in Grenoble, France. Although the small program was run by my college, almost all the students were from elsewhere. I didn't know anyone, and didn't feel much in common with the others. They'd speak English whenever they could get away with it, even when hanging out with the locals, which meant that even when I did tag along, I was stubbornly resistant to entering the conversation, at least in a language I actually spoke. Add to that the surly, childless family I stayed with, and you've got some serious loneliness brewing. My girlfriend of nearly two years was also abroad, studying in York, but this was before a proliferation of gadgetry made it possible to keep in touch at all hours of the day and night. We had email, but only when I'd truck out to the university campus and log on for an hour or two, and we were both sufficiently ignorant of the dangers of online conversation that we thought that virtually debating the politics of Nirvana's "Rape Me" was a good idea.
In short, I was alone, bored, and vacillating between anger and sadness, which perfectly primed me for my first sustained exposure to punk rock. In preparation for my sojourn, I'd dubbed all nine volumes of Rhino's D.I.Y. compilations from the public library, and I listened to them while making my way though Greil Marcus' Ranters And Crowd Pleasers (now known by its original title, In the Fascist Bathroom) and Jon Savage's England's Dreaming, which evoked the sense of community and excitement that sleepy French city failed to provide. (I saw three concerts during my stay: an amazing Midnight Oil set, two members of Frank Zappa's Mothers Of Invention at a weird hole-in-the-wall, and a Fishbone/Tool double bill during which I got punched in the face by a surly frog who'd been groping a female friend.) Few people have made music sound more vital than Marcus did during the punk era—he himself has certainly lost the knack—and Savage's book provided a gripping sense of how the pieces fit together. Between the two books' annotated discographies and my well-thumbed copy of The Trouser Press Record Guide (Fourth Edition), I had endless fodder for my regular trips to Fnac, where I picked up anything I might not be able to find when I got home. I also bought some unfortunate Jean-Jacques Goldman albums, but we don't need to go into that.