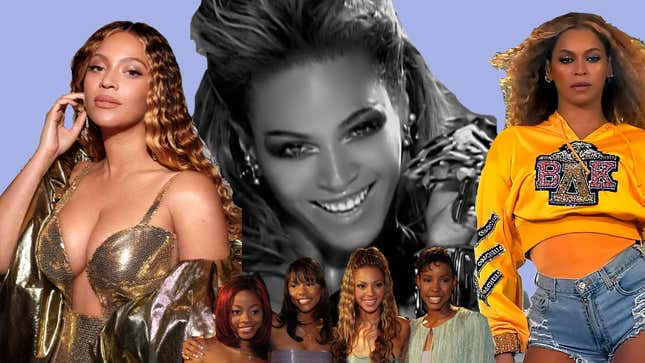 Beyoncé never really left, but she's certainly back. Just days after announcing plans for her Renaissance World Tour, she has the opportunity to become the most-awarded artist in history at the 65th Annual Grammys on Sunday night. And while Beyoncé now has 32 Grammy wins to her credit, making her the most awarded artist in the show's history, she only holds one statuette in the show's general categories: Song of the Year for "Single Ladies" back in 2010.
The Cast of "The White Lotus" discuss the main themes of its second season
Since then, she's been up for top brass for her self-titled 2013 album and 2016's Lemonade, but the Grammys passed her over for the Album Of The Year award both times. There's an obvious and documented trend of the Grammys awarding white artists over anyone else, but beyond that, the committees have demonstrated their ignorance about what Beyoncé is—not just an artist or a performer, but a curator of the highest caliber.
Beyoncé, the curator
To listen to Beyoncé's Renaissance is to walk through a museum. Prolific fine art curator Hans Ulrich Obrist described his archival work as "the protest against forgetting"—looking at Beyoncé's work, it's clear she shares the same mission. Every song on her latest album is a carefully staged exhibit, engineered to preserve decades of musical history. While Beyoncé is nominally the artist behind every work, she is also the architect of the museum, caring for its archives, and thoughtfully curating and selecting everything that belongs inside.
G/O Media may get a commission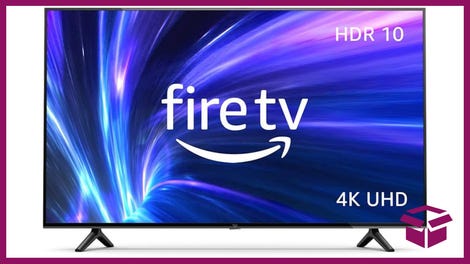 42% Off
Amazon Fire TV 50" 4K Smart TV
Beyoncé has always been a performer who knows she stands on the shoulders of giants, and she has always kept an eye and an ear on the past. As girls, Destiny's Child studied tapes of Diana Ross and The Supremes, and they auditioned for their record deal with a Michael Jackson song. Beyoncé's debut single, "Crazy In Love," is built on a sample from the R&B group The Chi-Lites, and the inspiration for the "Single Ladies" video came from a viral clip of Gwen Verdon dancing over "Walk It Out." 
Renaissance, even more than her previous work, is explicitly designed to uplift history, fashion it into something new, and ensure it's not forgotten. There's the big Donna Summer sample in "Summer Renaissance," but there's also underground '90s drag artist Moi Renee's "Miss Honey" in "Pure/Honey." This is more than protesting against forgetting; this is ensuring that an artist whose name may ring zero bells to the general populace is included in the Beyoncé museum. By placing Renee next to Summer and calling them both giants, she is making sure that history knows both of them.
This is the job of any curator worth their salt. Especially in the internet age when anything and everything is available with a click, there is simply too much art in the world to sift through. For better or worse, we need experts who can do the thorough work of digging through the crates and deciding what deserves visibility and preservation. Renaissance is the result of a career spent crate digging and mining history for parts to create something rooted in tradition and yet totally new.
Of course, Beyoncé's songbook is more than a collage of samples. On Renaissance, Princess Loko's "Still Pimpin" is largely just texture underneath Beyoncé singing "I'm That Girl." But even the fully original songs on the album—"Plastic Off The Sofa" and "Virgo's Groove" have no credited samples—are still not solely the work of Beyoncé but a team of writers and producers. To Grammy voters, this is probably a liability—they've shown us this before.
The Lemonade let down
For Beyoncé, there are parallels between the 2023 Grammys and the 2017 Grammys. That year, Beyoncé's album Lemonade earned nominations in all of the general categories, plus the pop, R&B, rap, and rock races. She even submitted "Daddy Lessons," Lemonade's detour into bluegrass territory, for consideration in the country categories. Despite Blake Shelton, Dierks Bentley, and the (then-Dixie) Chicks praising the track's country bona fides, the nominating committee wasn't having it. Seemingly under the impression that Beyoncé was just trying to snag as many Grammys as possible with her genre-hopping album, the committee drew the line at her country submission.
Of course, there may have been a racial dynamic at play—the category most closely associated with whiteness proved a bridge too far—but it was also a case of simply interpreting Beyoncé's work in bad faith. The array of genres in Lemonade came together to tell a story, and "Daddy Lessons" is a vital entry into both that narrative and Beyoncé's entire oeuvre. Generally interpreted as an autobiographical album, the track sees Beyoncé compare a cheating father to a cheating husband. After the fury of Lemonade's first half, "Daddy Lessons" is a sonic retraction, taking us back to Beyoncé's childhood in Texas. It's a crucial turning point in the album, when Bey begins to move from fury to forgiveness.
Beyoncé only won Best Music Video and Best Urban Contemporary Album in 2017, losing Album Of The Year to a famously contrite Adele. The loss prompted a wide discussion about what kind of music the Grammys will vote for; not just the race of those behind it, but the methods used to make it. Writing for NPR after the ceremony, critic Ann Powers noted that Grammy voters' notion that "music made with 'real' instruments and sung straightforwardly … require[s] more skill and vision than those created within the synth- and sample-driven vernacular of hip-hop."
This year, Beyoncé is once again up for Album Of The Year, once again against Adele, with Renaissance, an album that's slightly less genre-hopping but more sample-indulging. This is the Grammy voters' opportunity to honor not just Beyoncé's artistry, but her unparalleled skill as a curator.
Curation is good for business
To Grammy voters, the amount of writing credits in the Beyoncé songbook has been a detriment. To Beyoncé, it presented as a point of pride. Though she's notoriously cagey about her process, she gave us a glimpse into the summer camp-style writing session in her Hamptons house while promoting her 2013 self-titled album, when she enlisted the likes of Sia, The-Dream, Hit-Boy, Shea Taylor, and Justin Timberlake to help pen tracks. Beyoncé is credited as a writer on all of these songs, but based on how musical credits work, we'll never know exactly how much of this material she wrote. Even if she didn't write a single lyric or note, it would be disingenuous to argue that bringing these artists together was the work of unskilled hands. They didn't just happen to show up at her door one day—they were selected. The roster was curated.
This glimpse also points to the appropriate criticism of Beyoncé's curation. It represents not a lack of artistry, but exceptional branding. Why would she be embarrassed about working with Sia or Timberlake? She has just brought two more high-profile artists into her brand. By sharing a childhood spent studying Diana Ross, she isn't just showcasing her childhood or work ethic but presenting herself as a successor to one of music's greatest divas. Dancing like Gwen Verdon is both a reminder of a nigh-lost routine and proof that she could have been a Bob Fosse muse 50 years ago.
This particular facet is hardly unique to Beyoncé; as with most phenomena in pop music, it can largely be traced back to Madonna. In his 2014 book Curationism, critic David Balzer (citing, of all people, RuPaul) writes that "curating … has become the way in which celebrities and entrepreneurs supercharge their brands and attract audiences." Madonna's curational tactics extend beyond Old Hollywood imagery in her music videos to her Tom Ford campaigns and her visibility with younger pop stars.
Madonna's inclusion of Katy Perry, Kanye West, and, yes, Beyoncé in her "Bitch I'm Madonna" music video is absolutely an attempt to get us to align her with these cool, younger stars. Their appearances are barely cameos, but their inclusion synchs them with the Madonna brand. A connection like this can "permanently associate the artist with the sensibility of that star curator," Balzer writes, which is what Madonna hopes. Of course, this can be mutually beneficial and depends on who's doing the connecting—Beyoncé associating herself with Diana Ross sends a different message than associating herself with Sia, or Madonna associating herself with Beyoncé.
Renaissance does see Beyoncé tap features from up-and-coming stars Tems and Beam, but the most notable feature comes from Grace Jones. While Madge is courting youth, Bey aligns herself beside a Studio 54 diva. Many of the album's samples stem from early '90s house music, when Beyoncé was too young to go clubbing (at least, we hope). As far as we know, Beyoncé is a straight, cisgender woman, but she selects vocals from Moi Renee and trans performer and activist Ts Madison. Yes, she's preserving history, but she also gets to present herself as socially progressive. But in a post-Pose world, there really is no risk for Beyoncé to produce a "Vogue"-inspired "Break My Soul" remix and announce herself as Mother of the House.
How the commerce enables the art
It's entirely appropriate to question Beyoncé's brand, but it's undeniable that the ultimate product was created with an abundance of care. The music is unimpeachably solid, and Beyoncé made efforts to ensure everyone who was brought into her museum was handsomely compensated for their contributions. Madison told Essence in August that, when she was first approached about her vocal that ultimately ended up in "Cozy," she was assured she would maintain the rights to the clip. She then recalled learning what she would earn: "It was like a number and then zero, zero, zero, zero, zero. Then, not only were there all these zeros but it said percent of streaming and a percent of pure sales. I was like, 'Oh, this Beyoncé!'"
Beyoncé can certainly afford to treat her collaborators like this; in fact, it's the reason she's able to make art in this manner. Besides paying writers and producers, clearing samples can be a litigious nightmare, especially considering how those songs may have multiple writers or come from deceased artists—let us not forget this summer's Kelis debacle. Balzer acknowledges that in the fine art world, this is an ongoing issue. The days of the well-dressed, jet-setting curator are largely gone; today, the job of running a museum consists of doing paperwork, securing funding, asking for art loans, figuring out how to transport said art, and sorting through insurance claims. Without her wealth and her team, Beyoncé the individual would not be able to make this art.
This fact ultimately shouldn't and doesn't detract from the art itself. Honestly, it's worth celebrating that someone so wealthy, talented, and seasoned could have kicked her feet up on a yacht off the Amalfi coast but instead chose to spend her time building the museum. As our old buddy Olbrist said, "The museum can be a repository for time or a laboratory. And in the best course of events, it is both." Beyoncé has dedicated her career to making both.
A museum can be a place to just see some pretty pictures, but hopefully, it's a place that sparks discovery. A well-curated museum may make you think about or see its art differently, or dig into the archives of an artist you hadn't considered before. It should move you beyond intellect, be it your body or your soul. At this point, it doesn't matter whether Beyoncé ever wins another award or sells another record—her work ensures that all of the people who created, thought, and moved before us won't ever be forgotten. For that, history will remember her too.