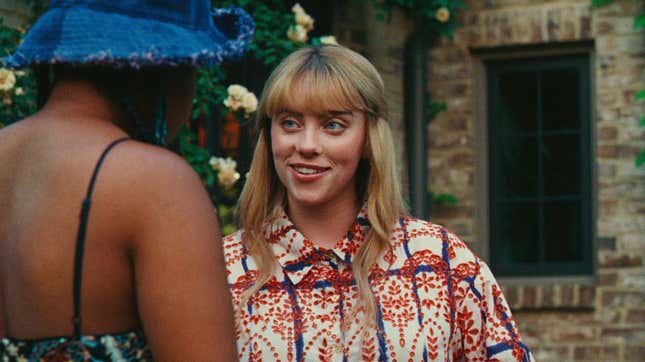 This article contains spoilers for the Prime Video series Swarm.
Will the enduring popularity of cults ever wear off? Probably not, so long as people in real life continue to join them. As the new Prime Video series Swarm explores, cults have taken on a new form in the 21st century under the guise of fandom. But Swarm also contains an actual cult, led by pop star Billie Eilish in her acting debut. In a case of art imitating life, Eilish's character Eva has an analogue in the infamous NXIVM cult.
Patricia Arquette on "High Desert," "Gonzo Girl," and the threat of AI
"There is a cult that existed in the world that was very prominent during that time," says Janine Nabers, who co-created the series alongside Donald Glover, in an interview with The Hollywood Reporter. "And that is the kind of true-crime element to that episode."
Nabers is being a bit coy about naming names, but it's not just the timing that points to NXIVM being Swarm's cult parallel. Eva is the "executive director" of a "female empowerment group," which is similar to the way NXIVM promoted its secretive women's subgroup DOS. Except DOS stood for "Dominus Obsequious Sororium," a Latin phrase that roughly translates to "lord over the obedient female companions," and reportedly turned out to be a creepy sex slave initiation presided over by cult leader Keith Raniere. Like Eva's group on Swarm, DOS members were all branded with the same symbol, which turned out to be a combination of Raniere's initials and those of Smallville actor Alison Mack.
Nabers, who praises Eilish's performance on the show, emphasizes that the cult mentality of Swarm goes beyond the literal. "I think that when people think of the idea of artists or celebrities, there is this idea of thinking about the cult of Taylor Swift, or the cult of the Beatles or whatever," she explains. "What we were really interested in was just seeing someone who worships at the altar of 'something,' and (exploring) this idea of what is the cult of the mind."
Swarm, which stars Dominique Fishback and Chloë Bailey and boasts Malia Obama on its writers staff, is not the first project to explore the intersection of pop culture and the cult mentality, and it won't be the last. In fact, one is premiering at Cannes in May. Swarm beat the long-gestating The Idol to the punch with its pop star cult leader casting (the Prime Video show has Eilish, while gets Idol co-creator The Weeknd). Call it the year of cult classics.