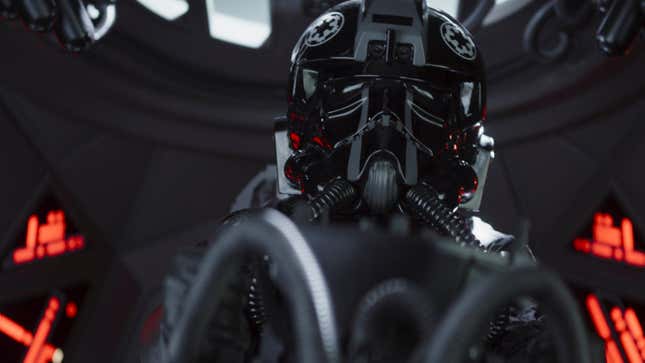 It's natural to categorize the main story arcs in The Mandalorian as role-playing game-style "quests," since that's the format they tend to follow—here's a new goal, here's what you need to do and where to go to complete that goal, now go do it—but if that's what we've been doing for all this time, then what the heck was this episode? Was Din Djarin getting a taste of his own medicine after hijacking The Book Of Boba Fett, and next year we're all going to be excited for The Book Of Doctor Pershing? That seems unlikely, given what happens to him here, but I guess part of my confusion with this episode is that we don't really know what happens to him here…or why.
But before we're reunited with the great Dr. Pershing, glasses-wearer, The Mandalorian opens right back up at the end of last week's episode. Bo-Katan has pulled Din from the Living Waters beneath the mines of the Civic Center, and she's still rattled from whatever she saw down in the depths. She even asks Din if he saw anything, but he says no, just the pit that he fell into. (Bo-Katan helpfully explains that Din isn't comically clumsy, he actually fell into a pit that was cracked open when the Empire bombed the planet.)
As they fly back to Bo-Katan's house, the trio is immediately attacked by a group of TIE Interceptors, which they note are cooler and stronger than regular TIEs (as any old Star Wars fan should know). Din does a Captain America air drop out of Bo-Katan's ship so he can back to his fighter, and they all enjoy a cool-if-serviceable dogfight (Bo doing that crazy 180 spin and then dropping out of the sky for a second was rad and very Star Wars), but it was all a diversion so a bunch of mudscuffin' TIE Bombers could blow up Bo-Katan's castle. Hey, it's a good thing she didn't have any possessions or furniture to speak of, save for that one reception droid. She and Din fly off to some secret place, and that's the end of their story for almost the entire rest of the episode.
Cut to Coruscant, former capital world of the Empire and capital world of the Republic before that. These days it seems to be the capital world of the New Republic, the Good and Righteous galactic government that took over after the fall of the Empire, and Moff Gideon's old cloning expert Dr. Pershing is giving a TED Talk about how cloning is cool and can be used to treat illnesses.
G/O Media may get a commission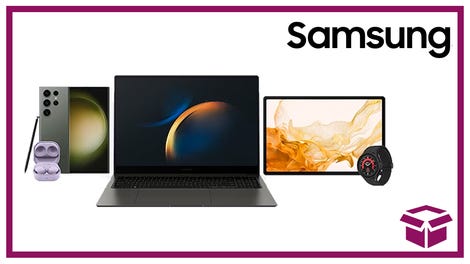 24 hour deals
Discover Samsung - Daily Deal
You'd think people would be at least a little opposed to that argument, as it's only been a few decades since an army of clones gave Palpatine the power to build his Empire, but I really like that the glitterati of Coruscant seem to have zero awareness of the distinction between the Republic, the Empire, and the New Republic. And why should they? Their lives seem unchanged from every other time we've seen the citizens of this planet; there's just a different symbol on the skyscraper-length banners throughout the city. Subtlety in war stories is overrated.
I will say that it feels a little trite after Andor got so much great stuff out of the political machinations on Coruscant, but the two shows have completely different goals, so it's not super fair to compare them like that. Either way, it's a nice gradual reveal that—despite getting weirdly fawned over after his speech—Pershing then has to go live in a designated apartment block for ex-Imperials, and when he gets there he's not even allowed to use his name. He and his neighbors are all just numbers, sitting around a space-picnic table with cool stackable jars of space-tequila, but Pershing is stunned to realize that he recognizes one of them as the Comms Officer from Moff Gideon's ship.
It's not especially subtle, but I did like how quietly odd this scene was, with this group of old Imperials who are all totally comfortable referring to themselves by number and being forced to wear badges that indicate they're part of the Amnesty program. They all seem vaguely brainwashed, but surely that can't be the case. This is the New Republic! The Good Guys! Leia Organa holds some position of authority, I assume!
The Comms Officer gives her name later as Elia Kane, and the two initially bond over fond memories of the "travel biscuits" that were included in Imperial rations. Pershing liked the yellow ones; she liked the red ones. (I'm realizing now that that could be some real silly Star Wars foreshadowing, because we all know what red means in this universe.) The two start hanging out together, and at a festival full of street magicians, glowing ice cream pops, and the one actual rock on the whole planet, Elia tries to convince Pershing that he should continue his cloning research. After all, it could do good for the New Republic, right? It doesn't have to be about killing a 50-year-old baby and transplanting his tiny green organs into Giancarlo Esposito, right?
After a dispiriting day at his menial New Republic job, where Pershing realizes that all he's doing is cataloging old Imperial equipment so it can be destroyed. (Not to bring up the other show, but this is the second time we've seen office life on Coruscant, and Andor's was much bleaker.) Pershing asks his parole officer droid if he can continue his research, just for fun, and the droid tells him no, but he decides to team up with Elia and steal some lab equipment so he can do it anyway.
The two hop on a train, dodge ticket-taker droids, and get off at a dump where old Imperial equipment is being decommissioned. Elia leads Pershing to a derelict Star Destroyer (navigating it all very easily, hmmm), and they find an untouched lab full of equipment. Pershing stocks up just as they hear noises outside of the ship, and they run…right into a trap set by New Republic cops. They pointedly tell just Pershing that he's under arrest, and Elia casually makes off with his box of loot (again: hmmm).
Pershing is hooked up to a machine that an unnervingly calm Mon Calamari guy insists is a rehabilitation machine, one that will make him feel better and heal his traumatic Empire memories. Pershing knows what it really is, though: a "Mind Flayer," which is some kind of Imperial torture device that an unnamed old ally of Din Djarin's first mentioned in a previous episode of this show. One of the New Republic officers takes Pershing's glasses, a final vicious insult, and they turn on the device and leave Pershing to be brainwashed… except for Elia, who asks to stick around and keep an eye on her friend. Once she's alone, she seems to jack up the power of the machine, causing Pershing to squirm around and wince in pain, and then she eats one of those yellow biscuits he was so fond of.
This was an interesting mini-story, if that's what it was, but…is he dead? My assumption is that Elia is working for Gideon still, since one of the other Amnesty guys casually mentioned a rumor that he escaped, but why would she need the equipment to carry on Pershing's research and not Pershing himself? Unless she used the machine to make him evil, which seems like a terrible thing for the New Republic to have built into it! I assume we'll find out more later, but until then, it's totally unclear what the point of any of this was.
Aaaand cut back to Din Djarin and Bo-Katan! This is The Mandalorian, not The Book of Doctor Pershing, and when we return to our actual heroes we see that Din is just taking Bo-Katan to that cave with the other Mandalorians that we saw in the season premiere. They try to give him a hard time, but he shows off his little vial of Living Water, and the Armorer welcomes him back into the fold. She even welcomes Bo-Katan into their fringe cult, seeing as how she also bathed in the waters and also hasn't removed her helmet since. The rest of the Mandalorians congratulate Din and Bo, and she actually seems kind of touched by it…though it is hard to read expressions through that helmet.
Stray observations
Shout out to Omid Abtahi, who puts in a nice nervy performance carrying basically the whole episode. I like that he's especially jumpy around non-humans, which makes sense for a guy who was an Imperial. That's a good touch, given the organization's overt racism. Also, he's one of the few people in the entire Star Wars universe to wear glasses!
The taxi droid that takes Pershing to his apartment is great. The joke of him spinning his head around so he can chat instead of watching the "road" is funny, but I really like that the camera cuts away while he's chatting for an establishing shot and then he's still chatting when we go back to him.
Permit me this tangent, but the New Republic's behavior in here reminded me a lot of The Federation in Mobile Suit Gundam—specifically the post-First Gundam stories like 0083 and Zeta Gundam. A military force gets built up to defeat a terrible fascist enemy, and the very second it becomes convenient, they became just as evil as the villains they won a war against. See also: the victor of every war ever, in real life and in fiction. Gundam just explicitly articulates it, and (until now) Star Wars has generally maintained that there are Good Guys and Bad Guys. Even Luthen Rael from Andor is a Good Guy, but the dudes brainwashing Dr. Pershing? That seems a bit harder to argue.
At a certain point in the episode, one of Pershing's coworkers says "happy Benduday," which is the Star Wars name for Friday ("Taungsday," which Pershing mentions on the train, is Tuesday). The canonical Star Wars days of the week are Primeday (when you can get all the best deals), Centaxday, Taungsday, Zhellday, and Benduday, though Thursday and Saturday have also been referenced by name. That means The Mandalorian premieres on Disney+ every week on Zhellday, and the day after Zhellday is just called Thursday, which may be the best thing I have ever learned about Star Wars.
Those yellow biscuits look awful.