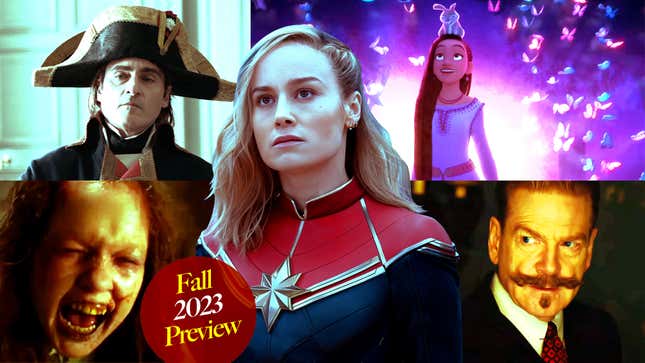 For those who embraced the summer of 2023's great pop culture phenomenon, Barbenheimer, not only would the cast and crew of each film like to thank you, but so would the entire movie industry. Because Barbie and Oppenheimer almost singlehandedly (doublehandedly?) saved the summer from a lot of underperforming films, including The Flash, Indiana Jones And The Dial Of Destiny, Haunted Mansion, three R-rated comedies—No Hard Feelings, Joy Ride, and Strays—and the presumably surefire hit, Mission: Impossible—Dead Reckoning Part One. And even though 2023's summer slate looks to crest the $4 billion mark for the first time since the pandemic, history will not look back fondly on most of this season's movies.

So now that our summer of general disappointment is nearly behind us, it's time for the fall movie season. Per usual, that means less bombast and more awards contenders like Killers Of The Flower Moon and Napoleon. But this fall also sees a promising collection of elevated horror films (The Nun II, The Exorcist: Believer), franchise sequels and extensions (A Haunting In Venice, The Hunger Games: The Ballad Of Songbirds And Snakes) and only one Marvel film (The Marvels) which, given our cultural exhaustion with the multiverse, feels like a vacation.
Given the ongoing WGA and SAG-AFTRA strikes, some of these release dates might shift, since what's the point of releasing Dumb Money next month if Pete Davidson can't promote it by playing Wheel of Musical Impressions on The Tonight Show? So take these fall dates with a grain of salt and, if they stick, take that grain of salt to a movie theater and sprinkle it on your popcorn.