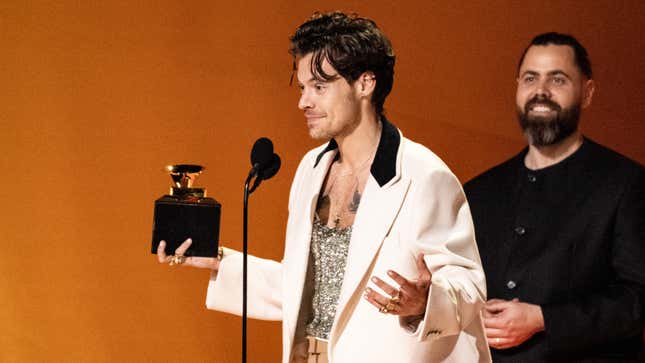 Whether you watched the Grammys last night or woke up to a Twitter peppered with promises of a "race war," you probably know by now: Harry Styles' Harry's House beat out Beyoncé's Renaissance for Album Of The Year in what was widely considered a colossal snub. Despite the outrage it fostered, most didn't categorize Styles' win as anything close to a surprise—at this point, some sort of egregious fuckery is as essential to the ceremony as a Trevor Noah hosting spot.
Danny and Lucy Devito on Little Demon, The Penguin, and more
Backlash arrived swiftly and severely: a journalist present at the event documented tense silence captivating an emptying room, while a few dissidents shouted "Beyoncé." Adele herself was far from chuffed. But one tidbit from Styles' decidedly flustered acceptance speech drew extensive criticism: Styles' assertion that "this doesn't happen to people like me very often."
What Styles ostensibly points to here is his working-class U.K. heritage; despite the industry adoration he's enjoyed since the early Simon Cowell-coached days, he was no nepotism baby and grew up working at a local bakery. His point has some merit: he sold out fifteen straight nights at Madison Square Garden, tapped into a certain ubiquitous liquid gold with "As It Was," and has far and away proven himself to be the most enduring and interesting member of One Direction a decade on. But Harry's House isn't even Styles' best album; Renaissance is a generational work. In his ill-chosen words, Styles points to a problem with the Recording Academy that proves more entrenched every day: Black women don't get the respect they deserve.
The fact is, "this" happens to guys like Harry Styles all the time. The Recording Academy relishes in lauding white, male artists who approach queerness and diversity the same way a Target display does during pride month: as something to be sanitized, perfected, and mass-distributed. Otherwise, why not instead pass over Renaissance for Bad Bunny's bubbling history-maker Un Verano Sin Ti, which outpaced Harry's House in both sales and streams.
Styles' speech fell at the apex of an awards show that couldn't stop contradicting itself. The unabashed queer joy of Renaissance was dismissed on the same evening Kim Petras became the first transgender woman ever to win a Best Pop Duo/Group Performance, and Beyoncé made history as the most-awarded artist of all time, directly thanking the queer community in her speech. Seminal Three 6 Mafia MC Gangsta Boo, who died on New Year's Day, was excluded from an In Memoriam segment the same year hip-hop luminaries gathered to honor the 50th anniversary of the genre in a near-universally acclaimed segment. And in the same year Lizzo—who cut her teeth as a rapper, and a skillful one at that—received Big Four recognition for TikTok favorite "About Damn Time," not a single woman was nominated in the Best Rap Album category. When the awards bracket for a genre the 2023 Grammys specifically highlights still only barely reflects its artistic makeup nearly a decade after the horror that was 2014, the issue is indelible, not incidental. (At the very least, the Academy didn't dare make a similar, Jack Harlow-shaped mistake this year, and held space for a genuinely beautiful Takeoff tribute.)
G/O Media may get a commission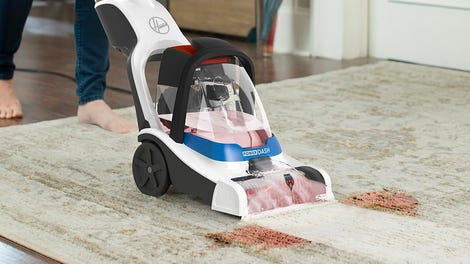 26% Off
Hoover PowerDash Pet Compact Carpet Cleaner
Whether it's Blackness, femininity, queerness, or the intersection of the three, the Grammys ruthlessly cut corners in the name of appealing to the masses, all under the guise of uplifting music that "brings us all together." Styles shouldn't be faulted for winning an award he was nominated for: furthermore, he can't be blamed for expressing pride over his work, or his journey to this point in his career. But to award Styles AOTY over an opus like Renaissance, a worldwide smash like Bad Bunny's Un Verano Sin Ti, or even a career-shifting statement from a tried and true Grammy favorite like Adele's 30, only exemplifies the Recording Academy's hollow sentimentality. Intoxicated on the saccharine fumes of industry progress wrought by others, the Grammys have again failed to actually do the work.