Thanksgiving aside, November is typically a month of transition. It's too late for scary movies and too early for holiday movies, but also it's kind of a perfect time for both scary movies and holiday movies. HBO is kind of embracing this for its HBO Go and HBO Now services in November, bringing subscribers one of the biggest, scariest, and smartest scary movies of the year (if not ever): Get Out. The services won't be getting any holiday movies to go along with it, unless you count the inherent commercialism of The Lego Batman Movie and Warcraft to be Christmas-adjacent, but at least you'll also be able to check out Kong: Skull Island, A United Kingdom, and Mechanic: Resurrection, in addition to satisfying your morbid curiosity with The Great Wall.
Sharon Stone made a fraction of what Michael Douglas did for "Basic Instinct"
Theatrical premieres aside, other highlights from HBO Go/Now's November lineup include 2 Fast 2 Furious, Bride Of Chucky, the Day The Earth Stood Still remake, W., and Terminator Salvation. November will also be your last chance to watch Get Smart, the Independence Day sequel, Good Will Hunting, and Shakespeare In Love.
You can see the full list of what's coming to and going from HBO Go/Now in November below.
Available November 1
2 Fast 2 Furious, 1994
Along Came A Spider, 2001
Bachelor Party, 1984
Bird On A Wire, 1966
Bride Of Chucky, 1998
Broken Lizard's Club Dread (Extended Version Available), 2004
The Day The Earth Stood Still, 2008
Fast & Furious, 2009
The Fast And The Furious, 2001
Good Morning, Vietnam, 1987
Ice Age: Dawn Of The Dinosaurs, 2009
Pale Rider, 1985
The Sum Of All Fears, 2002
Sweet November, 2001
Terminator Salvation (Director's Cut Available), 2009
Volunteers, 1985
W., 2008
Zoolander, 2001
G/O Media may get a commission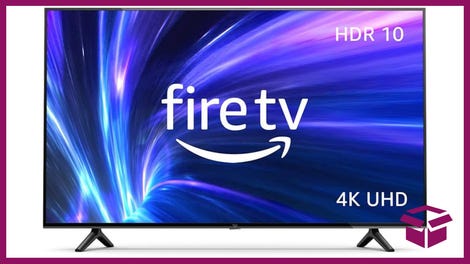 42% Off
Amazon Fire TV 50" 4K Smart TV
Available November 6
Rolling Stone: Stories From The Edge, Part 1
Available November 7
Rolling Stone: Stories From The Edge, Part 2

Available November 18
Night Of Too Many Stars: America Unites For Autism Program
Available November 20
Baltimore Rising
Available November 27
Meth Storm
Available November 28
HBO First Look: The Shape Of Water
Available November 4
Get Out, 2017
Available November 11
The Lego Batman Movie
The Magical Wand Chase: A Sesame Street Special
War Dog: A Soldier's Best Friend
Available November 13
A United Kingdom, 2017
Available November 18
The Great Wall, 2017 
Sesame Street: A Sesame Street Thanksgiving, Season 48 Premiere
Available November 19
Mechanic: Resurrection, 2016 

Available November 25
Kong: Skull Island, 2017 

Available November 26
Warcraft, 2016 

Leaving November 30
Alvin And The Chipmunks: The Road Chip, 2015
Be Cool, 2005
Cop Land, 1997
Doctor Dolittle, 1967
Dr. Dolittle 3, 2006
Dragnet, 1987
Fast Times At Ridgemont High, 1982
Get Smart, 2008
Good Will Hunting, 1997
Independence Day, 2016
Kicks, 2015
Legend, 2015
Monsters Vs. Aliens, 2009
On Deadly Ground, 1994
Panic Room, 2002
Parenthood, 1989
Rush Hour 3, 2007
Shaft, 2000
Shakespeare In Love, 1998
The Deer Hunter, 1978
War Dogs, 2016