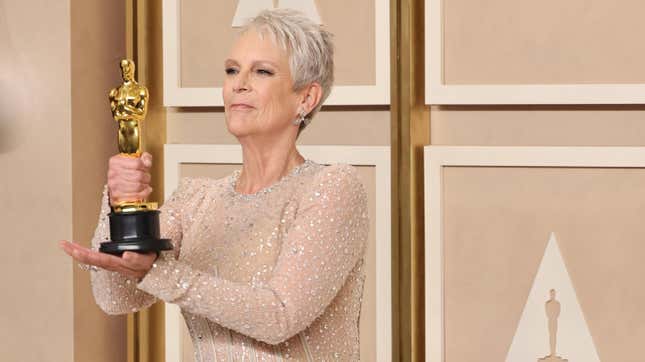 It's the dawn of a new day in Hollywood, where an independent Asian-American action dramedy can sweep the Oscars and career scream queens can win Best Supporting Actress. So why shouldn't that Best Supporting Actress decide on the gender of her Oscar or keep the statuette next to a prop butt plug? This is the 21st century, baby! The Academy Awards are cool!
Jamie Lee Curtis proved as much with her post-Oscars social media blitz, wherein she shared a photo of her "shiny things," as she described her awards. One Instagram pic depicted her recently-won Academy Award on display with the Screen Actors Guild Award for Female Actor in a Supporting Role. Tucked in between the two is perhaps the most prestigious honor of them all, Deirdre Beaubeirdre's sex toy-shaped award for Auditor of the Month from Everything Everywhere All At Once. "OK I'LL STOP!" Curtis gleefully captioned the shot. "The TOTALLY unexpected EVERYTHING TRIFECTA of 2023!"
And yes, Curtis has given her Oscar statuette gender-neutral pronouns. "I'm having them be a they/them. I'm going to just call them them," the star explained on the Today show. "They/them, and they are doing great, they're settling in, and I just, in my life, I never saw it in a million years that I'd have this couple days, and I'm very moved by the whole thing."
Declaring one's trophy non-binary may be a somewhat silly gesture, but Curtis is a staunch advocate for transgender rights and is using her moment in the sun to show her support. Amidst the celebratory Oscars posts, she shared her conversation with the gender-nonconforming author and comedian Alok Vaid-Menon. "Hey [Megyn Kelly] am I strong enough?" She captioned the post after Kelly's screed about Dylan Mulvaney's appearance on Drew Barrymore's talk show, in which Kelly described Barrymore as a "woke, weak, white woman praying at the transgender altar."
G/O Media may get a commission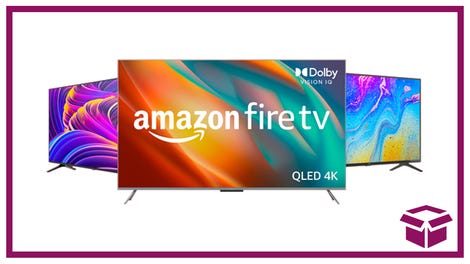 Ooh. stunning.
New Amazon Fire TVs
Curtis also brought her perspective "as the mother of a trans daughter" to the press room in the immediate wake of winning her Academy Award, where she advocated for more women to be nominated "so that there's gender parity in all the areas and all the branches [of the Academy]," per the Los Angeles Times. She did note "the bigger question, which is how do you include everyone when there are binary choices?"
"And yet to de-gender the category also, I'm concerned will diminish the opportunities for more women, which is something I also have been working hard to try to promote," she mused. "So it's a complicated question. But I think the most important thing is inclusivity and ... basically just fucking more women anywhere, anytime, all at once."