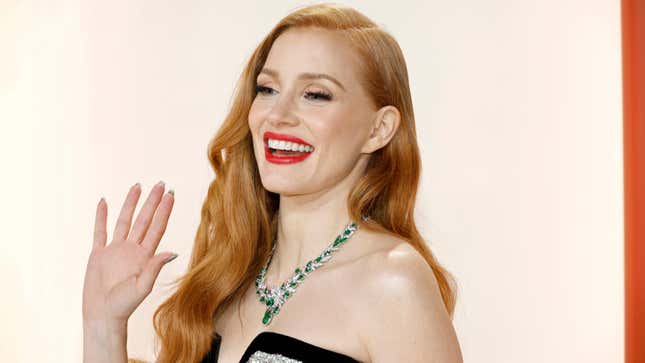 Is the limited series the new Oscar bait biopic? It would seem so, with the way A-list actresses are falling over themselves to sign on to television's most prestigious format. Reese Witherspoon and Nicole Kidman really set the trend, starting with Big Little Lies and then snatching up a number of literary adaptations between them. Many major stars have followed in their footsteps (and walked away with Emmys for their trouble), but Jessica Chastain is starting to pull ahead of the pack with her own limited series roster.
"National Treasure" star Lisette Olivera on Ed Harris, Catherine Zeta-Jones, and Dreamers
The latest is Savant, a new Apple TV+ series for which she serves as both star and executive producer. She'll play "a top-secret investigator known as the Savant, who infiltrates online hate groups to take down the most violent men in the country," per Deadline. The plot is based on the true story reported in Cosmopolitan by Andrea Stanley, who is set to consult on the series. Melissa James Gibson (Anatomy Of A Scandal) will helm the eight-part series.
This comes after Chastain received accolades and acclaim for two recent television projects, 2021's Scenes From A Marriage (co-starring Oscar Isaac) and 2022's George & Tammy (co-starring Michael Shannon). Of course, the Oscar winner got her start in television, with early credits that include guest stints on ER and Veronica Mars. But that was before Chastain made it big, and before television became the playground for megastars.
Since then, the limited series has become a hot spot for Academy Award winners (Kate Winslet, Regina King, Cate Blanchett, Michelle Williams), Academy Award losers trying to pick up a different prize (Amy Adams, we will avenge you), underrated stars having their spotlight moment (Amanda Seyfried, Patricia Arquette, Kirsten Dunst), and young up-and-comers making their name as serious stars (Margaret Qualley, Lily James, Joey King). And that's just a small sampling of female stars, and ones who usually tend towards the "film" side of the equation.
Of course, the limited series has always attracted a higher caliber of talent than your standard series fare, but it used to be a rare thing for someone like Meryl Streep to dip her toe in the limited series pool. (These days, she'll even deign to join something so pedestrian as a third season!) But with the sheer volume of television being produced (thanks to a proliferation of streaming services), actors are starting to really rack up their limited series credits.
Back in 2017, Nicole Kidman (who has five TV series under her belt in the last ten years, and five more currently in production) explained why the women of Hollywood were gravitating towards the medium. "I think in television right now, there's great opportunity for women because it's a place in which there is money and directors of this caliber [Top Of The Lake's Jane Campion and Ariel Kleiman] who are willing to work in that medium and write and explore their storytelling," she said, per The Hollywood Reporter. "I think there's an enormous appeal for actors working there because you have time to develop a character and for stories to unfold. Like Big Little Lies, where there was five amazing roles for women. That's where obviously the great roles are being developed for women right now."