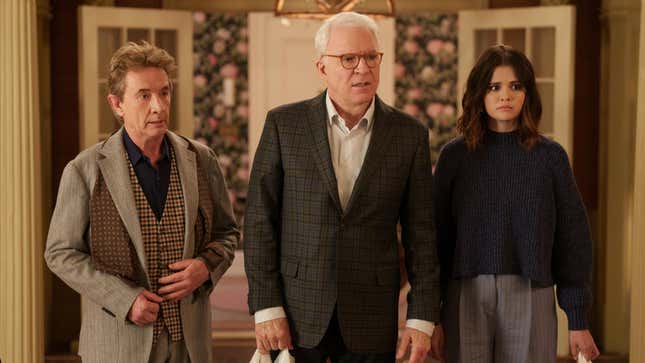 Has it been only four years since three-time Oscar-winner and perennial good actor Meryl Streep graced the small screen? We can hardly believe it either. After doing her damnedest to give Big Little Lies the second season we hoped for, Streep is returning to television for a guest spot on Only Murders In The Building, a decidedly more audience-friendly murder mystery series.
Earlier today, Hulu released a teaser for the new season, hyping season three's prominent guests and short Martins. And it's not just Streep that's turning up in the building—it's also murder. Oh, and Paul Rudd is back. Rudd, who appeared at the end of last season, will have a recurring role this season, which is undoubtedly a better thing to have in the building than murder.

There's still no word about when we'll be allowed back in the Building yet. In the meantime, we can dream about who else is going to guest star. We assume the next season will feature even more stars if they lead with Streep; she sets quite a high bar for the show. With the litany of guest stars in the past two seasons, the show had its work cut out for itself. How did Only Murders In The Building top Sting? Easy, bring in Shirley Maclaine for season two. Then came the question of topping Maclaine, a seemingly impossible task that could only be solved with one name: Streep.

The teaser really just focuses on that and is set to premiere during the Oscars. Nothing says Oscar night like Streep, a 21-time Academy Award nominee. It's a great get for the building. But how are they going to top that? It's time to hook the white whale of guest stars: Payakan from Avatar: The Way Of Water. Payakan may have been snubbed by the Oscars this year, but we have a feeling an Only Murders guest spot could land our favorite Tulkun an Emmy nod.