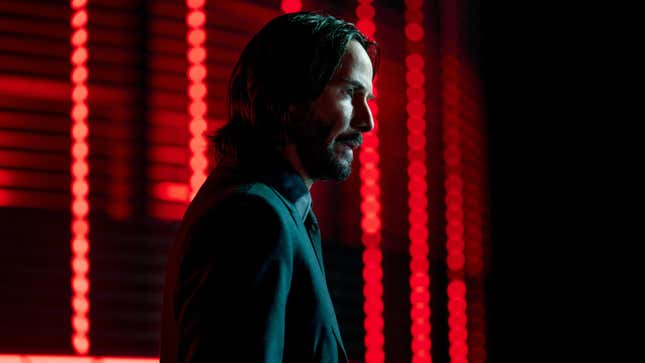 With John Wick: Chapter 4, the action film franchise implements a post-credit scene for the first time. Like other franchises, Chapter 4 used the short additional scene as an opportunity to tease the continuation of the John Wick cinematic universe.
Keanu wonders if "John Wick" has gone too far
After the [REDACTED] of [REDACTED], Rina Sawayama's Akira looks to avenge the death of her father, who was murdered by Donnie Yen's Caine. The end-credit scene shows Caine reuniting with his daughter, only for Akira to appear wielding a knife.
As the franchise looks to possibly close the Keanu Reeves-led saga, there are plenty of ideas swirling around possible spin-off ideas. However, the end-credits scene insinuates the action between Akira and Caine is far from over, especially as she takes her father's place at the High Table. The proposition is something Yen has considered.
"I'd love to do a John Wick spinoff centered around Caine," Yen tells Variety. "There's always 'talks' in Hollywood."
An expansive John Wick universe has been in the works long before the newest chapter. The prequel series about The Continental's early days has officially received a release date set for September of this year. The '70s-set show will follow a young Charon (Lance Reddick) and Winston (Ian McShane) played by Ayomide Adegun and Colin Woodell.
Additionally, Ana de Armas' Ballerina is currently in production abroad. Following Sawayama's debut as Akira in Chapter 4, many are convinced she could also appear in the spin-off. Although John Wick's future remains "ambiguous" following the fourth film, Reeves will appear as a supporting character in Ballerina, with the events taking place between Chapter 3 and Chapter 4.
This seems to be just the tip of the iceberg, with producer Erica Lee newly teasing the development of a secret non-John Wick nor Ballerina film.
"There is another film that we're developing that I think we'll be announcing in the next, say, month or two," Lee tells Collider. "Then, I'm hopeful there's a Ballerina 2, and John Wick 5, and lots of other things."
Lionsgate's Joe Drake shares the same sentiments regarding the franchise's expansion and a possible fifth storyline for John Wick.
"It's more than tempting," Drake tells Variety. "I'm not going to give up hope there can't be a Wick 5." He also shares that there is "at least one other spinoff in the works."
However, a fifth chapter for John Wick as the man or the ruthless assassin remains closed for director Chad Stahelski at this time.
"In our minds, Keanu and I are done for the moment," Stahelski tells THR. "We're going to give John Wick a rest. I'm sure the studio has a plan. If everyone loves it and it goes kooky, then we'll take a quiet minute."
As the film opens with $75 million in box office sales, a new high for the franchise, Stahelski and Reeves may find themselves eating those words.
John Wick: Chapter Four is currently playing in theaters.