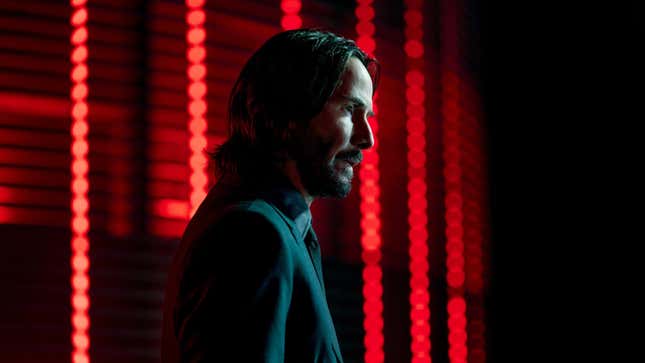 God bless the Baba Yaga, long may he reign. And by "reign" we mean "murder bad guys who deserve it, preferably if those bad guys are played by talented character actors and action movie stars."
John Wick: Chapter 4 has opened at the top of the U.S. box office, making a little more than $73 million in its debut, which is the highest opening of the series so far and the second highest opening of the year—nestled between Ant-Man And The Wasp: Quantumania and Creed III. And just so we can get those two movies out of the way and not have to acknowledge them further for no particular reason, the former came in sixth with $2.4 million and the latter came in second with $10.4 million (it's at $140 million after four weeks).
Last week's big-ish winner, Shazam! Fury Of The Gods, fell down to third with $9.7 million (and $46 million after two weeks), followed by Scream VI with $8.4 million (and nearly $90 million after three weeks). Wrapping up the top five is 65, which made $3 million in its third week and has $27 million total. The bottom five is the same as it has been for a little while, with Cocaine Bear, Jesus Revolution, Champions, and Avatar: The Way Of Water. They all made over $1 million this week, so good for them, and one of them actually has over $680 million total! Just outside of the top 10 is Zach Braff's A Good Person, which made $834,000 on a limited rollout of 530 screens.
The full top 10, courtesy of Box Office Mojo is below.
John Wick: Chapter 4
Creed III
Shazam! Fury Of The Gods
Scream VI
65
Ant-Man And The Wasp: Quantumania
Cocaine Bear
Jesus Revolution
Champions
Avatar: The Way Of Water