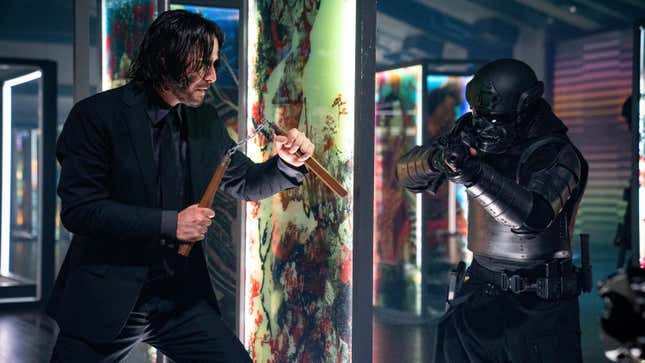 "Have you given any thought to how this ends?" asks a character early on in John Wick: Chapter 4, the latest installment in the little action franchise that could, in which each sequel has virtually doubled the theatrical gross of its predecessor. And the answer is yes. While it would be easy to indulge a view of this Keanu Reeves series as one defined by up-the-ladder villains, the world of John Wick—a retired hitman pulled back into lethal old ways after his deceased wife's posthumous gift, a puppy, is murdered during a home invasion—has been constructed as something at once labyrinthine, yet fairly simple.
Keanu wonders if "John Wick" has gone too far
Despite all their elaborate trappings, in which the façade of a modern New York actually masks a secret universe of criminal enterprises with a proper respect for rules, and special luxury hotels that serve as a neutral ground for killers and thieves, the Wick films can basically be distilled to fist-forward disquisitions on the debate over fate and self-determination, and to a slightly lesser extent service versus self-interest. Are characters making decisions because of their inherent nature, or choosing a course of action with complete clarity about the (often quite bloody) consequences? Are they serving someone else, or only pretending to do so?
The weighty nature of those complicated questions finally comes to a head in this sprawling sequel, a plus-sized affair (at 169 minutes) whose general thematic payoffs, along with justifiably accrued franchise goodwill, seem to account for at least a measure of its predictably rapturous reception at the recent SXSW Film Festival.
Picking up after the events of the third film, this chapter finds Wick, after recuperating with the assistance of the Bowery King (Laurence Fishburne), tracking down the Elder, the only person who sits above the High Table, a council of high-level crime bosses. His actions, however, have consequences—and those ramifications rain down with immediacy upon Winston Scott (Ian McShane) and Shimazu Koji (Hiroyuki Sanada), managers of the Continental Hotel branches in New York and Osaka, respectively.
As Wick copes with assassins sent by a senior member of the High Table, the Marquis Vincent de Gramont (Bill Skarsgård), he also finds himself locking wits with a mysterious and independent-minded tracker who calls himself Mr. Nobody (Shamier Anderson). The body count stacks up, of course, but Wick is eventually presented with a work-around that Winston points out will give him a chance at what he claims to want: a definitive way out, a brokered truce.
With the proper membership and endorsement of a High Table family, Wick can request a formal duel with de Gramont. This choice puts Wick on a path against an old friend and mentor, blind assassin Caine (Donnie Yen, a welcome franchise addition), who is beholden to the High Table for his own not-so-complicated reasons.
Returning director Chad Stahelski, who has helmed all four Wick films, again applies his rich experience as a stuntman to the movie's action sequences. This, after all, is the meat-and-potatoes appeal of the franchise. Stahelski's exacting sense of choreography is perhaps most on display in an extended single-take sequence shot from above, surveying mayhem across multiple rooms.
Part of the strength of the series, and especially the sequels, has always been the marriage of its form and content—the design of stylish, saturated, sometimes neon-tinged modern paintings which come to brutal, bloody life as Wick whirls around, dispatching a swarm of enemies. Working again with Oscar-nominated Dan Laustsen (cinematographer on the last three movies), Stahelski serves up a somewhat mixed bag.
A club scene in which Wick grapples with German High Table member Killa (martial arts actor Scott Adkins, in a fat suit that makes him look like a stand-in for Colin Farrell's Oswald Cobblepot), recalls another club sequence from the original movie, but to less engaging effect. It also introduces distraction when considering the reactions of various club patrons to wild violence and gunfire unfolding around them.
Much better is an early Osaka sequence involving Caine, Koji, Wick and others, in which the former imaginatively uses motion detectors and echo location to set up opponents for both blows and thrusts of a blade. The most memorable moments, though, arrive late in the film. As Wick makes preparation for a sunrise duel, he's beset upon by hordes of thugs seeking to collect a bounty on his head, and has to do battle with seemingly half of Paris on the city streets. It's basically Frogger re-conceived as a combined shootout and intense hand-to-hand combat scene. Later, in a scene which reimagines Park Chan-wook's Oldboy hallway fight on an incline, Wick has to punch and shoot his way up a lengthy, outdoor path of concrete stairs. Various payoffs here are among the movie's biggest audience-pleasing bits.
As an actor, Reeves is a bit of a Rorschach test; what some deride or ding, others find reward in. Few can reasonably take issue with the mesmeric physicality he brings to the Wick films—a compelling blend of grace and raw brutishness. But the emotionality he brings to the character of Wick is an under-appreciated element of the franchise's success. From the first film, for anyone invested in this series, the searing pain of receiving the puppy and the simple note from his wife and the snarling rage of his low-ground threat to Russian crime boss Viggo Tarasov (Michael Nyqvist) still linger. Reeves solemnly tries to invest some of the material with deeper currents, but there are unfortunately no scripted moments of comparable emotional mooring here.
For all its extensive world-building, and the ways in which its characters and their choices feel like they track and fit together sensibly, this chapter drops the ball a bit with regards to coloring in the learned lessons of its protagonist's journey. (Screenwriters Shay Hatten and Michael Finch sub in for Derek Kolstad, who wrote the first two films and co-wrote the third.) Some attempts at these resolutions lie in counterpoint, with characters like Caine and Mr. Nobody. But there are multiple missed opportunities to sketch out and wring emotion from Wick's deep brokenness, and the causal-loop nature of his dilemma, in which every avenging murder has only brought him more enemies.
The film cries out for moments of quiet and reflection amid the din. The filmmakers try to touch on this with Mr. Nobody's dog, but a conversation with Winston and the Bowery King about gravestone markers, for example, just comes off as clumsy.
As a hitman, Wick is a solitary and private figure, so these realizations need to reflect that interior nature. Why not a daisy, or any number of other small moments or markers glimpsed along the way that highlight Wick's loss and emptiness, as well as his perhaps changing relationship with those intense feelings?
Though it certainly checks the portion-size box, John Wick: Chapter 4 is not a bad or mindless reserving of only orgiastic action excess. But neither is it entirely successful in what it so clearly aims to do, on a story level. Rather, the film illustrates the inherent difficulties in successfully serving multiple (narrative, in this case) masters. In the end, maybe that's fitting for the John Wick franchise, an entertaining and somewhat unlikely series long poised between the expansive and the intimate.
---
John Wick: Chapter 4 opens in theaters on March 24