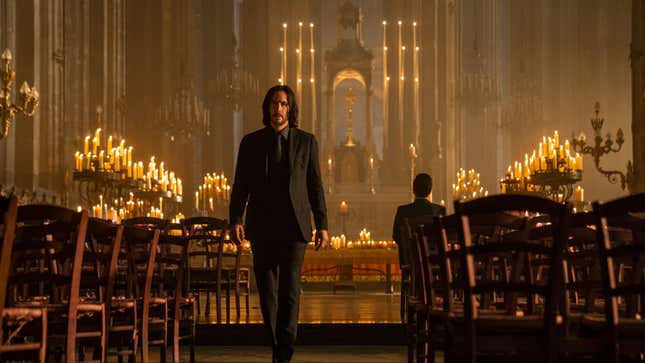 If there's one thing that everyone in the ludicrously assassin-stuffed universe of the John Wick movies can seemingly agree on, it's that John Wick is very good at killing people. It's the first thing anyone ever says about Keanu Reeves' perpetually unsuccessful retired killer: John Wick is great at murder. John Wick is the guy you send to kill the boogeyman. John Wick cannot be trusted near your stationery cabinet. Don't kill John Wick's dog, Theon Greyjoy; you will not enjoy what happens next. (He kills you.)

But with John Wick: Chapter 4 heading into theaters this weekend, we had to ask ourselves: How good is John Wick at killing people, precisely? We know he does a lot of murders across the first three Wick movies. But how many? Can we express it as a rate of murders per minute? Or Greyhound buses loaded up with the bodies of his victims? And what are his most brutal and brilliant kills?
And so, we embarked on an extremely scientific survey of Reeves and director Chad Stahelski's John Wick (2014), John Wick: Chapter 2 (2017), and John Wick: Chapter 3—Parabellum (2019). Which is to say that we watched all three movies back-to-back, and made a note every time John Wick totally murders someone—and an extra note every time we went "Oh, fuck!" after he did so. (There were a lot of margin note "Oh fuck!"s.) The end result was the following report, broken up by movie, highlighting bloodiest scenes and best kills, and answering the question: What is the Baba Yaga's official on-screen bodycount?