It's fun to think back on a time when Kanye West announcing he was going to run for president in 2020 felt like a fun novelty and not a harbinger of a fundamental shift in American politics. Now we're less than 24 hours away from the inauguration of Donald Trump, a man arguably less qualified to run the country than West. And despite the fact that the two posed for a friendly photo-op after West announced that while he didn't vote, he would have voted for Trump if he had gotten around to it, West still couldn't snag an invitation to perform at Trump's inauguration. That's because Trump prefers a musical lineup that's more "typically and traditionally American."
The questionable quote—which would likely be causing more controversy were it not for the sheer volume of insane material coming from the incoming Trump administration—comes from the chairman of Trump's Presidential Inauguration Committee, Tom Barrack. During an interview with CNN's Erin Burnett, Barrack first explains that West wasn't asked to perform because the "venue" of entertainment is "filled out" and "perfect." He then moves on to the "typically and traditionally American" line before reassuring Burnett that he still thinks "Kanye is a great guy." Of course, Barrack is also the man who famously claimed there would be a "soft sensuality" to Trump's inauguration, so apparently his understanding of what's "typically and traditionally American" includes a dash of sexiness but not any rap music.
Trump's "perfect" lineup of inauguration performers includes 16-year-old America's Got Talent runner-up Jackie Evancho, country singer Toby Keith, early 2000s rock band 3 Doors Down, at least some of the Rockettes, the Mormon Tabernacle Choir, and Jon Voight as emcee. It doesn't, however, include Bruce Springsteen tribute band The B Street Band or Broadway performer Jennifer Holliday, who both backed out following backlash. For some reason West wasn't offered the chance to fill either of their performance slots, despite casting his after-the-fact imaginary vote for the President-elect. That means Yeezy now joins the ranks of people who have awkwardly posed for photos with Trump, only to get nothing in return.
G/O Media may get a commission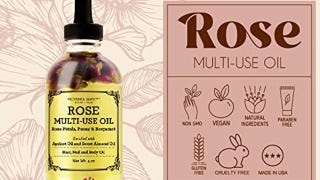 Provence Beauty Rose Multi-Use Oil