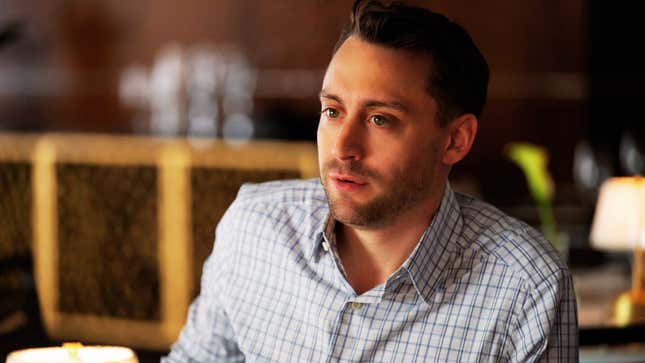 Kieran Culkin always fit perfectly into the mold of Roman Roy. The instant he strolled into Waystar Royco's conference room in his first scene, with a gleeful greeting of "Hey, hey, hey, motherfuckers," Roman's full-bodied superficiality clicked into place. He liked to loudly own the conversation, be as silly as possible, and take jabs at everyone around him. Now, this is Succession, so the interior mess behind Rome's goofy exterior would be on full display by the time the credits rolled at the end of the fourth and final season. Series creator Jesse Armstrong and the show's writers evolved Roman into a man fucked up by his father's torment ... and by his tormented love for his father. Culkin repeatedly rose to the challenge throughout the series, peeling off the facade each time. But in season four, as Rome's world shattered around him, while he shattered the world in return, Culkin managed to top himself, becoming the indisputable MVP of the legendary TV drama's last go-round.
Kevin Costner's attorney would like to inform you the star is not a jerk
It should be more than enough to score Culkin a coveted Emmy win. He chose to submit in the Lead Actor category this year, moving up from Supporting Actor, where his biggest competitor would've been Matthew Macfadyen (who'll most likely win). Culkin will still have to fight off potential nominees like Bob Odenkirk for Better Call Saul's final run and Pedro Pascal for The Last Of Us. He'll most notably be vying for the trophy alongside co-star and former winner Jeremy Strong. It's also likely that Brian Cox, who technically appeared only in two full episodes, will run in the same category. We're here to make it clear, though, that Culkin deserves the win. (The way he licked that block of cheese in "With Open Eyes" alone should be enough to seal the deal.)
Before anyone comes at us, we know it's impossible to single out one performance in this series. The show has an abundance of talented actors. Strong's stellar work alone will be dissected for decades as Kendall meets a depressing full-circle conclusion. In season four, Sarah Snook and Macfadyen infused unexpected depth into the show with every biting Shiv and Tom scene. Indeed, Succession's ensemble will go down as one of TV's most notable, in part because no superstar names were attached when the show began. But Culkin's work, in particular, hit home this season, especially with the meaty material he was given following Cox's early exit, which allowed him to bring a visceral feel to Roman's emotional despair and downfall.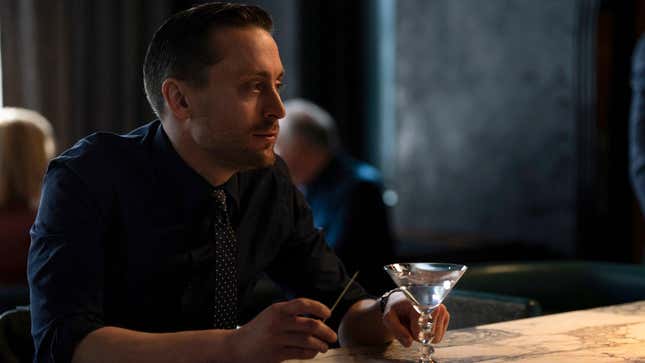 When season four premiered in March, Roman was ready to break free of Waystar Royco and work with two of his siblings. We bet he wanted the three of them to make this partnership work independent of the "who will become the heir?" issue so they could claw their way back into Logan's heart. It's why Rome was the least excited about wasting $10 billion on Pierce and reigniting the wrath of their paternal enemy. In those moments, Culkin was terrific at lending vulnerability to his alter ego, making us empathize with an objectively horrible person because he just wanted to be a loved son. See also: Rome's final phone message to his father in episode three ("Are you a cunt?), or his attempt to fire Gerri. All hell broke loose, of course, once Logan died, and there was no holding Roman—or Culkin—back.

Logan's children were visibly broken after losing the father they sickeningly aspired to be, whose approval they desperately sought and whose affection they rarely received. Before his demise, Logan was "favoring" Roman because he was the easiest target to manipulate. Either way, Culkin balanced his character's fragility and false bravado, and he was glorious each time the mask dropped. Look no further than the Norway-set episode five, when good old Romulus challenged the GoJo deal by confronting Mattson (Alexander Skarsgard) on the mountain. He was ferocious with his words and gut-wrenching with his face, which he brought close to Skarsgard's to declare passionately, but with a childlike manner, "I fucking hate you."
Culkin's performance made it easy to forget how despicable Roman is. Time and again, Succession focused on this aspect, from him cruelly promising and ripping off that million-dollar check in the premiere to sending unwarranted dick pics to Gerri. He was funny but irritable as hell, and he was always a nightmare. But Culkin's compelling portrayal is often a weird salve. Don't worry; by season four's eighth outing, the dreaded election hour, his straight-faced, no-fucks-given attitude while rooting for and making Trump with a brain Mencken (Justin Kirk) the President was another brutal reality check. Who cares if democracy is ruined? This crumbled once more when Roman pointed to his father's coffin in the next episode, wondering if they could "get him out of there" while crying, offering another moment of brief sympathy for a grieving monster.
Yeah, Culkin will have trouble submitting only one episode for Emmy consideration, a problem shared by everyone involved in the show. Some of his strongest work arrived in the oversized finale, in which the leading trio delivered nuanced, series-best work. Culkin shined while bumming around in a palatial beach house with Kendall and Shivvy just as much as he did while later making terrible remarks about his niece and nephew, or losing his mind when he saw Gerri return to Waystar's executive offices. He was superior when embracing the idea that everything is bullshit and they're all nothing (both true). The crucial moment came when, after the grand fall, he was maybe ready to rise again. In the final seconds, sitting at a bar and ordering Gerri's drink of choice, Culkin displayed relief, sadness, and uncertainty. It was finally over. And with that, so was one of Succession's finest performances.