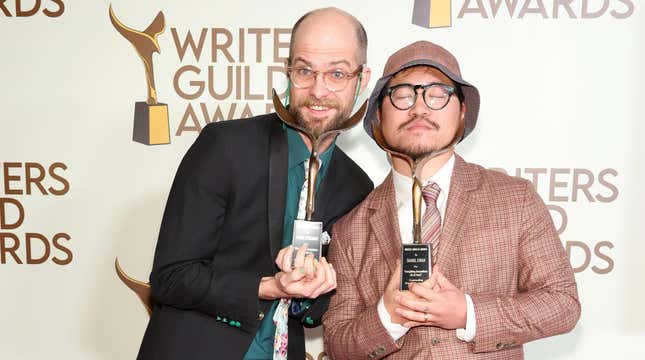 The path to the Oscars just got a whole lot clearer for Everything Everywhere All At Once. Daniels' celebrated film, starring Best Actress frontrunner Michelle Yeoh, took home the prize for Original Screenplay at the 2023 Writers Guild Awards on Sunday. With the Academy Awards steadily approaching, the A24 film seems primed to clean up after sweeping the year's guild awards.
Surprise, the Golden Globes have lined up some decent presenters
In addition to the WGAs, Everything Everywhere All At Once took home the top prizes at the Screen Actors Guild Awards, the Directors Guild Awards, and the Producers Guild Awards. Per The New York Times, only four other films—Argo, No Country for Old Men, Slumdog Millionaire, and American Beauty—have done so, all of which went on to win Best Picture at the Oscars. The honors from the industry's guilds come in addition to EEAAO's many other prizes from the Golden Globes, Independent Spirit Awards, Critics Choice Awards, and more.
EEAAO wasn't the only Oscar predictor amongst Sunday's winners; Sarah Polley's Women Talking took home the award for Adapted Screenplay. However, a few international Oscar nominees were ineligible to compete in the WGAs, including contenders like The Banshees Of Inisherin, Triangle Of Sadness, and All Quiet On The Western Front.
In the television world, prizes were awarded to Severance (both New Series and Drama Series), The Bear (Comedy Series), The White Lotus (Limited Series), Better Call Saul (Episodic Drama), and Hacks (Episodic Comedy). Honorary awards were presented to Spike Lee, Charlie Kaufman, and Living Single creator Yvette Lee Bowser, among others.
Scroll on for a complete list of winners for the 2023 Writers Guild Awards.
---
ORIGINAL SCREENPLAY
Everything Everywhere All at Once, Written by Daniel Kwan & Daniel Scheinert; A24
The Fabelmans, Written by Steven Spielberg & Tony Kushner; Universal Pictures
The Menu, Written by Seth Reiss & Will Tracy; Searchlight Pictures
Nope, Written by Jordan Peele; Universal Pictures
Tár, Written by Todd Field; Focus Features
ADAPTED SCREENPLAY
Black Panther: Wakanda Forever, Screenplay by Ryan Coogler & Joe Robert Cole, Story by Ryan Coogler, Based on the Marvel Comics; Walt Disney Studios Motion Pictures
Glass Onion: A Knives Out Mystery, Written by Rian Johnson; Netflix
She Said, Screenplay by Rebecca Lenkiewicz, Based on the New York Times Investigation by Jodi Kantor, Megan Twohey and Rebecca Corbett and the book She Said by Jodi Kantor and Megan Twohey; Universal Pictures
Top Gun: Maverick, Screenplay by Ehren Kruger and Eric Warren Singer and Christopher McQuarrie, Story by Peter Craig and Justin Marks, Based on Characters Created by Jim Cash & Jack Epps, Jr.; Paramount Pictures
Women Talking, Screenplay by Sarah Polley, Based upon the book by Miriam Toews; Orion Pictures/UAR
DOCUMENTARY SCREENPLAY
2nd Chance, Written by Ramin Bahrani; Showtime Documentary Films
Downfall: The Case Against Boeing, Written by Mark Bailey & Keven McAlester; Netflix
Last Flight Home, Written by Ondi Timoner; MTV Documentary Films
Moonage Daydream, Written by Brett Morgen; Neon
¡Viva Maestro!, Written by Theodore Braun; Greenwich Entertainment
DRAMA SERIES
Andor (Disney+)
Written by Dan Gilroy, Tony Gilroy, Stephen Schiff, Beau Willimon
Better Call Saul (AMC)
Written by Ann Cherkis, Vince Gilligan, Peter Gould, Ariel Levine, Thomas Schnauz, Gordon Smith, Alison Tatlock
The Crown (Netflix)
Written by Peter Morgan
Severance (Apple TV+)
Written by Chris Black, Andrew Colville, Kari Drake, Dan Erickson, Mark Friedman, Helen Leigh, Anna Moench, Amanda Overton
Yellowjackets (Showtime)
Written by Cameron Brent Johnson, Katherine Kearns, Jonathan Lisco, Ashley Lyle, Bart Nickerson, Liz Phang, Ameni Rozsa, Sarah L. Thompson, Chantelle M. Wells
COMEDY SERIES
Abbott Elementary (ABC)
Written by Quinta Brunson, Ava Coleman, Riley Dufurrena, Justin Halpern, Joya McCrory, Morgan Murphy, Brittani Nichols, Kate Peterman, Brian Rubenstein, Patrick Schumacker, Justin Tan, Jordan Temple, Garrett Werner
Barry (HBO)
Written by Emma Barrie, Alec Berg, Duffy Boudreau, Bill Hader, Emily Heller, Nicky Hirschhorn, Jason Kim, Liz Sarnoff
The Bear (FX/Hulu)
Written by Karen Joseph Adcock, Joanna Calo, Rene Gube, Sofya Levitsky-Weitz, Alex O'Keefe, Catherine Schetina, Christopher Storer
Hacks (HBO Max)
Written by Lucia Aniello, Jessica Chaffin, Paul W. Downs, Ariel Karlin, Andrew Law, Joe Mande, Aisha Muharrar, Pat Regan, Samantha Riley, Jen Statsky
Only Murders in the Building (Hulu)
Written by Matteo Borghese, Rachel Burger, Kirker Butler, Valentina Garza, Madeleine George, Joshua Allen Griffith, John Hoffman, Noah Levine, Stephen Markley, Kristin Newman, Ben Philippe, Ben Smith, Rob Turbovsky
NEW SERIES
Abbott Elementary (ABC)
Written by Quinta Brunson, Ava Coleman, Riley Dufurrena, Justin Halpern, Joya McCrory, Morgan Murphy, Brittani Nichols, Kate Peterman, Brian Rubenstein, Patrick Schumacker, Justin Tan, Jordan Temple, Garrett Werner
Andor (Disney+)
Written by Dan Gilroy, Tony Gilroy, Stephen Schiff, Beau Willimon
Bad Sisters (Apple TV+)
Written by Brett Baer, Dave Finkel, Sharon Horgan
The Bear (FX/Hulu)
Written by Karen Joseph Adcock, Joanna Calo, Rene Gube, Sofya Levitsky-Weitz, Alex O'Keefe, Catherine Schetina, Christopher Storer
Severance (Apple TV+)
Written by Chris Black, Andrew Colville, Kari Drake, Dan Erickson, Mark Friedman, Helen Leigh, Anna Moench, Amanda Overton
LIMITED SERIES
The Dropout (Hulu)
Written by Hilary Bettis, Liz Hannah, Liz Heldens, Dan LeFranc, Sofya Levitsky-Weitz, Matt Lutsky, Elizabeth Meriwether, Wei-Ning Yu
Fleishman Is In Trouble (FX/Hulu)
Written by Taffy Brodesser-Akner, Cindy Chupack, Allison P. Davis, Mike Goldbach, Boo Killebrew
Pam & Tommy (Hulu)
Written by Brooke Baker, Matthew Bass, Theodore Bressman, D.V. DeVincentis, Sarah Gubbins, Robert Siegel
The Staircase (HBO Max)
Written by Aisha Bhoori, Antonio Campos, Maggie Cohn, Aja Gabel, Emily Kaczmarek, Craig Shilowich, Sebastian Silva
The White Lotus (HBO)
Written by Mike White
TV & NEW MEDIA MOTION PICTURES
Heart of the Matter (Hallmark Channel)
Teleplay by Karen Struck and Marcy Holland, Story by Karen Struck
Honor Society (Paramount+)
Written by David A. Goodman
Ray Donovan: The Movie (Showtime)
Written by David Hollander & Liev Schreiber
Torn Hearts (Epix)
Written by Rachel Koller Croft
Weird: The Al Yankovic Story (The Roku Channel)
Written by Al Yankovic & Eric Appel
ANIMATION
"Girls Just Shauna Have Fun" (The Simpsons), Written by Jeff Westbrook; Fox
"The Pain Garden" (Tuca & Bertie), Written by Lisa Hanawalt; Adult Swim
"Pixelated and Afraid" (The Simpsons), Written by John Frink, Fox
"Rectify" (Undone), Written by Elijah Aron & Patrick Metcalf; Prime Video
"The Sound of Bleeding Gums" (The Simpsons), Written by Loni Steele Sosthand; Fox
"To Bob, or Not To Bob" (Bob's Burgers), Written by Lizzie Molyneux-Logelin & Wendy Molyneux; Fox
EPISODIC DRAMA
"A Hard Way to Go" (Ozark), Written by Chris Mundy; Netflix
"The End of Everything" (The Good Fight), Written by Robert King & Michelle King; CBS
"Plan and Execution" (Better Call Saul), Written by Thomas Schnauz; AMC
"The Prick" (Bad Sisters), Teleplay by Sharon Horgan and Dave Finkel & Brett Baer; Apple TV+
"Rock and Hard Place" (Better Call Saul), Written by Gordon Smith; AMC
"The We We Are" (Severance), Written by Dan Erickson; Apple TV+
EPISODIC COMEDY
"The Beginning" (Grace and Frankie), Written by Marta Kauffman & Howard J. Morris; Netflix
"Braciole" (The Bear), Written by Joanna Calo & Christopher Storer; FX Networks
"Foie Gras" (Julia), Written by Daniel Goldfarb & Chris Keyser; HBO/HBO Max
"Private School" (What We Do in the Shadows), Written by Ayo Edebiri & Shana Gohd; FX Networks
"The One, The Only" (Hacks), Written by Lucia Aniello & Paul W. Downs & Jen Statsky; HBO/HBO Max
"Wide Net" (Reservation Dogs), Written by Tazbah Rose Chavez; FX Networks
COMEDY/VARIETY TALK SERIES
Full Frontal with Samantha Bee (TBS)
Head Writers Kristen Bartlett, Sean Alexander Crespo, Mike Drucker; Supervising Writers Joe Grossman, Sahar Rizvi, Alison Zeidman; Writers Samantha Bee, Pat Cassels, Miles Kahn, Michael Rhoa, Chris Thompson, Holly Walker
Hell of a Week with Charlamagne Tha God (Comedy Central)
Writers Cynia Barnwell, Josh Lieb, Charles McBee, Dan McCoy, Lenard McKelvey, Andre D. Thompson
Jimmy Kimmel Live! (ABC)
Head Writers Molly McNearney, Danny Ricker; Writers Jamie Abrahams, Rory Albanese, Tony Barbieri, Jonathan Bines, Joelle Boucai, Bryan Cook, Blaire Erskine, Devin Field, Gary Greenberg, Josh Halloway, Eric Immerman, Jesse Joyce, Jimmy Kimmel, Greg Martin, Jesse McLaren, Keaton Patti, Louis Virtel, Troy Walker
Late Night with Seth Meyers (NBC)
Head Writer Alex Baze; Supervising Writers Seth Reiss, Mike Scollins; Closer Look Supervising Writer Sal Gentile; Writers Jermaine Affonso, Karen Chee, Bryan Donaldson, Matt Goldich, Dina Gusovsky, Jenny Hagel, Allison Hord, Mike Karnell, John Lutz, Seth Meyers, Ian Morgan, Seth Reiss, Amber Ruffin, Mike Shoemaker, Ben Warheit, Jeff Wright
Last Week Tonight with John Oliver (HBO)
Senior Writers Daniel O'Brien, Owen Parsons, Charlie Redd, Joanna Rothkopf, Seena Vali; Writers Johnathan Appel, Ali Barthwell, Tim Carvell, Liz Hynes, Ryan Ken, Mark Kramer, Sofia Manfredi, John Oliver, Taylor Kay Phillips, Chrissy Shackelford
The Problem with Jon Stewart (Apple TV+)
Head Writer Kristen Acimovic; Writers Henrik Blix, Rob Christensen, Jay Jurden, Alexa Loftus, Tocarra Mallard, Maria Randazzo, Robby Slowik, Jon Stewart, Kasaun Wilson
Stephen Colbert Presents Tooning Out The News (Comedy Central)
Head Writers Mike Leech, Zach Smilovitz; Supervising Writers Addison Anderson, Bob Powers; Writers Sarah Caldwell, Stephen Colbert, RJ Fried, Julie Greiner, Ron Metellus, Libby Schreiner, Hannah Wright
COMEDY/VARIETY SKETCH SERIES
Inside Amy Schumer (Paramount+)
Writers Georgie Aldaco, Rosebud Baker, Jeremy Beiler, Cazzie David, Tova Diker, Derek Gaines, Jon Glaser, Jaye McBride, Tim Meadows, Christine Nangle, Daniel Powell, Tami Sagher, Amy Schumer, Joe Strazzullo, Sydnee Washington, Ron Weiner
PAUSE with Sam Jay (HBO)
Writers Emmy Blotnick, Ryan Donahue, Megan Gailey, Sam Jay, Joyelle Johnson, Langston Kerman, Jak Knight, Teresa Lo, Lucy Ortiz, Lorena Russi
Saturday Night Live (NBC)
Head Writers Michael Che, Alison Gates, Colin Jost, Streeter Seidell, Kent Sublette; Senior Writer Bryan Tucker; Writers James Anderson, Rosebud Baker, Dan Bulla, Mike DiCenzo, Billy Domineau, James Downey, Alex English, Jimmy Fowlie, Martin Herlihy, John Higgins, Steve Higgins, Vannessa Jackson, Erik Kenward, Tesha Kondrat, Ben Marshall, Lorne Michaels, Jake Nordwind, Clare O'Kane, Ceara O'Sullivan, Simon Rich, Ben Silva, John Solomon, Will Stephen, Nicole Sun, Auguste White, Celeste Yim; Weekend Update Head Writer Pete Schultz; Weekend Update Writers Megan Callahan-Shah, Dennis McNicholas, Josh Patten, KC Shornima; Mark Steinbach
COMEDY/VARIETY SPECIALS
The National Memorial Day Concert 2022 (PBS)
Written by Kirk Ellis, Jon Macks Special; Material Written by Rita Brent
Stand Out: An LGBTQ+ Celebration (Netflix)
Head Writers Matt Roberts, Beth Sherman Writers Rita Brent, Page Hurwitz, Carey O'Donnell; Special Material Written by Guy Branum, Chris Sartinsky, Louis Virtel
The Problem with Jon Stewart: Election Wrap-Up Special (Apple TV+)
Head Writer Kristen Acimovic; Writers Henrik Blix, Rob Christensen, Jay Jurden, Alexa Loftus, Tocarra Mallard, Robby Slowik, Maria Randazzo, Jon Stewart, Kasaun Wilson
Jerrod Carmichael: Rothaniel (HBO)
Written by Jerrod Carmichael
QUIZ AND AUDIENCE PARTICIPATION
Baking It (Peacock)
Writers Neil Casey, Chad Carter, Jessica McKenna, Zach Reino
Capital One College Bowl (NBC)
Head Writer Harry Friedman; Writers Jason Antoniewicz, Alan Bailey, Eli Bauman, Patricia A. Cotter, Riham El-Ounsi, Joyce Ikemi, Joey Ortega, Chris Sturgeon
Jeopardy! (ABC)
Head Writers Michele Loud, Billy Wisse; Writers Michael Davies, John Duarte, Mark Gaberman, Debbie Griffin, Robert McClenaghan, Jim Rhine
Weakest Link (NBC)
Head Writer Ann Slichter; Writers Chip Dornell, Joyce Ikemi, Stuart Krasnow, Jon Macks, Meggie McFadden, Ryan O'Dowd, Veronica Penn-Turner, Scott Saltzburg, Aaron Solomon, Doug Shaffer, Grant Taylor
DAYTIME DRAMA
Days of Our Lives (NBC)
Head Writer Ron Carlivati; Writers Lorraine Broderick, Jazmen Darnell Brown, Joanna Cohen, Carolyn Culliton, Richard Culliton, Cheryl Davis, Kirk Doering, Christopher Dunn, Jamey Giddens, David Kreizman, Ryan Quan, Dave Ryan, Katherine D. Schock
CHILDREN'S EPISODIC, LONG FORM AND SPECIALS
"A Perilous Journey" (The Mysterious Benedict Society), Written by Phil Hay & Matt Manfredi; Disney+
"Thursday" (Life by Ella), Written by Vincent Brown; Apple TV+
"Pilot" (Amber Brown), Written by Bonnie Hunt; Apple TV+
"Prison or Palace" (Life by Ella), Written by Hernan Barangan; Apple TV+
"Test Subject Thirteen" (Circuit Breakers), Written by Melody Fox; Apple TV+
SHORT FORM NEW MEDIA
Breakwater, Written by Zach Craley; Snapchat
Carpool Karaoke: The Series, Head Writer David Young; Writer Casey Stewart; Apple TV+
Three Busy Debras, Written by Sandy Honig, Mitra Jouhari, Sarah Sherman, Alyssa Stonoha, Diana Tay, Evan Waite; Adult Swim
DOCUMENTARY SCRIPT – CURRENT EVENTS
"Episode Two: Resilience" (Hiding in Plain Sight: Youth Mental Illness), Written by David Blistein; PBS
"Inside the Alleged Sexual Assault Cover Up in Charlotte Schools" (Vice News Tonight), Written by Arlissa Norman, Carter Sherman, Gilad Thaler; Vice.com
"Lies, Politics and Democracy" (Frontline), Written by Michael Kirk & Mike Wiser; PBS
DOCUMENTARY SCRIPT – OTHER THAN CURRENT EVENTS
"Episode Two: An American (1775 – 1790)" (Benjamin Franklin), Written by Dayton Duncan; PBS
"Episode One: The Golden Door (Beginnings – 1938)" (The U.S. and the Holocaust), Written by Geoffrey C. Ward; PBS
Lucy and Desi, Written by Mark Monroe; Prime Video
"Ocean Invaders" (Nova), Written by Jeff Boedeker; PBS
"Pelosi's Power" (Frontline), Written by Michael Kirk & Mike Wiser; PBS
"Plague at the Golden Gate" (American Experience), Written by Susan Kim; PBS
NEWS SCRIPT – REGULARLY SCHEDULED, BULLETIN, OR BREAKING REPORT
"Massacre in Buffalo" (CBS Weekend News), Written by J. Craig Wilson & Claudine Cleophat; CBS News
"Shooting At Robb Elementary" (World News Tonight with David Muir), Written by David Muir, Dave Bloch, Karen Mooney; ABC News
"Special Edition: From the Ukraine Border" (World News Tonight with David Muir), Written by David Muir, Dave Bloch, Karen Mooney; ABC News
"The Water Crisis in Jackson, Mississippi" (CBS Evening News with Norah O'Donnell), Written by James Hutton, Rob Rivielle; CBS News
NEWS SCRIPT – ANALYSIS, FEATURE, OR COMMENTARY
"Battle for Ukraine" (20/20), Written by David Muir, Karen Mooney, Dave Bloch; ABC News
"City of Lions" (60 Minutes), Written by Scott Pelley, Nicole Young, Kristin Steve; CBS News
"The Green Jacket – Golf's Ultimate Prize" (CBS Saturday Morning), Written by Daniel Elias & Dana Jacobson; CBS News
"Harvest of War" (60 Minutes), Written by Scott Pelley, Nicole Young, Kristin Steve; CBS News
"The Longest Running Oil Spill" (60 Minutes), Written by Jon Wertheim and Oriana Zill de Granados; CBS News
"Targeting Americans" (60 Minutes), Written by Scott Pelley, Oriana Zill de Granados; CBS News
DIGITAL NEWS
"America's Only LGBTQ Historic District Is Falling Apart," Written by Leo Rocha; Vice.com
"How Oregon's Prison System Retaliated Against Its Most Effective Jailhouse Lawyer," Written by Jessica Schulberg; HuffPost.com
"I Spent 72 Depraved Hours Searching for the Gnarliest Dive Bar in Las Vegas," Written by Drew Schwartz; Vice.com
"The Most Unexpected Consequence of the Texas Abortion Ban," Written by Christina Cauterucci; Slate.com
"The Pivot to Web3 Is Going to Get People Hurt," Written by Maxwell Strachan; Vice.com
"What's so scary about a transgender child?" Written by Emily St. James; Vox.com
RADIO/AUDIO DOCUMENTARY
"Dr. GIFT" (One Year: 1995), Written by Christina Cauterucci; Slate
"Like a Lion With No Teeth" (Crime Show), Written by Emma Courtland & Cat Schuknecht; Gimlet Media
"Making Sense: How Sound Becomes Hearing" (Unexplainable), Written by Noam Hassenfeld; Vox Media Podcast Network
"The Most Famous Poet No One Remembers" (Decoder Ring), Written by Dan Kois; Slate
"No Peace" (Slow Burn: The L.A. Riots), Written by Joel Anderson; Slate
"The Ultimate Field Trip" (One Year: 1986), Written by Evan Chung; Slate
"The War in Jennifer Weiss" (Crime Show), Written by Emma Courtland; Gimlet Media
RADIO/AUDIO NEWS SCRIPT – REGULARLY SCHEDULED, BULLETIN, OR BREAKING REPORT
"CBS World News Roundup," Written by Paul Farry and Steve Kathan; CBS Radio
"Hail And Farewell: Saluting 5 Who Made A Difference," Written by Gail Lee; CBS Radio
"Newsline – 11am 9/9/22," Written by Philip Pilato; 1010 WINS Radio
"Remembering The Transistor Kid," Written by Thomas Sabella; CBS Radio
"World News This Week – Week of September 9, 2022," Written by Joy Piazza; ABC News Radio
"World News This Year 2021," Written by Robert Hawley; ABC News Radio
RADIO/AUDIO NEWS SCRIPT – ANALYSIS, FEATURE, OR COMMENTARY
"2021 Law and Justice Year End Reports," Written by Robert Hawley; ABC News Radio
"Was the Women's March Successful?" (The Waves), Written by Christina Cauterucci; Slate
"WCBS Author Talks Summer Reads," Written by Lisa Tschernkowitsch; WCBS Radio
"What I Wish I Knew Before I Started IVF" (The Waves), Written by Cheyna Roth; Slate 
"You Will Be Found: The Impact of Dear Evan Hansen" ("Somalia Suffering From Starvation," Perspective), Written by D.J. Moran; ABC Audio
ON AIR PROMOTION
"Amazon Bessemer Campaign: This Time I'm Voting YES; Union Difference; Union YES," Written by Desireena Almoradie, Angad Bhalla, Adrianna Hernandez-Stewart; Facebook
"CBS Celebrates Juneteenth," Written by Justin DiLauro; CBS News