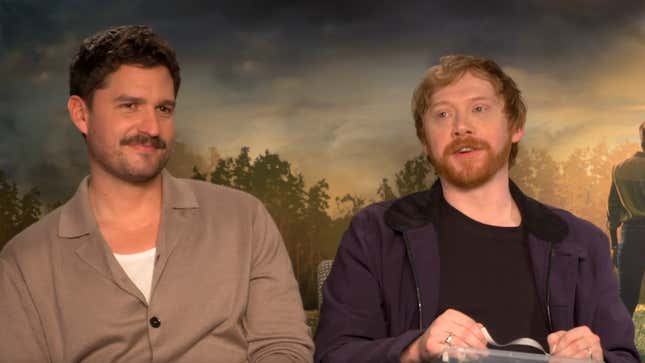 Rather than assemble two of the stars of Knock At The Cabin for a traditional interview, BuzzFeed UK decided to give its sit down with Rupert Grint and Ben Aldridge an appropriately Shyamalan-style twist, inviting the pair to play a few, horror-themed rounds of "would you rather?"
The premise of the interview/game is simple: Grint and Aldridge are asked a series of questions that force them to choose between two frightening options. First up, the actors are made to decide if they'd rather play ouija with some friends or spend the night alone in a cabin in the woods. Both agree that the cabin could actually be pretty nice, Grint adding that he'd played with a ouija board in the past and found it scary despite knowing that what it was spelling out wasn't real.
When asked if they'd rather be stuck on a deserted island with co-star Dave Bautista or locked in a coffin with Phoebe Waller-Bridge, the choice is, again, pretty obvious. "Marooned with Dave would be great," Grint says. "I feel like he'd help you survive," Aldridge adds before pointing out Bautista's presumed skills in lifting and building things or killing animals for food. "I don't think [Waller-Bridge] would be hilarious in a coffin," Grint continues.
The rest of the questions make the actors choose between stuff like receiving ominous phone calls or texts, hiding beneath a bed or in a closet from a killer, spending a night in an abandoned hospital with Emma Watson or a haunted hotel with Daniel Radcliffe, and, most morbidly, whether they'd rather be the first person to die in an apocalypse or the last.
While not all of the choices are all that difficult, they should help keep Grint's mind turning over various terrible scenarios, which may be helpful if he'd like to continue to serve as M. Night Shyamalan's muse.

[via Digg]

Send Great Job, Internet tips to gji@theonion.com