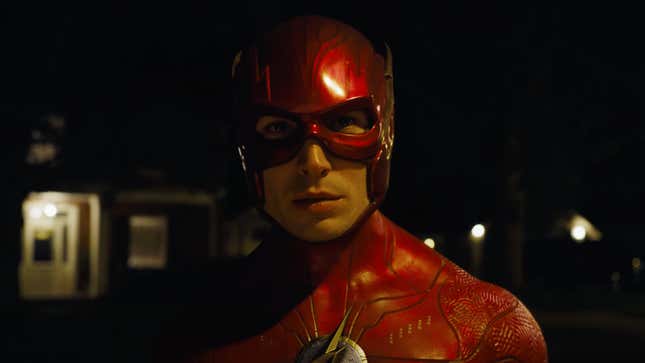 The on- and off-screen spectacle that is The Flash released a brand new trailer on Tuesday. Premiering on June 16, the Ezra Miller-led extravaganza cracks open DC's multiverse and marks the end of the old era (with final appearances for Justice League co-stars Ben Affleck and, probably, Gal Gadot) and the beginning of the new, as the Flashpoint adaptation gives the DCEU a handy reset.
Although this is ostensibly a movie about Barry Allen, it's Michael Keaton's Bruce Wayne that takes center stage in the new trailer. Unlike Affleck's Batman, this Bruce seems to approve of Barry breaking the universe in order to save his parents. He's even willing to help Barry out by putting on the suit and breaking out the old catchphrases. ("You wanna get nuts? Let's get nuts," Keaton proclaims with dramatic gravitas.) Also suiting up is Supergirl (Sasha Calle), seen in her suit for the first time, emblazoned with the Zor-El crest that stands for hope. All of these heroes, plus a bonus Flash, will team up to face off with a (slightly confused) Michael Shannon as General Zod.
The Flash has faced some serious challenges to get to this point, even before drama with its lead. A string of directors and writers have been attached and subsequently departed over the years, with the job eventually going to Andy Muschietti and Christina Hodson. Ray Fisher was at one point supposed to co-star as Cyborg before he called out and then parted ways with DC and Warner Bros. Barry's dad was recast from Billy Crudup to Ron Livingston. The Snyderverse itself crumbled and DC Studios got completely new management over the course of this film's development and production. And then there's the Ezra Miller of it all, which is a whole other can of worms.
Nevertheless, DC and WB are putting on a brave face and championing The Flash as the best superhero movie ever, actually. Big boss David Zaslav roped in Tom Cruise to put in a good word, and new man in charge James Gunn has lavished it with praise, calling it an "extraordinary film" in the trailer announcement. Fans will get to decide for themselves if the juice was worth all that squeezing when the film hits theaters in June.