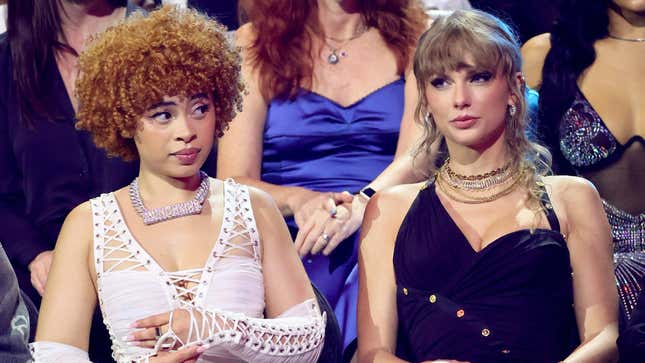 For a show that went at least an hour over its allotted time and stuffed more performances that we could even remember into its lineup, the 2023 VMAs sure felt small. Apart from the obvious gripes of irrelevancy and an over-reliance on nostalgia, MTV made a series of baffling decisions that tanked what had the potential to actually be a bit of a renaissance of the once-cool broadcast.
The FBI wants Swifties to know snitching is actually cool
Consider the ingredients they had to play with: Taylor Swift, nominated for eight awards at the height of her world domination? Check. An eagerly awaited pop royalty reunion courtesy of NSYNC? Check. Historic, female-dominated nominee lists for both of the night's biggest awards? Check. Check. A roster of A-list talent the likes of which the show hasn't seen in years? Check! So why did everyone (except Taylor Swift, per usual) look so goddamn bored?

It's no secret that MTV has spent the past few years desperately trying to manufacture a shred of the spontaneous cultural combustion these awards used to inspire. (See: Lady Gaga's meat dress, Lady Gaga's blood-soaked "Paparazzi" performance, Miley Cyrus' foam finger, "Taylor, Imma let you finish…"—the list goes on.) The awards are barely even awards at all anymore, with almost all technical prizes and Måneskin's award for best maxi-skirt (we assume, we didn't actually see them accept it) being shuffled off-camera.

What's left is a far too tightly plotted, artificial-feeling series of performances that already feel like nothing but a mere whisper upon the zeitgeist. Sure, there were some standouts. Shakira brought the house down with a career-spanning, 10-minute medley and Doja Cat and her red-painted dancers stirred some genuine feeling. But the show moved so fast that none of these moments had any time to breathe, or really sink in any way.
Olivia Rodrigo fake-destroyed her own stage and then disappeared completely from the broadcast. Best new artist and Dunkin' spokesperson Ice Spice didn't perform at all. Fall Out Boy could have brought some variety to the proceedings but instead performed their grating "We Didn't Start The Fire" redux in giant Talking Heads suits. The 50 Years of Hip-Hop tribute was nice and nostalgic, but was already one-upped by a better version at this year's Grammys.
NSYNC's reunion was a sweet and sour moment, as all they did was hand Taylor Swift a friendship bracelet along with one of her many awards—eliciting a hilarious plea of "Are you guys going to do something?" from Swift. They didn't actually do much of anything at all. Still, this was one of the only times the presenter actually vaguely matched the category of the award they were presenting, leading to a nice, genuinely emotive moment of admiration between the two generational talents that the rest of the show was sorely lacking. The worst offender? Jared and Shannon Leto presenting the Best Hip-Hop award for… some reason. By not letting its stars connect with each other in any sort of substantial way (no three-way kisses here), MTV squandered any potential moments of actual humanity that would have made those sweet, sweet headlines they so dearly covet.
And speaking of Taylor Swift, the VMAs may have set a new record for putting their eggs in one basket last night by assigning her a dedicated camera operator to film the star "continuously" during all live performances. And this paid off in… some nice shots of her dancing along with seat neighbor Ice Spice. And that's about it.
To put it another way: last year, Taylor Swift announced one of her biggest albums yet live on air at the VMAs. This year, despite being clad in a jet-black, clearly Reputation-era gown, there wasn't even a glimmer of expectation for an announcement of that caliber. If even Taylor Swift has outgrown the VMAs, there's not much hope left for the embattled broadcast.