Here's what's up in the world of TV for Thursday, July 23. All times are Eastern.
Top pick
Wayward Pines (Fox, 9 p.m.): This bonkers littles sci-fi show finally reaches its conclusion tonight. Last week the electricity was shut off in Wayward Pines, leaving the town vulnerable to the mutated "abbies" that lurk outside the walls. Will anyone survive the abbies' inevitable attack? Will Pilcher try to start his experiment again? Will Pam support her brother? And most importantly, will those clones Alex McCown has been theorizing about ever show up? Hopefully all those questions and more will be answered in what is being billed as a "series finale." While Fox has previously been coy about maybe renewing the show for a second season, Wayward Pines super fans should prepare to say goodbye tonight. And since this is a series produced by M. Night Shyamalan, they should also prepare for a shocking twist ending.
Also noted
BoJack Horseman (Netflix, 6 p.m.): Caroline Framke returns to her daily reviews of BoJack Horseman's second season just in time for the show's satirical take on the Bill Cosby rape scandal. In "Hank After Dark," Diane accuses a beloved personality of sexual assault. Unsurprisingly, things don't go so well for her.
G/O Media may get a commission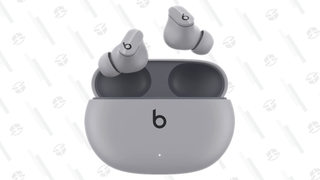 Under The Dome (CBS, 9 p.m.): After a two week break, Scott Von Doviak returns refreshed, rejuvenated, and ready to tackle whatever wacky mishaps The Dome has in store. The fact that this week's episode is called "Caged" shouldn't at all make him panicked about his choice to tether himself to writing about this series week after week.
Rectify (Sundance, 10 p.m.): Now that Hannibal has moved to Saturdays there's no need to stress about which drama to watch Thursdays at 10 p.m. Put those fava beans out of your mind until the weekend and join Brandon Nowalk as he continues to dissect Rectify's emotionally fraught third season.
Regular Coverage
Married (FX, 10:30 p.m.)
Comedy Bang! Bang! (IFC, 10:30 p.m.)
TV Club Classic
Futurama (10 a.m.): Leela discovers the trouble with bees in "The Sting." But first, the cast of Star Trek: The Original Series lend their voices to "Where No Fan Has Gone Before." Star Trek aficionado Zack Handlen couldn't be more excited.
Elsewhere in TV Club
Straight from the ATX Television Festival, we've got an interview with Ricky And Morty creators Justin Roiland, Dan Harmon, and Ryan Ridley about the show's second season. Then at 9 a.m. Dan Jakes weighs in on Eugene Mirman's new Netflix comedy special and at 1 p.m. Gwen Ihnat sings the praises of Young Justice in a new Watch This.
Elsewhere, Comics Weeks continues as Noel Murray examines A Very Special Episode of Wonder Woman. Plus Caroline Siede has a Primer on the Marvel Cinematic Universe, which is basically an attempt to replicate the experiencing of watching a TV show but with movies.
What else is on?
The Astronaut Wives Club (ABC, 8 p.m.): This show barrels forward through history as John Glenn readies himself to run for the Ohio Senate and Alan Shepard's health begins to wane.
The Seventies (CNN, 9 p.m.): Shifting gender roles and evolving sexual mores are highlighted in "Battle Of The Sexes."
DeGrassi: The Next Generation (TeenNick, 9 p.m.): To mark the end of Degrassi: The Next Generation (on TeenNick at least, it's been picked up by Netflix), the channel is airing a new episode every night for two weeks leading up to the July 31st finale. Tonight's episode, "Get It Together," will presumably require someone to do just that.
Dare To Wear (TLC, 10 p.m.): TLC adds another twist to its makeover genre: Two "fashion disasters" with polar opposite styles switch wardrobes for a day to help shock them out of their clothing rut.
Bad Boys II (TNT, 8 p.m.): They ride together. They die together. They're Bad Boys II for life.
What A Girl Wants (ABC Family, 9 p.m.): The film that officially marked the transition from Colin Firth as bumbling love interest to Colin Firth as bumbling father figure. Also known as: A confusing time for all of us.
Tour de France (NBC Sports, 8 p.m.): There are only four more stages left in this year's Tour de France and today's race through the Alps could really shake up the rankings, especially since major contender Tejay van Garderen had to abandon the race yesterday.
In case you missed it
Sharknado 3: Noted Sharknado reviewer Caroline Framke gave an elusive "F" to the third installment in this made-for-TV movie franchise. As the saying goes, "Mo' sharks, mo' problems."