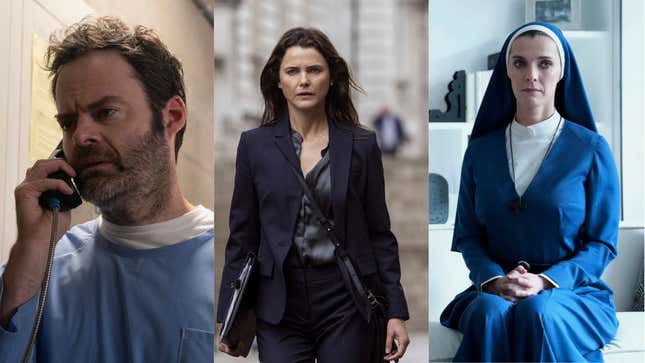 Welcome to What's On, our weekly picks of must-watch shows. Here's what you need to watch from Sunday, April 16, to Thursday, April 20. All times are Eastern. [Note: The weekend edition of What's On drops on Fridays.]

Never Have I Ever's Poorna Jagannathan and Richa Moorjani on working with Mindy Kaling
---
The biggies
Barry (HBO, Sunday, 10 p.m.)
HBO thought Succession wasn't enough to wreck us on Sunday nights, so it's throwing Barry into the mix. Yes, both shows' fourth and final seasons will air back-to-back starting this Sunday until both series conclude on May 28. Created by Alec Berg and Bill Hader, Barry follows Hader's titular hitman-turned-wannabe actor on the road to hopeful redemption. But the fourth season will prove it's not easy because Barry starts to lose his mind in jail—guilt can do that—while dealing with Fuches (Stephen Root) behind bars. Meanwhile, Sally (Sarah Goldberg), Noho Hank (Anthony Carrigan), and Gene Cousineaou (Henry Winkler) plot their respective career moves in his absence. The A.V. Club will recap the show weekly.
---
The Diplomat (Netflix, Thursday, 3:01 a.m.)
Keri Russell is back in action on TV five years after The Americans wrapped. She's switching from a Russian spy to an American ambassador in The Diplomat, an eight-part political drama. Russell plays Kate Wyler, who is unexpectedly sent to the U.K. to deal with a crisis that involves multiple nations, a terrible attack, and lots of conspiracy theories about who did it. In the midst of this tension, Kate also has to deal with her crafty husband, Hal (Rufus Sewell). The cast includes David Gyasi, Ato Essandoh, Rory Kinnear, Ali Ahn, and Michael McKean.
---
Mrs. Davis (Peacock, Thursday, 3:01 a.m.)
Co-created by Damon Lindelof and Tara Hernandez, Mrs. Davis brings all your artificial-intelligence fears to life. The sci-fi drama centers on Simone (Betty Gilpin), a nun who decides to take up the fight against the titular AI machine. In the process, she teams up with her ex-boyfriend, Wiley (Jake McDorman). The ensemble is stacked, too, with Margo Martindale, Elizabeth Marvel, and Katja Herbers co-starring. Look for The A.V. Club's review on Monday.
---
Hidden gems
Waco: The Aftermath (Showtime, Sunday, 10 p.m.)
TV sure loves to retell the Waco tragedy, huh? Showtime itself is expanding on its 2018 Waco series, which explored the 51-day standoff between the FBI and David Koresh's cult. The new Waco: The Aftermath will follow hostage negotiator Gary Noesner (Michael Shannon reprising his role) in the months following the siege and how it impacted his team. John Leguizamo, J. Smith Cameron, David Costabile, Giovanni Ribisi, and Sasheer Zamata. Check out The A.V. Club's positive review of the show.
---
Fired On Mars (HBO Max, Thursday, 3:01 a.m.)
Co-created by Nate Sherman and Nick Vokey, Fired On Mars is an existential workplace comedy about a modern tech company. The twist? The title should suffice, right? (But yes, the show is set on Mars.) Pete Davidson voices one of the lead characters alongside Sherman and Vokey.
---
More good stuff
Love Is Blind: The Live Reunion (Netflix, Sunday, 8 p.m.)
Love Is Blind is going live. If the drama is excessive after editing, can you imagine what the live reunion will roll out? Co-hosts Nick and Vanessa Lachey will unpack season four's insane moments with the contestants. Fans will get the chance to sit in the host's seat by asking some questions as well.
---
Alex Borstein: Corsets And Clown Suits (Prime Video, Tuesday, 12:01 a.m.)
The Marvelous Mrs. Maisel's Alex Borstein is celebrating the return of her Prime Video series' final season with a stand-up special titled Corsets And Clown Suits that's helmed by Maisel director Scott Ellis. Look for The A.V. Club's interview with Borstein on the site later this week.
---
How To Get Rich (Netflix, Tuesday, 3:01 a.m.)
Author and financial adviser Ramit Sethi is getting ready to give his economic tips on the small screen. The How To Get Rich author will travel the country and teach people how to master their finances. So ... is he about to become the Marie Kondo of cleaning? We'll find out.
---
Can't miss recaps
Saturday Night Live (NBC, Saturday, 11:30 p.m.)
Succession (HBO, Sunday, 9 p.m.)
Perry Mason (HBO, Monday, 9 p.m.)
The Real Housewives Of New Jersey (Bravo, Tuesday, 8 p.m.)
Ted Lasso (Apple TV+, Wednesday, 3:01 a.m.)
The Mandalorian (Disney+, Wednesday, 3:01 a.m., season three finale)
Top Chef (Bravo, Thursday, 9 p.m.)
Yellowjackets (Showtime, Friday, 3:01 a.m.)
---
Arriving now
100 Foot Wave (HBO, Sunday, 8 p.m., season two premiere)
Mike Judge's Beavis And Butt-Head



(Paramount+, Thursday, 3:01 a.m., season two premiere)
---
Ending soon
A Spy Among Friends (MGM+, Sunday, 9 p.m., season one finale)
American Auto (NBC, Tuesday, 8:30 p.m., season two finale)
Abbott Elementary (ABC, Wednesday, 9 p.m., season two finale)
The Ark (Syfy, Wednesday, 10 p.m., season one finale)
Snowfall (FX, Wednesday, 10 p.m., series finale)